The Next Generation of Government Training Summit is officially less than two months away! We've been hard at work curating a speaker line up that will leave you invigorated, inspired and re-energized to do your very best as a public servant.
So, without further ado, check out some of your NextGen keynote speakers! (We'll make rolling announcements about our awesome speakers, so be sure to keep an eye out for more!)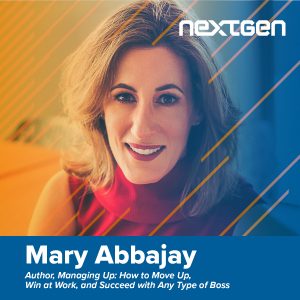 Mary Abbajay, President, Careerstone Group, LLC and Author
NextGen Session: Managing Up: Working Successfully with Any Type of Boss, August 9 at 12:10pm
Mary Abbajay is the president of Careerstone Group, LLC, a full service organizational and leadership development consultancy that delivers leading-edge talent and organizational development solutions to business and government. As a sought-after speaker, consultant, and trainer, Mary helps clients develop the strategies, skills and sensibilities needed for success in the 21st century. Her expertise lies in helping clients create dynamic and productive workplaces that foster professional and personal excellence and growth.
Ms. Abbajay will deliver a lively and interactive presentation which will provide proven strategies and techniques to increase cooperation and collaboration between those who have different power levels, perspectives, and personalities. Learning to effectively manage up is good for you, good for your boss, and good for your organization.
Deshauna Barber, Miss USA and Logistics Commander in the U.S. Army Reserve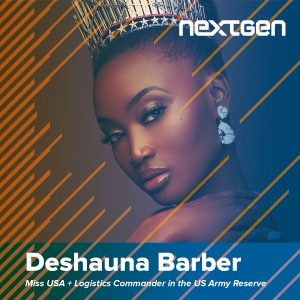 NextGen Session Opening Keynote: Your Right to Thrive, August 9 at 9am
From being crowned Miss USA in 2016 to IT analyst at the Defense Department, Department of Transportation, Dept. of the Navy and Department of Commerce to being a Logistics Commander in the US Army Reserve, Deshauna Barber brings vast and diverse professional experience to her keynote speaking presentation.
Ms. Barber will discuss the challenges in her life that have influenced her career choices. Captain Barber will also talk about the importance of driving ourselves through the ups and downs of our life and career.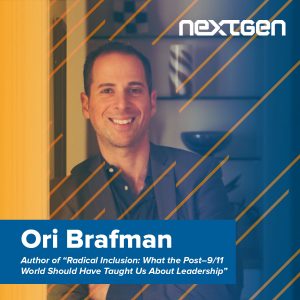 Ori Brafman, Author of Radical Inclusion: What the Post-9/11 World Should Have Taught Us About Leadership
NextGen Closing Keynote Session: Inclusive Leadership and Teams, August 10 at 4:10pm
Ori Brafman is a multiple New York Times bestselling author. He specializes in organizational culture, employee engagement, business transformation, leadership, and emerging technologies. Brafman's new bestselling book, Radical Inclusion: What the Post–9/11 World Should Have Taught Us About Leadership, co-authored with former Chairman of the Joint Chiefs of Staff Gen. Martin Dempsey, argues that inclusion is no longer a "nice-to-have", but a strategic imperative in today's rapidly changing world.
Ori's closing keynote session will share examples from business, academia, government, and the military that bring to life the insightful and often amusing evidence that he and his Radical Inclusion co-author, Gen. Dempsey, have nearly nothing in common—except a deep and unwavering belief that the hard problems we face in our businesses, at the national level, and internationally can be solved with better leadership.
Allen Gannett, CEO and Founder, TrackMaven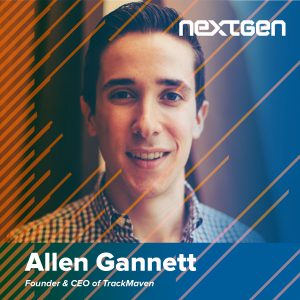 NextGen Opening Keynote Session: How to Create Intentional Innovation,  August 10 at 9am
Allen Gannett is the founder and CEO of TrackMaven which is a marketing analytics service. Allen is also the author of the upcoming book, The Creative Curve, which will explore the disciplined pursuit of creativity.
Mr. Gannett's opening keynote session will talk about the creative processes he observed in everyone from filmmakers to the flavor research team at Ben & Jerry's. He will break down the four steps they all use for systematic innovation and how these steps can be applied to crafting public policy.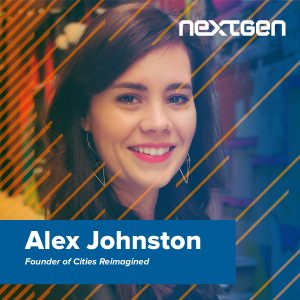 Alex Johnston, Civic Innovator and Serial Social Entrepreneur
NextGen Session: Designing Your Life: Finding the Courage to Make Hard Choices, August 10 at 9am
Ms. Johnston partners with mayors and city leaders to solve complex challenges in cities with a focus on human-to-human collaboration and problem-solving. Her passion is bringing out the creative power of civil servants and city leaders by using human-centered design. She is also the founder of Cities Reimagined, where she challenges local gov leaders to dismiss their assumptions and step into the shoes of the people for whom they are designing in order to see challenges from their perspectives.
Alex's keynote session will explore how to apply principles of design thinking to your decision-making process and help you navigate your personal and professional crossroads effortlessly. Ms. Johnston will help you dig beyond the obvious to find answers in unexpected places.
Liza Wisner, Learning and Organizational Development Manager, City of Corpus Christi Learning Institute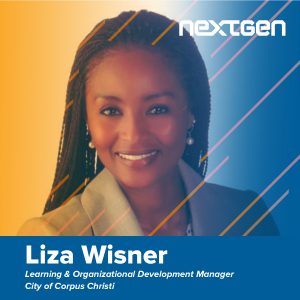 NextGen Session: Growing City Champions, August 9 at 9am
Liza Wisner serves her community as the learning and organizational development manager for the City of Corpus Christi and was the top 3 finalist on the television show, "The Apprentice." Liza is also the founder and CEO of the non-profit, 'PowerUp.org' whose mission is to ensure that all individuals—especially those at risk of being left behind—have the resources and the opportunities they need to live productive lives.
Ms. Wisner's keynote session will explore the Growing City Champions program and its goal of transforming government employee's jobs and citizens' lives by ensuring that interacting and doing business in any community is pleasurable, professional and productive.
Be sure to check out the dozens of other speakers and sessions we have lined up for you at NextGen 2018! And be sure to register by June 29 to get the Early Bird rate!
See you at NextGen!