A challenge associated with citizen-facing government processes is ensuring that the customer experience (CX) meets citizen expectations. How can technology support government efforts to improve CX?
For 92 percent of recently surveyed public servants, moving to the cloud could have a significant impact on CX.
GovLoop hosted an online training, "Can the Cloud Improve Gov CX?", discussing the advantage of an ideal cloud transition strategy on CX, and some barriers that agencies still face if they want to improve their CX in the cloud.
The speakers were:
Frank Konieczny, Chief Technology Officer (CTO), Office of Information Dominance and Chief Information Officer, Office of the Secretary of the Air Force
Jodi M. Thompson, Senior Principal Business Consultant, Genesys
Konieczny highlighted some top priorities for the Air Force that drive cloud strategy:
Mission resiliency, effectiveness, and readiness across the enterprise.
Innovation, to modernize cost effectively.
IT as a service can allow airmen to prioritize mission-related activities and move other IT operations to commercial experts.
Airman focus- move to seamless desktop-mobile operations on multiple platforms where and as needed.
Secure- processing, storage, and transmission, with the proper authentication and authorization controls in place.
The following, according to Konieczny, are the primary advantages of cloud computing: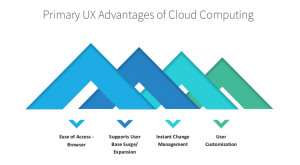 For ease of access, users should be able to access the application from any computing device and there should be support for mobile operations as well as in-office usage. UX can be customized with cookie maintenance and preference storage on the cloud. "We want to customize the user experience," Konieczny said. "We're trying to put an Internet viewpoint on top of that."
In supporting user base surge/expansion, there should be an expanded processing capability to absorb surge but maintain user response times. "As we go down the path, we're looking at various ways to manage the surges that we have," Konieczny said.
For instant change management, upgrades should be performed dynamically, without taking down the system for maintenance, and if there is a problem with a change, the user should be able to roll back the change with minimum customer effects. Additionally, CX can be improved if metrics are gathered dynamically so that the application can be adjusted to better suit mission user needs. "We can see across the board, across the Air Force, which apps are being utilized," Konieczny said. "Then we can adjust to better deliver capabilities to airmen."
In terms of user customization: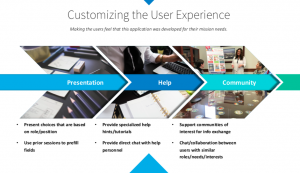 "We want to be able to develop communities of interest," Konieczny said. "All of this is in the cloud, and it's working really well because people are coming in and saying, 'hey I need this' and we can tune their needs to the mission of the air force."
In terms of security, the air force takes a multi-layered approach: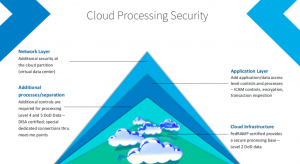 There are a few issues/barriers associated with moving to cloud computing according to Konieczny. They include:
Service Level Agreements
Cloud computing issues
User Support
Rationalize Apps
Sequencing and Budget
The audience was asked what the biggest pain points were for them when improving CX. The results were divided: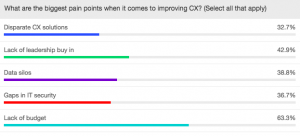 Thompson spoke about how CX improvement has remained stagnant and how agencies can work to change that.
She pointed to the results of a Genesys/GovLoop survey that asked users about the benefits reaped if their agency is using cloud products and services. 37 percent experienced cost savings, 43 percent stated enhanced CX, 45 percent thought it improved internal processes, and 49 percent stated that the cloud provided better access to data and systems.
Respondents were also asked, "How would you rate the transition [to the cloud] from an internal cultural perspective?" A majority, 83 percent, indicated that "it went well" or "it was ok, we had some bumps in the road but that was to be expected."
Thompson stated that workers should "establish the goals and reasons for moving to the cloud, and gain buy-in from executives and decision makers early in the process."
"Today cloud is not as different as people might think it is," she said. "To the organization, you still have to service your customer base. I would urge you to find a provider that will help educate you and articulate your needs. Have your questions ready and be prepared that the provider will respond."