No area of the federal government conducts more daily business outside of the confines of an office building than the defense and intelligence communities. Whether in planes, jeeps, portable shelters or on the battlefield, missions must be accomplished regardless of obstacles.
The limitations of non-standard work environments can make it difficult for staff to use standard, off-the-shelf technology to do their jobs. Yet the missions are important, and workers need the right technology to accomplish those missions.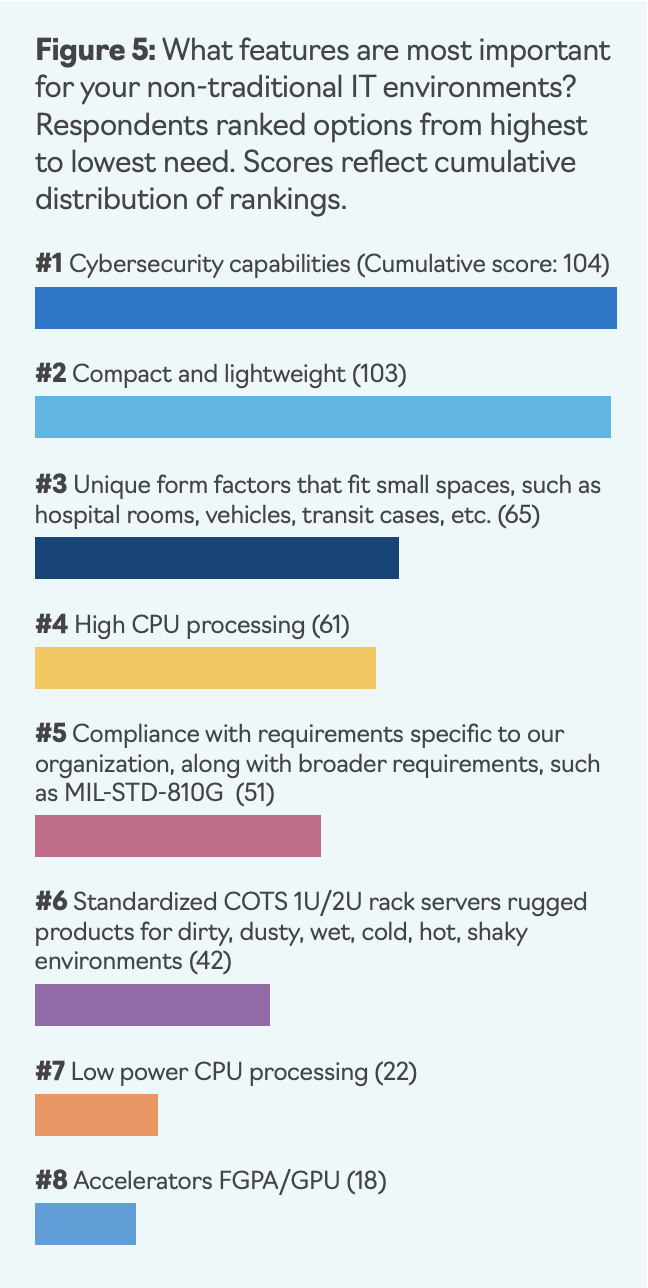 Dirty, dusty, wet, cold, hot, humid or unstable environments are common, especially in the military. As a result, the armed services typically require manufacturers to adhere to specific certifications around shock, vibration and temperature. That means that missions requiring this type of ruggedness can get exactly what they need.
If a mission needs a small, powerful server that can withstand vibration and harsh environments, for example, it can use devices tailored to fit their unique requirements. If soldiers need rugged tablets connected to roof-mounted antennas on a jeep to keep in constant communication while continuously collecting data, those devices can be developed specifically for that use.
Unique security requirements are another issue that traditional technology often can't accommodate. For example, a classified mission might specify hot-swappable solid state drive cards — something laptops usually don't provide. A mission might also require more physical security measures, such as locks or external casings. A top-secret mission may require mobile phones with certain capabilities disabled to ensure sensitive data remains protected. Respondents identified cybersecurity capabilities as their top priority (see Figure 5).
Sometimes the challenge is something as seemingly simple as space constraints. A mobile hospital might have limited space for the technology required to run the facility, or a temporary command and control station may need to squeeze a lot of technology into a very small space. A situation might call for a lightweight, compact server that can fit into a transit case, or a laptop.
Most traditional data center products are too large to fit in these kinds of environments. Instead, the situation might call for technology with the same features and performance as full data centers — a small one-box data center that integrates computing, storage, networking and virtualization.
Sometimes, requirements call for a combination of these capabilities. For example, to ensure soldiers in the field can continue flight training they may have started at a base, they would need small, compact systems with full functionality. That might require packing capabilities for virtual reality, along with access to applications and data that enrich the experience. And because the training is taking place in the field, the entire unit must be hardened and ruggedized.
"It's about solving agencies' unique needs and requirements on standard solutions and architectures," said Greg Rahaman, Engineering Manager for Dell Technologies OEM Solutions. "If an agency wants to standardize on a single compute form factor yet wants to be able to quickly swap out components, they should be able to do that. If they want a small transit case solution with multiple CPU sockets and need field-replaceable parts coming out of the front for service and accessibility, they should have that available to them."
This article is an excerpt from GovLoop's recent report, "Meet Changing Mission Requirements by Designing Solutions for the Rugged Edge." Download the full report here.