IT modernization and the move to cloud-based digital services continue apace in many agencies, yet not all digital transformation is equal. Depending on where you look, change is happening quickly or slowly, smoothly or erratically, effectively or rife with challenges.
How modernization unfolds at any given agency is the result, in part, of system-level transformation, such as going to the cloud. Just as vital, however, is an agency's ground game, the deep-dive attention to granular interactions that occur at the level of systems' nodes. Paying attention to those details — by way of scaling, monitoring, analyzing and optimizing application environments — accelerates and refines agencies' digital transformations and is one of the most impactful changes an agency can make to rapidly improve CX.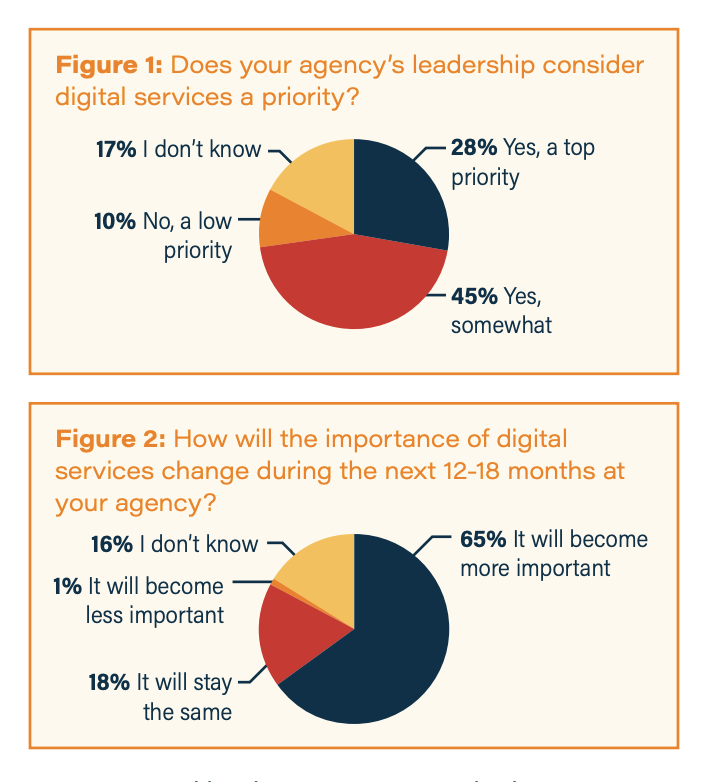 Modernization of government agencies' digital services is happening against a backdrop of digital disruption. Online service providers and e-tailers, Amazon chief among them, have diverted large swaths of economic activity away from traditional brick-and-mortar establishments. In doing so, they have rewired consumers' expectations of customer service. Both of those shifts happened because digital companies leveraged the power of transformative technology.
Consumers' online engagements with private-sector organizations have shifted the way they view government agencies. Expectations are higher now, and government employees know it. Nearly three in four survey respondents said agency leaders consider digital services a priority or a top priority, and two-thirds said digital services would become more important in the next year to 18 months (see Figures 1 and 2).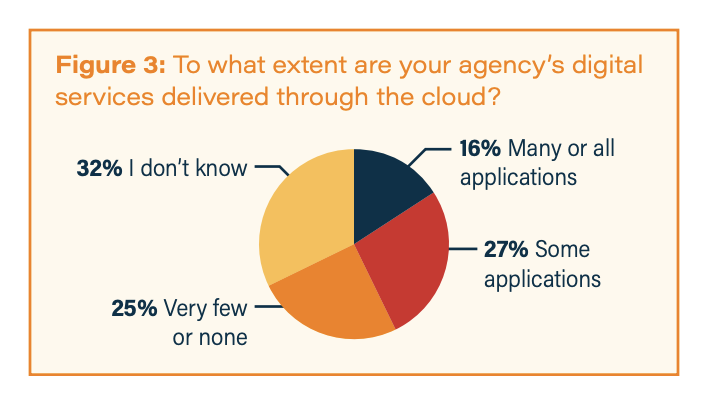 Many state and local government agencies have one foot in the past and the other in the digital future, a state of ambivalence that the survey's results reflect. Asked about the prevalence of digital services delivered through the cloud, 16% of respondents reported that "many or all" applications were cloud-based, whereas about half said their agency used cloud to deliver some, very few or no applications (see Figure 3). Nonetheless, almost half expect cloud-based digital services to increase somewhat or a lot in the next 18 months (see Figure 4).
Depending on the organization, the future-forward foot could be dipping a toe to test the waters or lunging ahead to make up for lost time. Historically, the public's experience interacting with government was dictated by agencies, hours of operation, accessibility to offices and limited access of data. That is changing.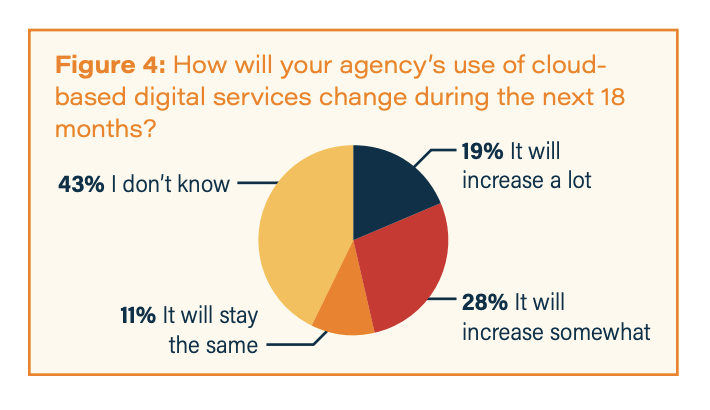 "Over the last three years or so, the government has been catching up to where the enterprise, financial services and e-commerce industries were five years ago," said Matt Smith, Regional Sales Director, State and Local Government, at AppDynamics.
Yet some government organizations are new to the journey. They may be providing additional services or consolidating services on a single portal, yet they're still in the planning and architectural stage. Other organizations are further along the road to modernization. Some are hitting bumps or approaching unexpected curves, but at either stage, getting a granular view of systems and processes can enable agencies to identify and remediate systemic issues across the business transaction lifecycle, much the way an MRI can help a doctor diagnose and treat a patient.
Without a granular, holistic view of business transactions, some organizations tend toward a patchwork approach to monitoring. They'll deploy a handful of monitoring tools that don't provide a full end-to-end picture of the customer's journey. It's a siloed, limited approach. Precision monitoring can eliminate or drastically curtail scenarios in which IT teams encounter problems and must spend days, weeks or months troubleshooting systems.
This article is an excerpt from GovLoop's recent report, "Digital Transformation Puts Customer Experience Front and Center." Download the full report here.