Imagine that you have the power to chart your own career path and dedicate time each day to executing your current job functions and building the skills you need for your next job. Now, think bigger. Imagine a federal workforce that operates like an agile, integrated team within and between agencies.
Depending on where you work, these may seem like lofty goals, but these are realities that the National Science Foundation's (NSF) Dorothy Aronson wants to instill at her agency and across government. As the Chief Information Officer at NSF, Aronson would rather help to lead that change than wait for it to casually happen.
"The way we in the federal government are working today does not really allow us as individuals to both support the current mission of our agencies and also prepare for and implement the changing nature of work," Aronson said in an interview with GovLoop. "That's because it's happening so fast."
In the interview, Aronson shared her vision for NSF and the larger federal workforce. In partnership with a small group of NSF colleagues, Aronson recently launched a competition on the government's Challenge.gov platform. The challenge calls on innovators in government, industry and academia to put forth their brightest ideas for helping NSF employees adapt to the agencies' changing workforce needs, develop their skills and prepare for new opportunities.
"At the conclusion of this Challenge, NSF hopes to have created a "market" for technology solutions that will help employees plot a path for changing careers or identify how to move forward in their current career path, while also facilitating continuous reskilling," according to the post on Challenge.gov.
Here's a nifty chart that summarizes what NSF hopes to accomplish with the challenge.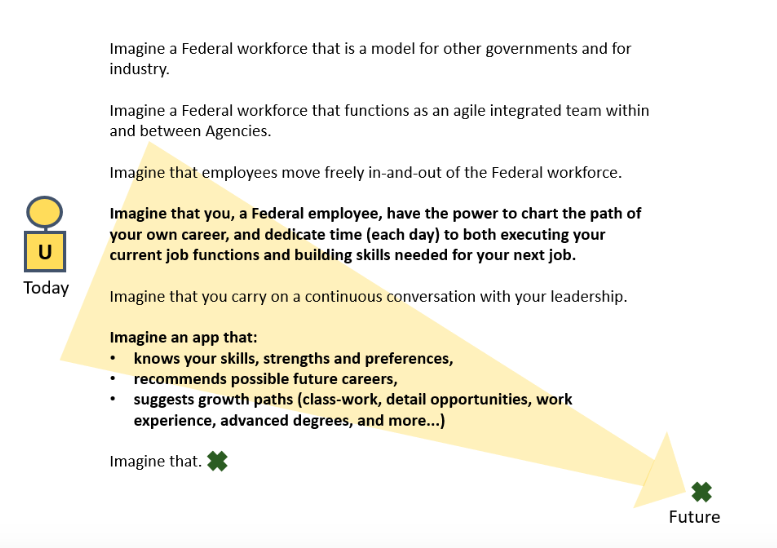 The competition has two parts, and people are welcome to apply to one or both of them. Part one of the competition, which ends Dec. 31, requires participants to submit a concept white paper that describes a solution to the challenge of continuous workforce reskilling.
Aronson said it's possible that the winning solution could be an app, but that's just her bias. She added that contestants are not being asked to recreate the wheel if that already have a solution that meets the agency's needs. "If we had seen a solution, we would [have] bought it," she said. "If someone wants to come out and say, 'Hey, I already have a solution and here it is,' that's great.'"
Although the challenge is primarily focused on NSF, the expectation is that the winning solution would help to solve similar workforce readiness issues across government.
Aronson noted that there was a time when people signed up to work for the government with the notion that they would be public servants for 30 years and then retire. "All of that's still possible, but what that doesn't take into consideration is the notion that work itself changes," she said. "So if you sign up to be an accountant when you're 21, the job of accounting has changed so dramatically in 20 or 30 years that your original job no longer exists in its original state."
She added that the in-demand skills of the future will be those that are critical to any job, such as teamwork, communication and flexibility. Her goal is to help employees take charge of their career and develop the skills they need to grow professionally and meet the needs of the government.
"I feel that if we wait to be innovative, or if we wait until the future is upon us, we won't have a chance to shape that future," Aronson said. "So getting involved now is absolutely essential for the federal government."
For additional reading, check out these related stories:
How NSF CIO Enables Innovation, Plans for Future Tech Needs
 6 Ways the Government Is Trying to Reskill Its Workforce