This blog post is an excerpt from GovLoop's recent guide, The Future of Human Resources in Government. Download the full guide here.
When you think about the Bill of Rights, what comes to mind? Freedom of speech or freedom of the press? Maybe you think about a patient's bill of rights when receiving medical care.
All of the above are common answers, especially from people who don't work at NASA Goddard. The Space Flight Center in Greenbelt, Md., has given the term "bill of rights" an entirely new meaning and redefined the way new employees are treated on their first day at work.
Goddard's Onboarding Bill of Rights entitles new employees to a functional workspace, a computer, an onboarding ambassador and a meaningful work assignment on their first day.
"When you tell somebody on their very first day that we're ecstatic they've accepted our offer to be a part of our bigger NASA Goddard family, but then we don't have the tools in place, it really gives mixed messages," said Pamela Barrett, HR Development Specialist at Goddard.
The onboarding process can be initiated as many as 30 days before a new employee's start date, which gives agency officials plenty of time to ensure they're prepared to properly welcome a new hire.
The first few days are critical. Half of new hires consider quitting after a bad first day, and nearly 80 percent go home early because their employer was not prepared, said Regina Keegan, a Program Analyst in Goddard's Office of Human Capital Management. Eighty percent of them decide within the first six months whether to stay.
If you take ownership of a process and follow it through, you're ensuring that employees have what they need, said Keegan, who serves as the Onboarding Program Manager.
Keegan has been instrumental in revamping the onboarding process at Goddard. She implemented the Director of Onboarding Representatives program, which ensures that each organization at the agency specifies someone to be responsible for helping with onboarding new employees. In many ways these representatives are the welcoming committee. They ensure the center's Bill of Rights is met and that employees have the resources they need.
Others at Goddard play important roles in onboarding, too. For instance, supervisors and new hires have onboard checklists. "We make our new employees take some responsibility in terms of things that they should know in the event somebody doesn't tell them," Barrett said. They are encouraged to seek out individuals to help them.
"What we don't want them to do is to be frustrated," she said.
Before an employee's first day, the Talent Acquisition Office notifies the onboarding representative and the supervisor via email that a new employee is coming. It also instructs the supervisor to appoint an onboarding ambassador to help the person feel welcome.
"They're not your technical mentor," Barrett said about the ambassador. "They are assigned to that individual for the first month, and it basically just helps that individual get their feel around." The Goddard campus covers 1,600 acres, so knowing how to find the cafeteria, the restrooms and the shortest route to a particular building are important details.
Before their first day, employees can access much of their HR paperwork and find details about the onboarding process online. The employee orientation website also has details for NASA employees transferring from another center.
Additionally, the agency encourages supervisors to reach out to new hires before their start dates.
"We know that somebody else could be trying to sway them to come to their organization," Barrett said. "We know we need to keep them engaged from the time they sign that acceptance letter. We encourage our supervisors to keep in touch with them, tell them about some of the good things that are going on in [their] organization and let them know that although they haven't come in for their first day, they're still very much part of the NASA Goddard family."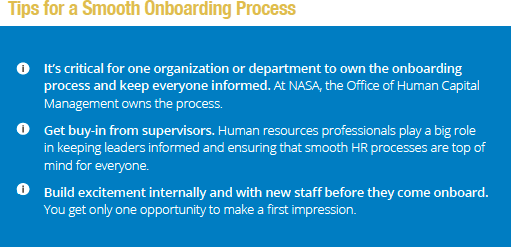 Photo Credit: NASA Goddard Space Flight Center flickr