Cloud Smart is a flexible governmentwide strategy that aligns to the overall vision in the Defense Department (DoD): achieving global dominance as a fighting force. The DoD's strategy for digital modernization is a complementary strategy to Cloud Smart, with many of the same visionary and strategic objectives.
Cloud Smart is focused on improving the classic trifecta of people, processes and technology as it relates to federal cloud computing adoption. For DoD agencies to execute on the strategy, they will need to rely on a methodology of action that can keep their activity focused, productive and measurable.
ServiceNow's report "Becoming Cloud Smart in the Department of Defense" proposes a four-part discipline methodology called the CloudSmart Discipline to achieve success: 1) prioritize the widely important, 2) develop and use lead measures as opposed to lag measures, 3) energize with compelling scoreboards and 4) develop a cadence for accountability.
Here are the key action items for each part to carry out your digital modernization and Cloud Smart strategies simultaneously.
1. Prioritize the widely important
Choose activities that contribute to meeting widely effective goals first
Gain focus by emphasizing similar approaches with shorter resource requirements
Set ambitious goals with motivational characteristics
Avoid analyzing and begin
2. Develop and use lead measures as opposed to lag measures
Lead measures focus on activity leading to the goal, not the goal itself, and allow you to pivot if you need to
Resist the urge to use existing metrics without identifying if they lag or lead
Measure behaviors leading to achieving the goals set out, not improving your existing measures
3. Energize with compelling scoreboards
Visualize and chart your journey
Transparently display your progress, or lack of it
Seize and encourage momentum as it appears
Pay attention to and remove barriers that prohibit achieving micro-results
Celebrate small successes often
4. Develop a cadence for accountability
Commit to courses of action and hold teams/groups accountable
Confront the scoreboard daily or weekly
Address barriers to progress before meeting again
Develop sensitivity to repeating patterns
Maintain scope to the widely important
To provide a notional example, consider one of the very likely projects a dedicated agency will undertake as part of its Cloud Smart journey — rationalizing and migrating legacy applications.
The common challenges here are determining how to start, classifying the systems in consideration and producing objective criteria for measuring usefulness.
If we apply the methodology, we could prepare a discipline chart like this one: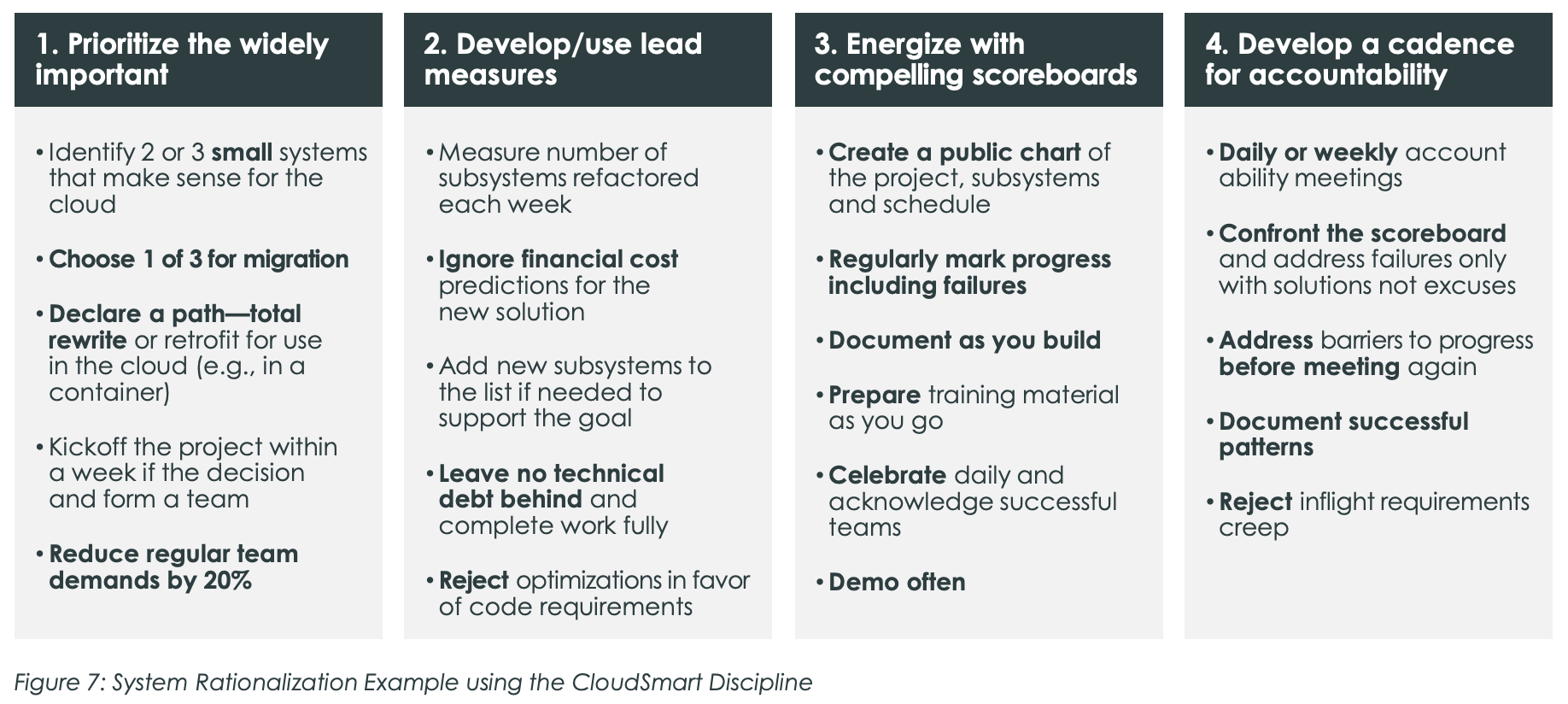 For each of the four areas, we can also prepare the mapping of success resources to highlight key inputs of each area to achieve success.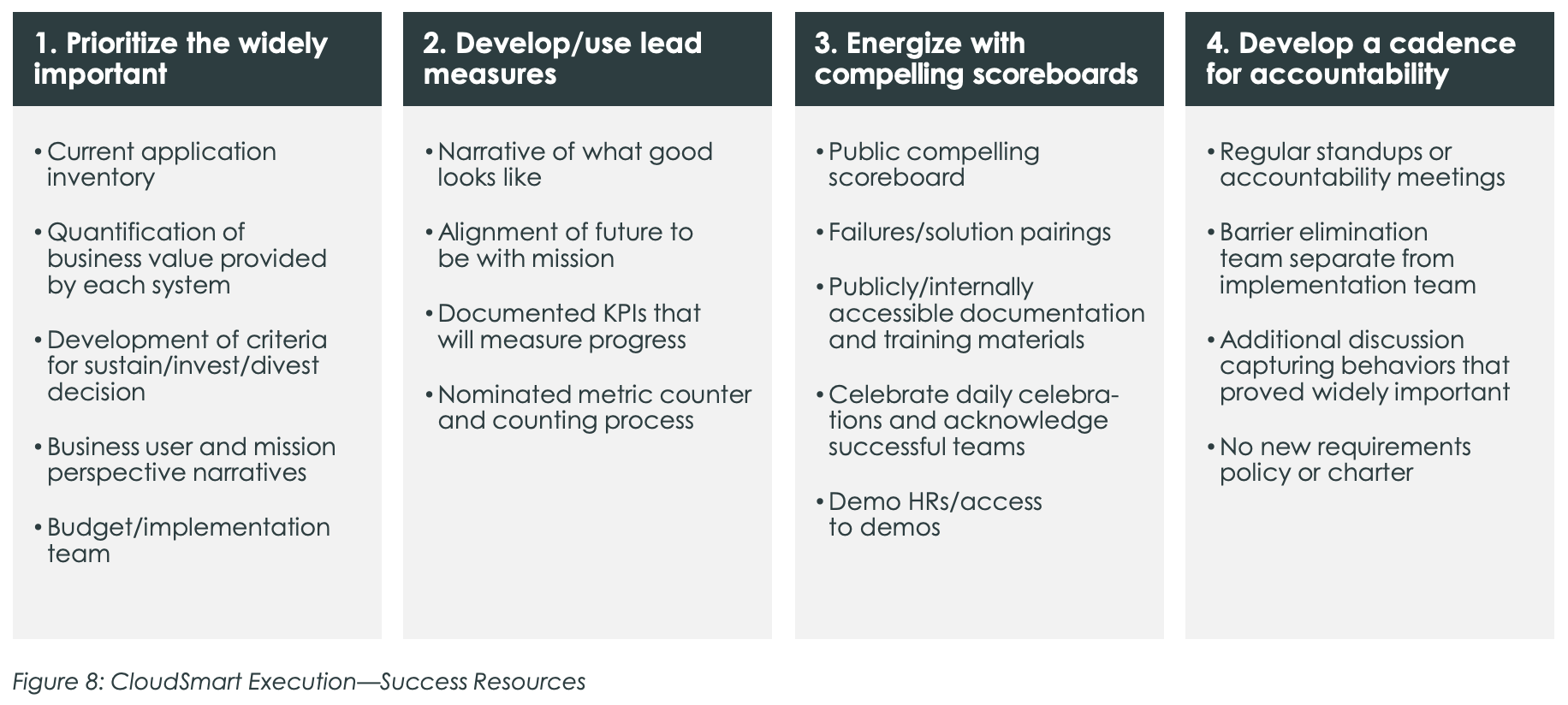 To achieve these benefits, however, an important underpinning is the choice of platforms used to transform. ServiceNow is a key platform supporting DoD's digital modernization and transformation journey. The trend in industry is to centralize around two or three advanced, multi-capability, cloud-native platforms for the delivery of services to the business and mission user.
Many customers are turning to ServiceNow to serve as that platform. They can quickly execute on a host of powerful capabilities by leveraging out-of-the-box capabilities while adhering to required governance structures.
Many organizations in the DoD are already taking up the mantle and operating Cloud Smart, beginning their journey to digital modernization.
For the full report, access ServiceNow's "Becoming Cloud Smart in the Department of Defense" here.
Photo credit: Defense Department Flickr