Feeling confused, unclear or stuck in your job is an exhausting experience. Maybe you've experienced it. What was once exciting, impactful work can become drudgery. "Is this it?" you think.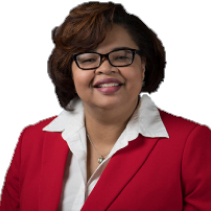 Figuring a way out of career confusion and obscurity isn't easy, but you can do it. Public servants need to 1) set a clear vision, 2) know themselves and 3) be adaptable, said Karen M. Rainey, National President of Federally Employed Women (FEW), an advocacy group that works to improve the status of women in government.
"People discover [clarity] at different levels and different times. And our differences are our strengths, in my opinion," Rainey said. "So when I say, 'Know thyself,' it's because goals change all the time. And to remain flexible is important in life."
Here's more of Rainey's wisdom for building a career path with clarity and intention.
The following is lightly edited for brevity and clarity.
GOVLOOP: What is the first thing public servants should think about if they want to grow their careers?
Rainey: It's important for us to set a clear goal for ourselves, and break it down to internal and external milestones. … Professional development includes setting not only the big targeted goals, but those milestones as well. It's important to understand that you can't achieve everything at one time. Setting one milestone at a time will make it more manageable and clearer, as far as envisioning what you want to do for your goal. It helps you to stay focused.
Being focused does not mean that you're settled in determining what the final outcome will be. Everything is fluid in this day and age — the pandemic has taught us that. It's important that we remain focused yet adaptable.
You never know where your next opportunity is going to come from. But you have to be ready for that chance.
And finally, understand that when you set a goal, be determined to achieve it. Go after it. It doesn't mean that you won't be flexible, and that how you get to that goal will not change. But it's important that you know that this is what you want to do. Know thyself, is what I say.
GOVLOOP: So let's say you have a clear vision with milestones planned out. To realize that vision, you have to develop skills. How can public servants grow their knowledge and competency?
Rainey: Traditionally, there are several things that most people will tell you to do. And that is to advance yourself through learning, education. And that's good. But there are several other ways you can learn as well.
[One way] is building a professional network. As the president of Federally Employed Women, I can tell you that the most important thing we offer inside of FEW is our connections.
Sometimes in our paths, we don't know where to go. When life changes and upheavals happen in life, we don't know how to move forward or what our vision looks like. It's important to get clarity on what you want to do. That doesn't mean you can't adopt a path towards your goal, but it's important to set strong foundational goals for yourself and envision yourself reaching those goals. And for our organization, FEW, the most important thing to us is that we give you many visions of how you can achieve success. Because most times we know as young girls in the federal government, if you could see others doing it, you're liable to repeat it.
GOVLOOP: Building a professional network is important, but it can be difficult. Do you have any tips for people who struggle with networking?
Rainey: As an individual federal employee, I've studied the people I wanted to mimic: my mentors, other women I've seen, great women who have succeeded. And I understand one thing they have in common is they have a strong network of people. They didn't just climb to the top and get to their goal. They used those networks in order to develop themselves, and then they remembered to reach back and pick other people up.
It is difficult to start that process, expanding your network and getting yourself out there, maybe even taking the lead. But it's the most rewarding thing you could ever do, I can tell you that. The best thing I have done is take the position of [FEW] national president. And the reason is all of the wonderful people I have gotten to know.
Also, it's important to know who you get involved with. You shouldn't just get involved with anyone. You should be particular, be precise, make sure you understand what your goals are, set those small milestones and have a clear vision. Some things are worth your time, and some things are not worth your time. You don't need to know everyone.
GOVLOOP: How can public servants stay motivated in achieving their career vision? What is the role of work-life balance?
Rainey: It is important to understand yourself as a person, and understand that if you're not OK, then whatever you're doing will not be OK. You cannot add into something as an empty cup or empty vessel. … It is important that you know yourself, know your limits and know what you can do. You may pass one or two of those milestones, but reaching the ultimate goal is going to be a lot tougher if you're not OK.
GOVLOOP: You've mentioned the importance of knowing yourself a few times in our conversation, like a refrain. How has it become something you believe is critical for people's career journeys?
Rainey: Everyone goes through a stage of the unknown — of "I don't know what I want to do, I don't know where I want to go, I don't know how I'm going to get there. I don't know anything pretty much." What is so important is to know that you will be OK. People discover [clarity] at different levels and different times. And our differences are our strengths, in my opinion.
So, when I say "Know thyself," it's because goals change all the time. And to remain flexible is important in life.
Your vision can be really clear at the beginning. And then it could change and get a little muddy in life. And some people are afraid to make the adjustments. They just stay stuck. They stay stuck in where they are in their career, and they don't move towards understanding, "Hey, I had a shift in life, and my vision changed. And guess what, that's OK. I still can be successful. It may just take a little bit longer."
We know in the government sometimes you may be in a dead-end job and you need to take a cut. You need to go back and shift to a different, lower grade or grade-equivalent [position] in order to move up. Many people have done that. The key to never being stuck is being able to know and have a clear vision of where you are now, and then strategically [shift]. … What's the next step? Understand it's going to reach the ultimate goal of going higher, but sometimes I may need to shift left.
GOVLOOP: How can you "know yourself"?
Rainey: The only way you could do that is if you are open with yourself. If you are internally understanding that this is your situation, and where you want to be is there, but this path is no longer available to you. I'm going to shift and make another path. Be in tune with where you are currently to ultimately get to where you want to go.
GOVLOOP: It takes some guts to do that. To be honest with yourself, and make adjustments because you have a clarity of where you are in your career.
Rainey: Absolutely.
If you're interested in more professional development opportunities from FEW, check out its virtual leadership summit in July, "Leadership Next Level: People, Purpose, Passion."