This article is an excerpt from GovLoop's recent guide, "Making IT Work: A Practical Guide to Modernization in Government. Download the full guide here.
Today's modern workforce is trading in cubicles and desktops in favor of any-location, any-device work styles. There's also a growing appetite for user-friendly services that make it easier for employees to serve constituents on multiple platforms.
To meet these rising demands from employees and citizens, agencies are investing in IT modernization efforts that improve access to data, resources and services. They're increasingly using cloud computing to support these efforts. But as agencies migrate more systems to cloud, they must also be mindful of the unintended consequences.
In a recent interview with GovLoop, José Padin, Public Sector Chief Technology Officer at Citrix, explained the expectations, advantages and side effects of implementing cloud services to drive modernization. Citrix is a secure workspace and networking company that specializes in creating adaptive experiences for government employees and helping agencies to unify hybrid cloud services.
Padin kicked off the conversation by clarifying a misconception about cloud and IT modernization: The two are not one and the same. "There are a lot of tools that can help with modernization, and cloud adoption is just one of those tools," he said.
Conflating the two can easily lead to what's known as cloud sprawl. When different cloud services are selected that are each the best in what they do, whether internal HR or finance, confusion may arise regarding delivery, management and security of these disparate cloud systems.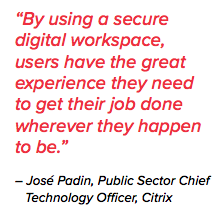 While different cloud services may be needed within an agency, Padin emphasized unifying the management of all services under one platform. This gives employees a one-stop shop to access information, whether they're working in the office or remote. Security should also follow employees wherever they go. "You can think of it as a secure digital perimeter," Padin said.
Leveraging solutions like Citrix Secure Digital Workspace allows agencies to provide employees with the right experience at the right time. It's engineered to increase visibility and simplify management of all apps, desktops, data, devices and users across multiple hybrid cloud environments.
Padin noted that agencies need solutions that use open standards, support modern work styles and simplify IT complexities. Using information about the client, network and backend infrastructure, Citrix can create a threat score for user connections based on atypical activity and limit user access automatically before an issue arises.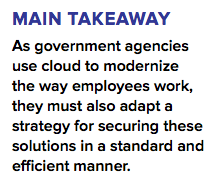 "We give them the choice to use any device that they want," Padin said. "We give them security that can be applied to cloud, on-premise, or any type of apps or desktops, and we give them a great user experience," Padin said.
Photo Credit: rawpixel on Pexels