Posts Tagged:

excellence in government
There is a hidden cost to doing good, but that should not deter you from sharing your gifts and talents.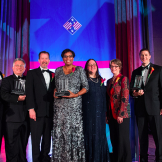 Most of our nation's public servants go unnoticed as they shape and change lives through their day to day jobs. Fortunately, the SAMMIES are here to recognize the best of the best in the federal government, giving them the recognition they deserve.
I received this e-mail yesterday and thought I'd share. I know that most of you are attending the NextGen conference, but for those who are not able to attend, this is also a great experience for DC area Feds and is sponsored by GovExec. You can request an invitation, by going to http://www.cvent.com/events/excellence-in-government/event-summary-3b91ffcb68b7446192ded2231f778f66.aspx. Excellence inRead… Read more »