This article is an excerpt from GovLoop's recent report, "How the Cloud Enables a Secure and Safe Customer Experience Made For the 21st Century." Download the full report here.
If you're looking for advice about the cloud, it's coming from every direction. At a high level, the White House announced the Cloud Smart strategy to help agencies find cloud solutions to "streamline transformation and embrace modern capabilities." Congress in 2014 passed the Federal Information Technology Acquisition Reform Act (FITARA), architected to help CIOs escape legacy technology and purchase new technologies. Meanwhile, citizens want a user experience that rivals that of the private sector – one that is timely, intuitive and tailored to meet their specific needs. In many cases, cloud supported these types of experiences.
With all of these potential benefits, many government agencies have been quick to welcome cloud technology. According to GovLoop's survey, however, most are still in the early stages, with 41 percent of respondents saying that some projects are in the cloud, and 16 percent reporting that their agency currently is not using cloud but is planning a cloud migration within the next year. Overall, 68 percent of respondents reported that they had invested in cloud technology, of which 27 percent reported having most or all of their systems in the cloud (See Figure 1).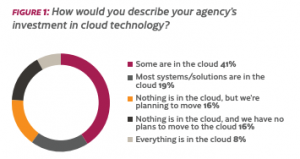 That's to be expected, Ian Greene, Enterprise Architect for the Government Group at Genesys, said, as a mix of business and IT parties within agencies can stir up different views on the cloud. Furthermore, the General Services Administration (GSA) reported that agencies are implementing cloud migrations in real time. Cloud-based solutions are serving 95 percent of federal email inboxes, and four federal agencies added more inboxes to the cloud from August to December 2018.
Not every agency has embarked on the cloud journey as of yet, however, and for those that don't, culture is often the barrier to adoption. Transitioning to the cloud is only effective if agencies have clear plans and preparations.
As cloud is a significant investment, it should be approached with an all-hands-on-deck mentality to prepare all of the staff to deal with the shift. Unfortunately, that is not usually the case in practice. Most agencies that have gone to the cloud – 58 percent – encountered some bumps along the path of adoption, and 17 percent of respondents said that the transition was "terrible" or did not go well. While challenges might be expected, 25 percent of respondents had successful buy-in culturally to the cloud changeover (See Figure 2).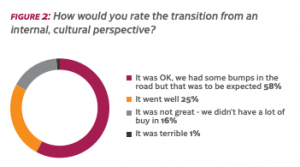 Many factors influence the success of cloud migrations, but it's often easy to blame shortcomings on an aging workforce or employees – which is misguided. Instead, there are certain techniques that agencies can implement to allow cloud adoptions to go over smoothly.
That includes preparing staff for a dramatic change to the way that agencies process data and manage systems. Oftentimes, a disconnect between the IT and business communities within agencies can create friction involving the move to cloud.
In addition to communication, there needs to be a clear purpose for cloud adoption. If leaders fail to identify cumbersome workflows and procedures before moving to the cloud, then agencies can entrap their workforce in a new system with the same inefficiencies as beforehand – putting themselves through a dramatic cultural shift without even achieving what was intended. With a clear path for rollout, however, cloud technologies can save agencies time and free up resources that will improve CX.
"Cloud migrations are about best practices and business outcomes," Greene said. "The focus of IT departments has gone from dedicating resources to managing a system, physically making sure the system is working, and from doing some work on the CX side to all their resources going toward customer experience."