This article is an excerpt from GovLoop's recent guide, "Intelligent Innovation: Tech Trends Taking Root in State and Local Governments." Download the full guide here.
With the federal government spending around $90 billion on IT annually and state and local governments spending $103 billion on IT in 2018, plenty of questions arise. But none are bigger than: Are you ready to be at the forefront of government information technology, and is your department making investments to modernize its approach to IT service and project delivery?
"The rapid increase in tech spend has placed an immense strain on the IT leaders within the public sector," said Andrew Graf, Chief Product Strategist at TeamDynamix. "In order to meet this demand, best-in-class IT organizations are leveraging five key pillars to optimize resources, improve service delivery and keep projects on track." Below are the five cornerstones Graf identified.
1. IT Service Management: Create a Stellar End-User Portal
According to HDI, a support call will cost an average of $22 while a self-service session will be just $2. So, how can you drive adoption of a self-service portal for end users? Portals need to be easy to navigate and understand, accessible (WCAG 2.0/508 compliant) and linked to both a strong knowledge base and fully automated workflows for service requests. "Focus on where the citizens are having the most pain," Graf said. "Start there, and then branch out. Because what'll happen is if people are getting a lot of value, meaning the things they most often ask for are there, then they'll start coming back."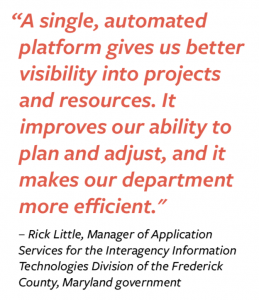 2. Knowledge Base Design
Along with being easy to navigate and written in the user's language, stellar portals include a knowledge base that is highly indexed and searchable. This provides quick links to the most accessed content, offers the ability to enhance content, and is accessible via mobile devices.
3. Change Management
Adoption of a strong change management process can prevent problems from occurring. In fact, studies show that 80% of unplanned downtime is caused by IT itself. When resources have the time to apply a change management framework, they can greatly reduce the volume of tickets generated.
4. Adopt Process Controls/ITIL Framework
Organizations that adopt process controls and/or the ITIL framework can realize tremendous benefits. As a set of practices that imparts practical and strategic guidance for IT service management, ITIL's overall goal is to improve business service. The business service will be improved when its support system — the specialized capabilities of the process, people, suppliers and technology — is optimized.
5. Bringing Projects & Service Together
The rapid increase in tech spend means an onslaught of new projects. To meet this demand, it's best to keep IT service management and project management together on one platform. This gives you the ability to manage resources more effectively and quickly gain visibility into work assignments and project outcomes.