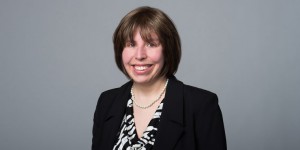 Does anyone else love the TV show The Big Bang Theory? Anyone else feel smarter by the end of an episode? And yet, when you sit down and put some real thought into it you find yourself asking what do the main male characters in the show (except for Howard) actually do. And does the government have their real-life alter egos? Who is our Sheldon Cooper?
Gretchen Campbell is the real-life, female counterpart of Sheldon Cooper. She is a physicist at the National Institute of Standards and Technology (NIST), and her work in atomtronics has made her a finalist in the Partnership for Public Service's Service to America Medal.
Campbell sat down with Chris Dorobek on the DorobekINSIDER program to explain how atomtronics works.
Although we may not realize it, we are familiar with the use of electrons through our electronics. The difference in Campbell's atomtronics experimentation contains work with ultra-cold atoms, which allows her to manipulate the motion of these atoms similarly to what happens in our electronic devices via electronic current. The possibilities for this new field are limitless and could go beyond the capabilities of electronics! It could lead to real leaps in technological advancements!
And it's not just science that gets Campbell noticed, Katharine Gebbie, senior advisor to the director of NIST's Physical Measurement Laboratory told the Partnership "there are very few people who can open up a whole new field. It takes creativity, drive and skill. She is leading the field."
Campbell said working for the government means focusing on the future. She admitted that the private sector has less of an ability to focus on long-term projects because they have to account for their shareholders. She shares that it is up to government to work on a project that may take more time to innovate and fears that it "just wouldn't happen if it was left to the private sector."
Sheldon Cooper would be proud to call Gretchen Campbell a fellow physicist. So if you want to become one, go for it! Think it is too "manly"? Not at all! Campbell reminded us that she thinks "there is no reason why women should be shying away from science and engineering."
The physicist reminded us that "when things don't work, that can often teach us just as much as when it does work."
So, ever feel like you've failed? If you just said "yes" then you are wrong. Just get up. Brush yourself off, because for all you know-you learned more than you could have imagined. You learned how not to do it again and that is something to consider.
Her nomination is just one way for the world to show their appreciation for those who work to break down new barriers. William Phillips, a NIST fellow and Nobel Prize Laureate shared with the Partnership that "Her work has been at the center of what is the beginning of a real revolution in the type of things we can do with matter." As a scientific revolutionist, she is well deserving of the Sammies finalist nomination.
*Image courtesy of the Partnership for Public Service