This article is an excerpt from GovLoop's recent guide, "Solving the Cloud Conundrum: Security, Procurement, Workforce." Download the full guide here.
No government workflow is the same because all agencies have unique missions. Despite this, cloud can improve every agency's workflows by enabling automation and reducing the manual processes for employees.
Agencies are struggling, however, to integrate emerging technologies such as automation into their specific workflows. Automation will enable agencies to perform traditionally manual tasks with minimal human assistance. This tool saves workforces energy and time.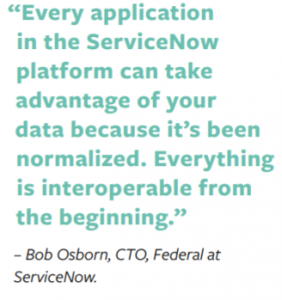 To understand how agencies can make automation fit their workflows using cloud, GovLoop spoke with Bob Osborn, Chief Technology Officer (CTO), Federal at ServiceNow. ServiceNow is a cloud provider specializing in Software-as-a-Service (SaaS) solutions. SaaS delivers centrally hosted software on a subscription basis. For instance, SaaS solutions such as those ServiceNow provides can provide agencies with automated workflows as part of their cloud subscriptions.
Agencies have long struggled with adopting new technologies such as automation because of how long procuring and securing these tools takes. These slow processes have left agencies lagging the private sector in technology upgrades. "IT is always chasing the constant refresh of technology in the workplace," Osborn said. "In the government workspace, this has traditionally been difficult because of the adoption requirements."
SaaS clouds overcome this obstacle by providing a single platform for automating all an agency's data. Ultimately, agencies can tailor their automated workflows by adding the data needed for each. The agency's cloud handles all the organizational data the same, saving time on automating it for workflows. "Everything is interoperable from the beginning," Osborn said.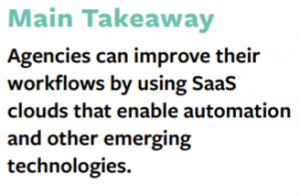 To see how SaaS clouds help agencies, consider automation's advantages. Organizations automating their workflows reduce the simple, manual work for humans. The result is happier employees who are more capable of satisfying public demands. "You can actually track where you are in the process," Osborn said. "This eliminates a lot of duplicative work and frustration. It changes the entire experience in the workplace."
Osborn said that ServiceNow's SaaS solutions also quickly modernize agencies' operations with cloud applications for workflows such as expenses, payroll and human resources (HR). These clouds can additionally host custom apps that are designed for fulfilling an agency's unique mission requirements.
"In the past, you had to develop legacy systems to accomplish this task," he said. "Integrating data and having interoperability is challenging with siloed applications. It's a huge benefit for agencies to take advantage of this platform approach to transform workflows and improve services."