Some employees seem to exude empathy. They have a knack for embodying sentiments and feedback from the people they interact with, and they respond accordingly and with care. But other employees may struggle in this area or appear indifferent.
Although training helps articulate organizational expectations and workforce competencies around fostering a customer-centric mindset, there's more at play.
Organizations can't expect from employees what they are not willing to invest in employees — and that starts with improving how employees experience their work.
When employees are valued, freed up, equipped and empowered to do good work, they can think more clearly and be people-centric when shaping experiences for others.
Understanding who customers are, what they're trying to achieve and the emotions — past and present — they bring to any interaction with you is vital. Here's a short exercise from GSA's blog that you can use with customers and adapt for colleagues, direct reports and various stakeholders. You can create a mini customer journey by asking two main questions: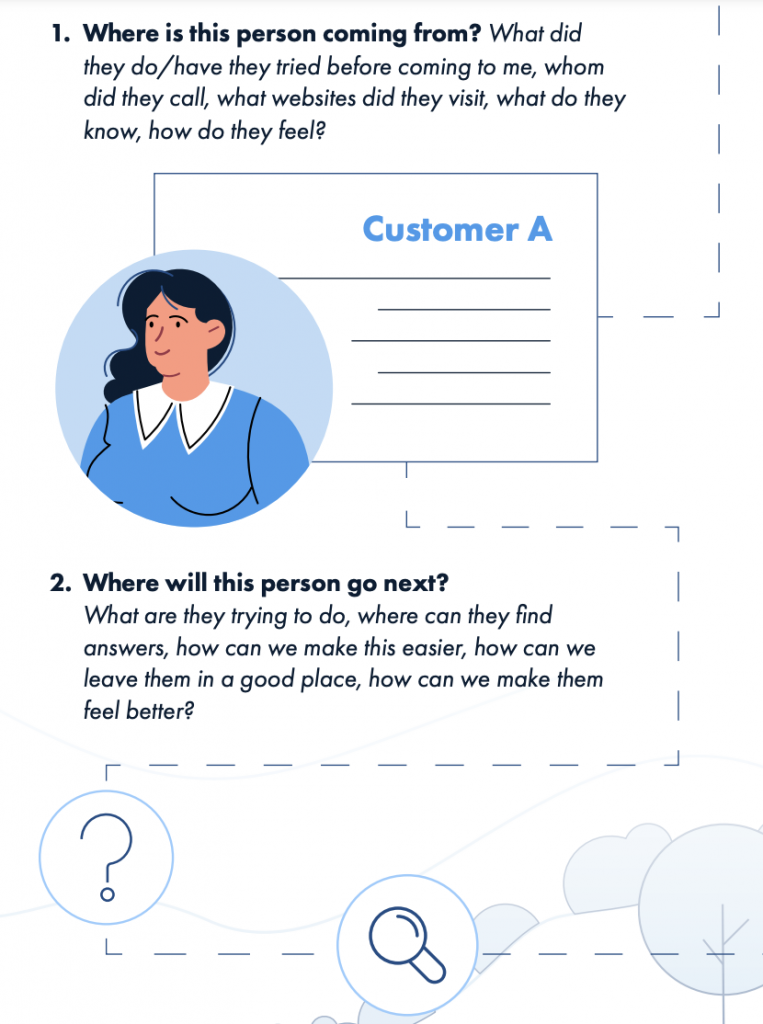 Embrace the power of personality tests
Knowing what drives, frustrates and triggers you as a provider of government services is key, said Kelly Brown, a GovLoop featured contributor and CX veteran in local government. Brown wrote D.C.'s first set of customer service standards.
"One of the things I think is particularly helpful are the personality tests," such as Enneagram, she said.
• You can gain an introspective look at how you think and operate.
• You can better understand what fuels you and what personality types you might mesh or clash with.
• You can better understand your strengths, weaknesses and areas to improve.
"You pull back the layers and understand why you react the way that you do, and what is the best environment for you to thrive in," Brown said. "You can position yourself to always provide the best customer service because you already know what your triggers are."
Customer service can't be an act or you won't be able to maintain it for long, she said. Here's a mini checklist you can use to check in with yourself.
• Be observant and aware of what's happening around you.
• Be introspective and aware of how those events impact the way you feel.
• Be honest about what you feel is going well and not going well.
Learn more: These types of personal exercises are foundational for understanding what drives employees to go beyond what's required and provide what's needed. Brown shared how a 911 dispatcher used social media and unconventional methods to stop an attempted suicide. Read more here.
Exposure to customers' frustrations speaks louder than memos
Federal Chief Information Officer Clare Martorana recalled an experience she had during her third week working at the Office of Personnel Management. On the other end of her phone line was the voice of someone she would never forget: a widow whose husband had been a 40-year federal employee. The woman couldn't get through to a government call center, but kept dialing numbers to get a human on the line. Martorana wasn't equipped to answer her questions.
"But I could listen," she said.
"Every time I ran into roadblocks about our call center or things we didn't have funding for, or challenges, I kept going back to that woman and that voice in my head of, 'She could be my mom, she could be my aunt, she could be my friend and my neighbor, and there are hundreds of her out there,'" Martorana said during the 2021 Federal Customer Experience Summit. "And I really took it seriously that I wanted to be the person that didn't just hang up the phone and go on to my calendar and see what next meetings I had. I really wanted to take it to heart and share it with my employees because they felt equally as passionate as I did about it."
Her takeaway: Martorana shared that conducting user research and hearing customers' raw emotions motivated her more than any strategic plan or high-level meeting. She encourages others to use ongoing conversations about what is not acceptable and collaboration — from the C-suite to the developers — to bust bureaucracy and create solutions.
Looking for additional resources, tips and stories from other CX thought leaders in government? Download our full resource, "Customer Experience Beyond Memo: A How-To Guide."