In a recent report by IBM, High Performance Law Enforcement, industry experts David Edwards, global public safety solution sales manager and Dr. Mary Keeling, manager, economic analysis, global smarter cities program at IBM, discussed the benefits of deploying an analytics program to combat crime.
The report notes the significant changes law enforcement has gone through in the past three decades. The authors observe that there have been two major changes in the way that enforcement agencies combat crime. The first shift was a movement to integrate policy resources into the community, by taking a "community-oriented" strategy. The hope was that by fostering relationships with the community, officers could work towards understanding the conditions that led to criminal behavior, and then prevent crimes from occurring. The second shift was that agencies began to make significant investments in technology. Public safety officers recognized the benefits of data collection and improved use of information to combat crime, and knew that technology advancements would play a huge role to improve the security of their communities.
The authors argue that technology innovations complement strategies to improve community relationship for four reasons:
"Extending the reach of police in the field through the use of video surveillance, shot spotters and license plate detection technologies.
More effectively deploying resources based on data analytics.
Increasing the speed and accuracy of core reporting functions, such as report preparation and evidence handling.
Improving the effectiveness of investigations by giving officers access to a broader array of integrated, actionable intelligence needed to solve crimes."
With technology advancements, policy officers can work more directly in their communities, and be empowered by data. They can gain more situational awareness, understand a crisis as it unfolds, and take preventive steps to counter crime, even before it happens.
Although technology presents tremendous opportunities, the challenge still remains to build infrastructures and systems to find the key data in the "haystack." The problem is that the data haystacks agencies collect, store and manage, are growing exponentially bigger.
Take for instance the statistics shared in the IBM report, which notes that 90% of all data in the world has been created in the last two years, and that by 2015, 80 percent of the worlds data will be unstructured (like video or text). This puts enormous pressure on agencies to reform their data strategy, and think about how to modernize their legacy systems. For agencies, they must be able to connect the dots from various sources of data. That means data from social media, and traditional forms of structured data. By merging these data points, agencies will be able to understand the core issues facing their community.
Another challenge the report identifies is how dwindling budgets have already forced agencies to become leaner and more efficient. IBM cites that police forces in England and Wales are expecting a reduction of 34,1000 officers and staff by 2015. Also, Canada's public safety services are facing budget cuts of $687.9 million, or 9.9 percent between 2011 and 2015. The paper additionally walks through seven major elements of law enforcement, and the role of analytics. They also provide an interesting graphic, which serves as an overview of the IBM Crime Management Center approach.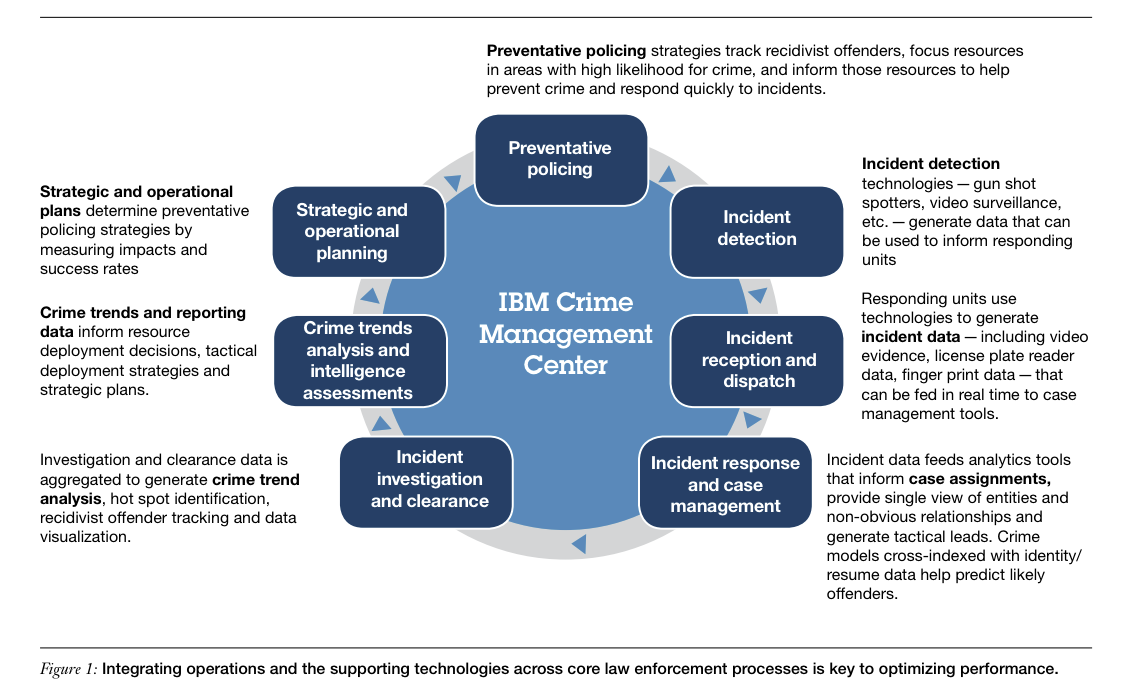 The report succinctly lays out seven benefits of using analytics to fight crime. You can read full descriptions in the IBM report, but below are the author's take on some benefits of using analytics to fight crime.
Detection technologies can improve incident detection and engage public safety resources sooner.
Swifter incident reception and dispatch can improve response times.
Technology can improve accuracy and efficiency of incident response and reporting and allocation of investigative resources.
Technology can enhance the efficiency of incident investigations and help increase clearance rates.
Analytic can identify trends to improve operational effectiveness and efficiency.
Advanced analytics can drive planning to improve the use of resources.
Proactive policing can help stop crime before it happens.
By taking a strategies approach to technology advancements, police officers are able to capitalize on the date they store, manage and collected. Armed with new data-driven insights, they can now get the right information, at the right time, to keep communities secure and reduce crime.
The IBM Analytics Solution Center (ASC) is part of a network of global analytics centers that provides clients with the analytics expertise to help them solve their toughest business problems. Check out their Analytics to Outcomes group on GovLoop.