This article is an excerpt from GovLoop's recent guide, "Intelligent Innovation: Tech Trends Taking Root in State and Local Governments." Download the full guide here.
People often fret about getting locked out, but state and local governments should be worried about being locked in – locked into aging systems and prohibitive contracts. With antiquated and convoluted networks, however, it's all that they can do to maintain these systems, instead of improve them.
Patching networks, securing firewalls and configuring applications are all responsibilities that occur from hodgepodges of aging systems, and the result is systems that consume an enormous amount of employee time. Answering these challenges takes a concerted approach, and the solution agencies need to look at is automation.
Automation allows state and local governments to detect, patch and connect systems with minimal employee intervention. To figure out how state and local governments should best deploy automation, GovLoop spoke with Tony Fountain, Cloud Infrastructure and Automation Specialist for Red Hat. Red Hat is a leader in open source technologies and delivers departmentwide automation.
"The overall challenge that these departments are facing with limited IT stacks is how do we approach automation more holistically, similar to the way we've done on the core infrastructure side," Fountain said. "How do we use a tool that can give us a common language for automation, across all of our networking footprint, thereby helping us to reduce our reliance on specific vendor technology?"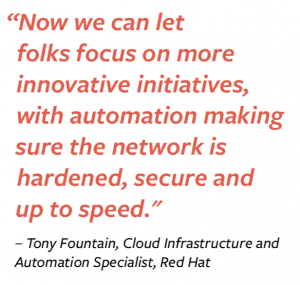 Because of the entanglement of IT systems, patching or maintenance isn't as simple as it should be. Networks have dependencies, and if a vulnerability is patched, the temporary fix could throw off a string of intertwined applications.
Automation, however, can patch, maintain and protect systems as soon as a vulnerability is detected. Tests can also be conducted automatically to ensure connected applications are still in working order.Furthermore, state and local IT departments don't have the financial resources or people to constantly survey their assemblage of systems, networks and applications. Problems have to be taken care of retroactively, and it can often take months to find and patch a failure, even with IT departments working quickly.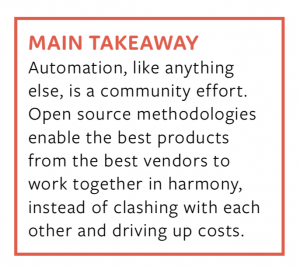 While there are lots of solutions on the market for automation, many require product continuity with one vendor, which is frequently expensive or untenable for state and local governments. Vendor-agnostic solutions, like Red Hat's Ansible Tower, however, let agencies manage IT across platforms and services. Red Hat's solutions, which are common- language and community-sourced, prevent vendor lock-in and enable the automation of all systems.
Fountain said that networkwide, holistic automation can save IT departments more than 90% of their workload on these maintenance requests.