It's that most wonderful time of the year when you think about holiday gifts that will make your favorite coworkers feel appreciated — and then draw a complete blank on the perfect gift to give.
Giving gifts to government colleagues isn't straightforward. At the federal level, strict rules govern gifts between government employees*, putting a $10 limit on your generosity. If you work for a state, regional or local government, chances are your agency has similar ethics rules and spending limits for holiday gifts. And, while you can give a more expensive gift to an office to share, it's time-consuming to wade through gift baskets to find the perfect one that everybody will appreciate.
This gift guide solves your holiday shopping problems. It's filled with lots of fun and meaningful treats for your hard-working government colleagues that don't violate the ethics rules.* Prices are as of Nov. 12, 2018, might change, and may not include shipping and taxes.
* I'm not a lawyer or ethics counsel. When in doubt, check with your agency ethics official.
Gifts Under $10
Sometimes all it takes is a visual cue to remind you to get in touch with your feelings. This image on this cute and clever Me + Myself + Eye greeting card by Relative Goods morphs as you tilt it, revealing a range of emotions you might cycle through in the course of a day. Buy one or buy a set of three "lenticular" cards for your coworkers who deserve an eye-opening holiday gift.
Central City Coffee (prices vary, 15% off with code GOVLOOP15)
Whether you like light roasts, dark roasts, or even decaf, Central City Coffee has the bean for you. It sources beans in a way that enhances economic growth in coffee-producing areas, then employs people in Portland, Oregon who are homeless to batch roast and sell the coffee. All revenue from coffee sales supports employment services that help formerly homeless individuals find the stability of home. Central City Coffee is a Social Innovation Fund (SIF) program, a grantmaking initiative in the federal government's Corporation for National and Community Service (CNCS). Central City Coffee has generously provided a discount code for GovLoop's community. Enter GOVLOOP15 at checkout.
Holiday parties call for festive drinkware, and nothing adds sparkle to a soirée quite like a disco ball. These disco ball drink tumblers from Apollo Box are BPA free and have a reusable straw. They hold 16 ounces of your favorite holiday beverage. Choose from three colors: silver, green-purple ombre and pink-blue ombre. After the holidays, a disco ball tumbler will add glitz and glam to the average workday.
Coffee lovers want their coffee anytime, anywhere. The coffee press from Apollo Box is an easy way for your coworker to make coffee at their desk, in a hotel room, on the road, or anywhere they feel the need for a caffeine boost. Just add coffee grounds to the press, immerse it in a cup of hot water and press to get a cup of the good stuff.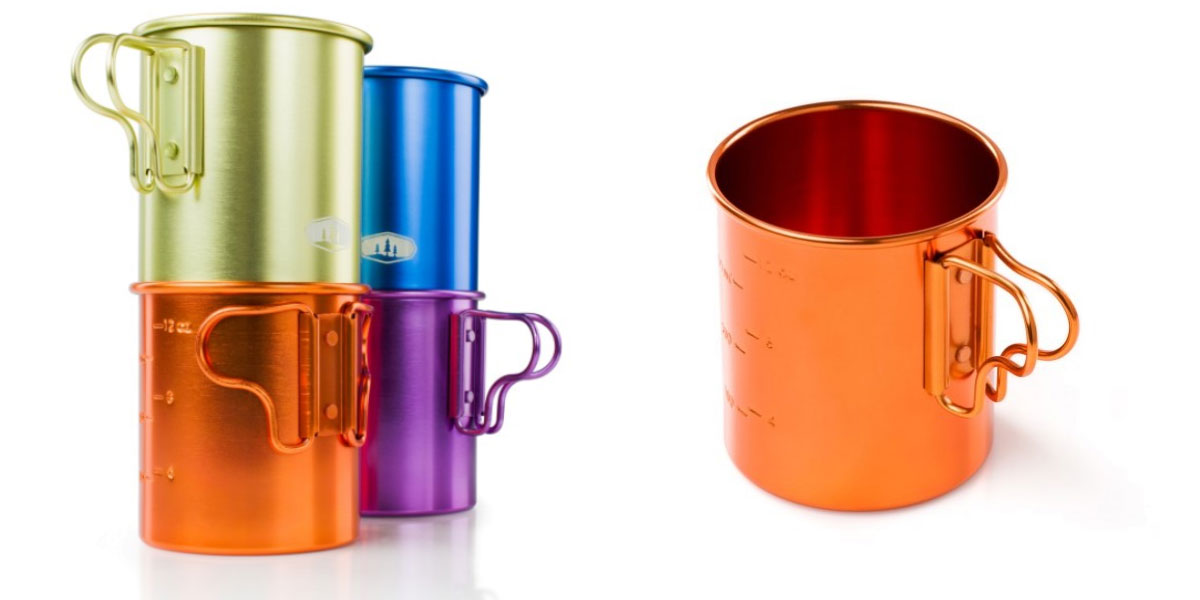 It's important for the things that wind up in your office to serve a clear purpose. It's even better if they're multi purpose. This bugaboo cup from GSI Outdoors is more than a sturdy-yet-stylish mug. It also is lined with ounce markers, so it works as a measuring cup. The lightweight metal won't chip, the handles fold down, and any of the four color options will add a pop of brightness to a desk.
People who work in offices use a lot of single-use plastic utensils, and that plastic piles up in landfills. Food also just doesn't taste as good when you eat it with a flimsy utensil. Help your coworkers reduce their environmental impact by giving them a folding foon, which is a clever combination of a spoon and a fork. The GSI Outdoors design folds down to 4 inches long and weighs just 0.3 ounces, making the folding foon a great gift for people on the move.
Do you have a coworker or friend who loves spicy food? Cocoa Loco extra spicy chocolate bar was created in collaboration between hot sauce purveyor Fuego Box and veteran-owned business Willy Pete Chocolate Company. Dark chocolate is punched up with a serious level of spice from three of the world's spiciest peppers — Carolina reapers, scorpion and ghost peppers. Be sure to warn people to take this chocolate bar seriously by starting with a small nibble to see if they can take the spice level.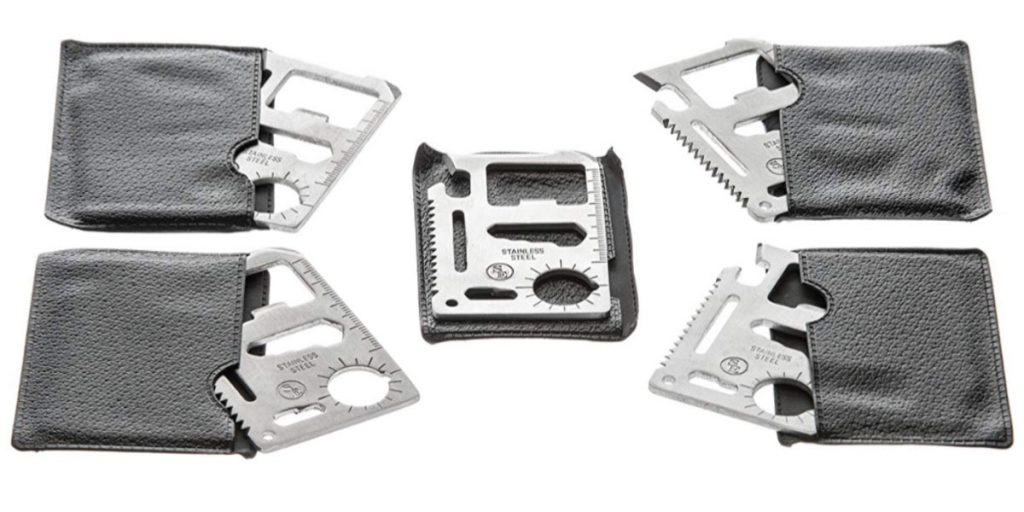 Give the gift of emergency preparedness with this compact stainless steel survival tool. It has many useful features and nubs, including a can opener, a bottle cap opener, four types of wrenches, a sharp cutting edge, a serrated edge, a screwdriver and a ruler. Sized just right to fit in a wallet, it even comes with a storage sheath to keep fingers safe.
There is a sound people write out as "squee" that expresses great joy, often at the sight of something undeniably cute. You'll make your coworkers squee at the sight of one of these mini staplers in the shape of cute animals. Choose a cute bear or other colorful animals like dogs, cats and dolphins. At less than 3 inches long, these staplers make a small yet squee-worthy gift.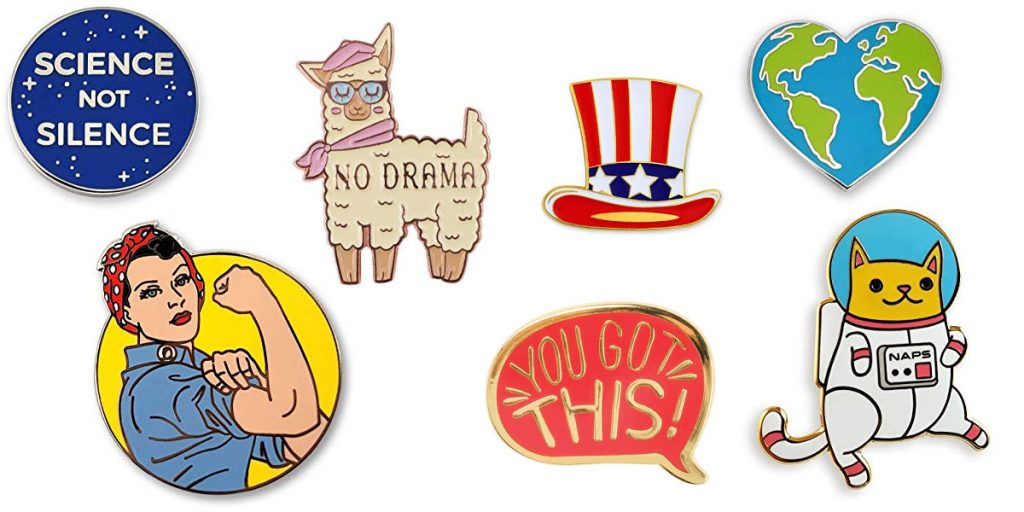 Enamel pins are a trend that just won't quit. You can get pins that are motivational, inspirational, entertaining or patriotic. A few designs are especially appealing to govie coworkers, such as Silence Not Science, Rosie the Riveter, No Drama Llama, Astro Cat, Earth Heart, You Got This and Uncle Sam's Hat. There are hundreds of other enamel pin designs out there, so you can find one that's just right for any person and any occasion.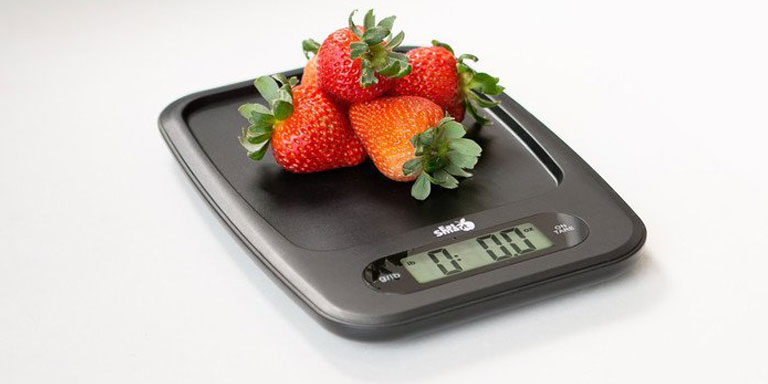 These days, a lot of people are making a positive change in their lives and eating healthier portions. After overindulging in holiday treats, folks will also appreciate the EatSmart Precision Digital Kitchen Scale. It features a slim, modern design that can easily be tucked into a desk drawer or stored out of the way on a shelf. The scale's recessed platform keeps foods from rolling away, whether you're weighing a handful of antioxidant-packed blueberries or of some jellybeans.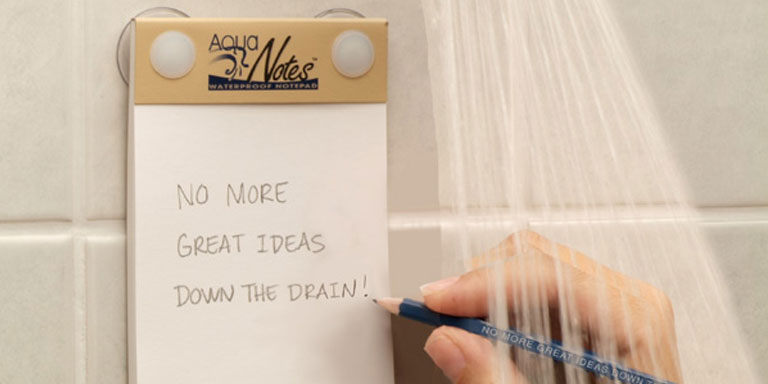 AquaNotes Waterproof Notepad suctions to the shower wall and gives thinkers a place to write down their thoughts before they're gone. The waterproof note paper is recyclable and non-toxic. Give this waterproof notepad to your creative coworkers so they can record their best ideas and inspiration.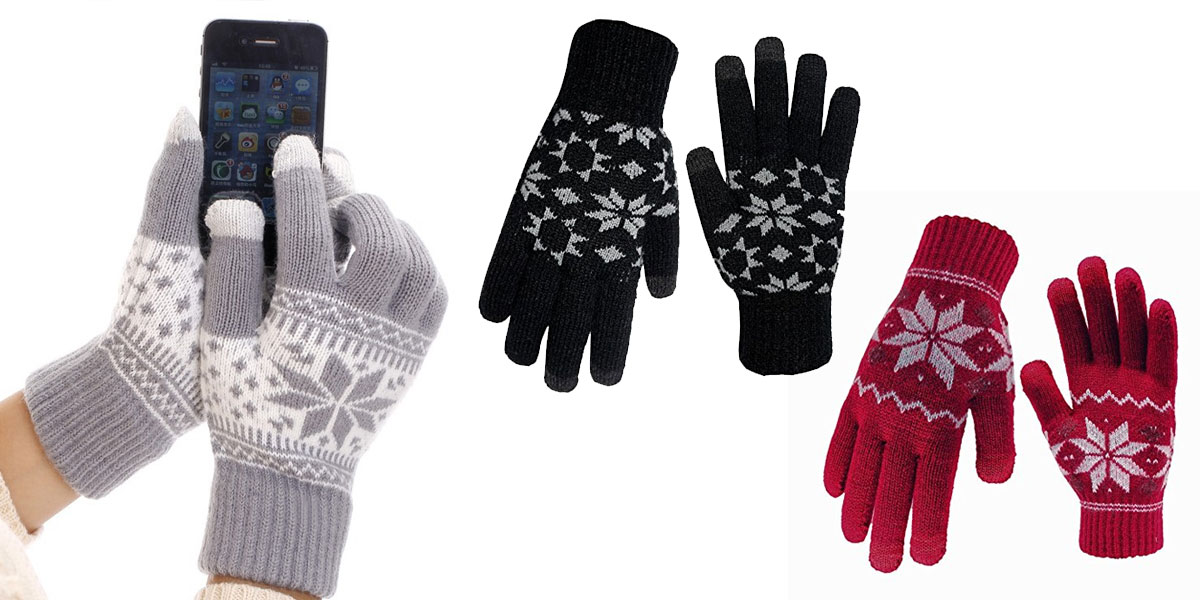 During the colder months, your coworkers will be grateful for a gift of gloves that allow them to stay warm while they text, type and swipe on their smartphones and tablets. Available in many styles and colors, these affordable touchscreen gloves have conductive material on the three fingers people use on their screen.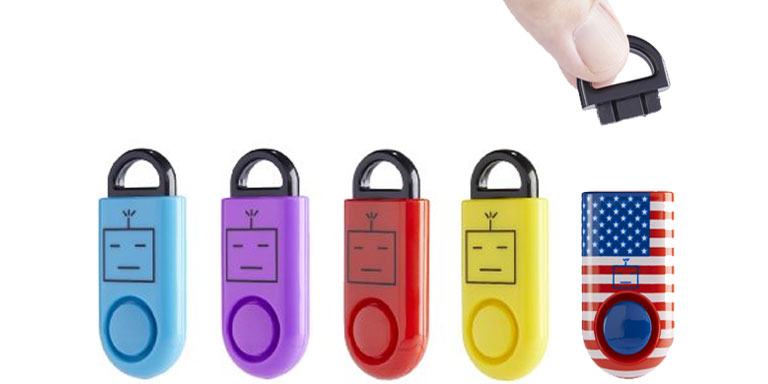 Personal safety is a valuable gift. Many government people would like a little reassurance in case an emergency happens. All they need to do is pull the pin on the B A S U eAlarm and it emits a 120 decibel (ambulance-level) siren for 30 minutes or until the pin is inserted back into to the device. This tiny alarm weighs less than 1 ounce and operates at temperatures ranging from 14° to 104° Fahrenheit.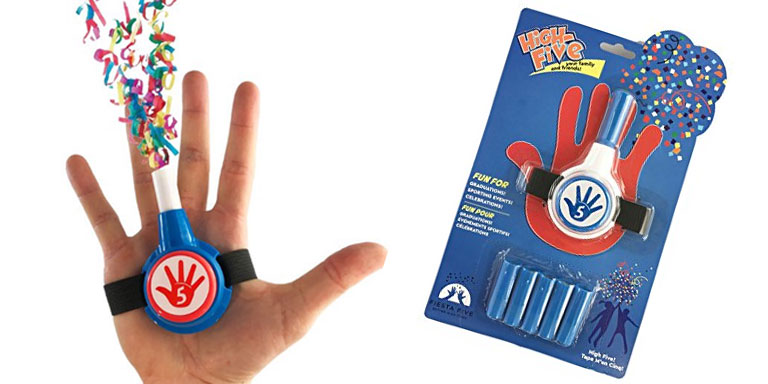 Spread cheer around the office by giving your coworkers the FiestaFive, a hand-held confetti blaster. Just strap the blaster to the palm of your hand and high-five a friend, and you'll all be showered in celebratory confetti. Each blaster comes with six cartridges of colorful, biodegradable confetti, and you can always order refills.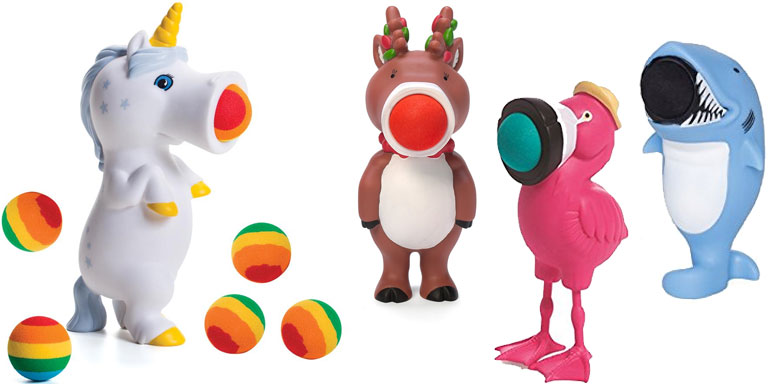 Foam-shooting guns probably aren't suitable for government offices. But an adorable animal that pops foam balls out of its snout? Yes, please. Choose a Hog Wild foam popper in the shape of a unicorn, squirrel, penguin, reindeer, shark, flamingo and more.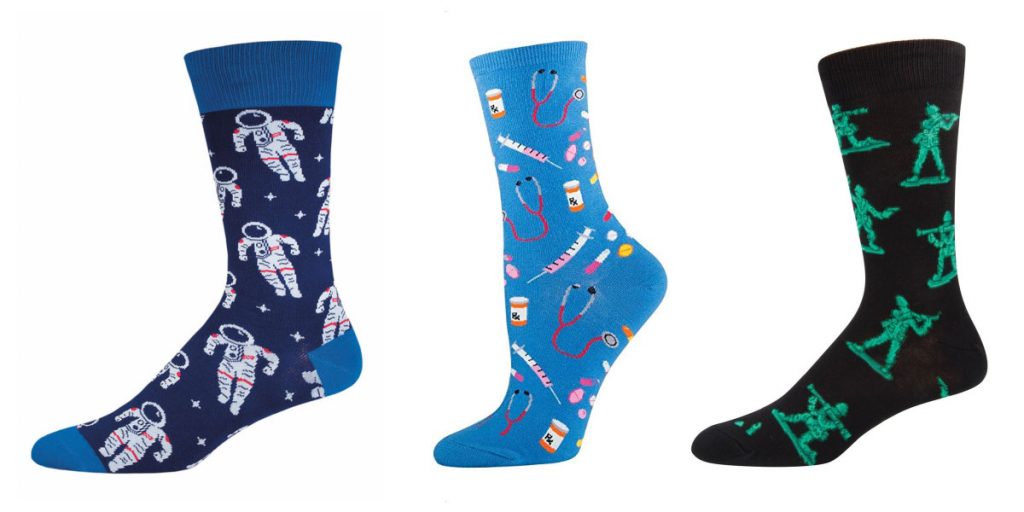 Socks might not seem like a fun gift until you realize you can get them covered in all sorts of designs. If you're shopping for a govie coworker, choose a design that appeals to people committed to career service. Consider choosing socks covered in toy army soldiers, astronauts or medicine, or choose another whimsical sock design.
Gifts for an Office to Share
Flower bouquets are out, cookie bouquets are in. Who can argue when these cookie bouquets by Cookies by Design come with sweet treats in the shape of unicorns, emoji, puppies, snowglobes, a winter wonderland or — wait for it — flowers. You can even get gluten-free cookie bouquets so everyone in the office can indulge in a holiday treat. Each cookie is freshly baked and decorated by hand to order.
What are welsh cakes, you ask? Welsh cakes are a traditional breakfast food and tea-time snack. They're somewhere between a biscuit and a not-too-sweet cookie, and completely addictive. Welsh cakes by Copper Kettle Bakery are the perfect gift for someone who understands the value of taking a break — or wants to sit down for tea time like British royalty. You can order handmade welsh cakes that are ready-to-eat or do-it-yourself mixes in a variety of flavors, including chocolate chip, currant, cranberry and more.
Fans of savory snacks get overlooked during the deluge of holiday sweets. Hubbard Peanut Company's peanuts hail from Sedley, Virginia, the same town where the company started in 1954. Choose a flavor-packed peanut gift trio of classic salted, super extra-large redskins, and 'sweet heat' seasoned peanuts. Or, go for the Hubs Harvest Gold five-pack, which adds sweet into the mix with tins of chocolate-covered and honey-kissed peanuts.
Leave the guilt out of holiday gift giving with a box filled with products that directly impact communities in need across the U.S. Packed With Purpose gift boxes span a wide range of items, including granola made by female victims of abuse, candles made by young homeless mothers and urban honey harvested by formerly incarcerated people. The Sweet Thanks, Deluxe box ($75) is filled with delicious food items made by more than eight social enterprises, ready for an office of coworkers to share.
Lauren Girardin is a marketing and communications consultant, freelance writer, and speaker based in San Francisco. She helps organizations, foundations and companies with a conscience engage their communities and tell their stories. Her website is laurengirardin.com and you can connect with her on Twitter at @girardinl.