It's hard to believe it, but I am celebrating my twentieth work anniversary at Esri, the company where I work, the world's leading mapping and spatial analytics firm. I will be joining in a celebration with 97 of my colleagues who started at the company the same year I did. The group ranges from software architects, programmers, scientists, marketing and sales professionals and fellow subject matter experts from so many different walks of life.
I must admit I sometimes feel like a bit of an anomaly in the tech industry. I hear so many stories about a millennial generation that is more interested in moving from one company to another every few years to stay relevant. But the excitement and energy of the technology and the people I work with at Esri is so motivating and stimulating, I never realized how fast twenty years had flown by.
When I first arrived, the company was going through a major revolution, migrating our software from mainframes and Unix operating systems to the PC. And there was an explosion of new users in government as Bill Gates's vision of a world "with a PC on every desk and in every home" was rapidly becoming a reality. There was fierce competition, rapidly evolving technological advances, the thrill of friendly rivalry to keep outpacing your colleagues and the excitement of seeing what amazing things our customers did with GIS technology.
Reflecting back, it's easy to recognize that it was our founder, Jack Dangermond, from which all the energy emanated from. I imagine our company has a similar vibe to what it felt like for employees who worked in the early days with Steve Jobs, Bill Gates, Elon Musk, Mark Zuckerberg or even Walt Disney.
Each of these entrepreneurs captivated their teams and left such a lasting impression on their employees and customers, and ultimately the world. Even when they had passed on or simply moved to other ventures, their names are mentioned as if they are still walking the hallways. They are individuals who left an indelible mark on their industry, their peers, their colleagues and their customers. This is the type of impression Esri founder Jack Dangermond has had on his employees and the GIS community.
For decades, my fellow employees and I lived by a bit of a secret code, "WWJD." What Would Jack Do? This question was easy to live by. Jack regularly made clear his personal and business philosophies to which he always wanted his teams to adhere. And we were all on board with the vision he set. He stood for one simple ideology we follow: we should all aim to do work that makes the world a better place.
It really did not matter what job you had; we all believed that was the mission we were carrying out. And the message translated to the people and organizations that purchased our technology. What was always intriguing is that no matter what hurdles were thrown our way: recessions, slipping product release dates, shifts in trends, changes in political administrations, or even competition, you could feel the whole company move towards the threat together. And all because we were living this vision and we wanted nothing to stand in our way.
There are so many lessons I have learned over these last two decades. In fact, I started compiling a list. I have realized the education I have received working alongside a successful entrepreneur is priceless. The following are six lessons that I will never lose sight of and that I will always pass on to my teams:
Set the Pace. For the longest time I thought I worked in a company of dedicated workaholics. The reality is, Jack set a pace we all sought to mimic. Still to this day ,his car is often the first one in and the last one out of the parking lot. And no job is too menial: if something needs to be done he rolls up his sleeves and gets it done.
Give Employees Ownership. Jack has never seen people as titles. He's always viewed people as assets. When an important project comes along, he will always ask the question of who is going to own this? And to this day, ownership of a project is still viewed as the most prized responsibility one could have.
Competition Keeps Us Humble. For most, competition is viewed as the enemy. However, this entrepreneur always reminds us that competition keeps us focused, challenges us to build bigger and better technology, pushes us to hire the best people and helps us to never lose sight of our true mission.
Be More Interested Than Interesting. This is a philosophy I have come to better appreciate. When you sit across from colleagues and customers, it's always more productive to focus on the person across from you than to focus on yourself. It creates a different connection between two individuals that you might have otherwise missed out on.
Keep Your Promises. This phrase speaks for itself. Deliver on what you committed to, even if it results in taking a loss, and you will see returns in spades.
Create a Community. Don't focus on creating customers. Instead, look to build an ecosystem of communities that extend to academic institutions, NGOs, governments, commerce, business partners, strategic alliances, trade groups, standards boards, employees and of course, people who love your products.
When some look at Jack Dangermond they see a man who through hard work landed on the Forbes list. For those who have had the opportunity to experience the way in which this man works, we have found a life teacher. I hope to be like him one day. Or at least to keep trying to emulate the practices of good business I have come to know.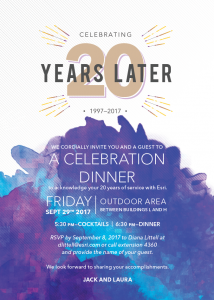 Christopher Thomas is part of the GovLoop Featured Blogger program, where we feature blog posts by government voices from all across the country (and world!). To see more Featured Blogger posts, click here.