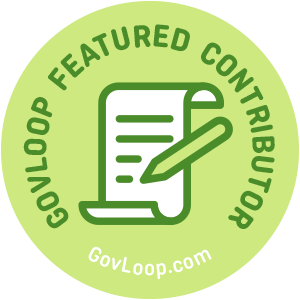 Here is a common conversation that I run into when talking to public servants from almost every country:
Me: If I told you that you had to start innovating tomorrow, what would you do different?
Public Servant: (Blank Stare)… (Shrug)
Me: If I told you that you were empowered to fix things that you were dealing with on a daily basis and you had to tell me what you were going to do, would you know what you would want to fix?
Public Servant: ABSOLUTELY! How much time do you have?!?
Public sector innovation is constantly shrouded in mystery. This is partially because we lack a common definition and understanding of what exactly is public sector innovation is.
The Observatory of Public Sector Innovation (where I currently work) decided a long time ago that pinpointing one specific definition for public sector innovation is nearly an impossible task. There are just way to many scenarios and different contexts where innovation could (read: should) be happening and that isolating the term to one definition would be an injustice to its overall purpose. By recognizing this fact, we decided to contextualize the term into some key characteristics and recognized that public sector innovation was something could be framed as the following:
It is novel to the context – We often view innovation as having to be the first to do something ever, but in fact, many innovations are about adapting an idea to your context where it has not been done.
It is implementable – Innovation does not equal sticky notes. Ideas are great (and needed), but ideas need to be put into reality.
It has impact – Innovation implies risk and is often a learning process, but in the end, should have measurable impact.
At OPSI, however, we are always looking towards broadening our scope about how other perceive innovation. We've developed a draft Declaration of Public Sector Innovation that is currently open for comments. Take the time to read it, share it with your network, and give us your feedback. Innovation is a process of learning and iteration. That is exactly what the aim of this open-consultation is.
I'm not innovative
Beyond the characteristics of innovation, the way the public sector celebrates innovation actually makes it less approachable. We only celebrate innovations after they have succeeded and only endorse specialised skills that many people may not have (or do, but just do not have the time to tap into them just yet). My favorite picture, courtesy of Adam Grant,  shows how we often times only celebrate the success and neglect the grueling process: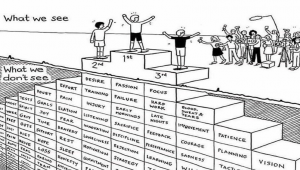 Innovation is a long and difficult process, but we rarely see or discuss the process, challenges, and failures that accompanied the celebrated innovation. Instead, we only discuss the impact, success, and the intelligence of the teams and leadership and while, this tactic is great for the current innovators that get to celebrate their successes, it may intimidate those who don't have access to the full picture.
So how do we get everyone innovating? It starts with making sure everyone has the skills necessary to go through the innovation process.
The 6 core skills of innovation
At its core, innovation is a combination of skills and mindsets. OPSI spent a year working with innovators from around the world to boil down innovation into core skill areas that serve as a foundation for innovation.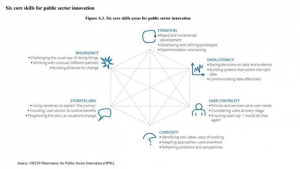 These areas are the core skills that enable all public servants to be innovators. We call them "areas" because the specific tactic or form the skills could take would depend on the scenario. An example of this is ITERATION. While Agile has become a popular methodology, it is but one strategy within iteration. It could be the right strategy for the situation, but it is not the only strategy.
So how do you gain knowledge and increase your skill in these areas? We have a paper that dives into these skills as well as webinars! Feel free to check them out. Also, I'm always available to talk about the skills and training opportunities that can help turn civil servants into innovators. As a former government employee that is still going through journey, it is better to do this together than alone.
Kevin Richman works as an Innovation Specialist for the OECD Observatory of Public Sector Innovation. Kevin's primary focus is assisting governments to create sustainable innovation through improved individual and organizational innovation capacity and capabilities. Kevin works directly with leaders on organizational capabilities and sustainable innovation and with civil servants on building innovation skills and is working on reports around building organizational innovation capacity and innovative leadership. Kevin served 10 years in the U.S. government working on innovation, customer experience, leading people, data analytics and communications. Kevin is also on the advisory board for Young Government Leaders – a non-profit helping young leaders in the United States government build a community, develop professionally and build resilience. When Kevin's not working, he's traveling, watching television or playing (European) football poorly. You can reach Kevin on Twitter @kirichman
Kevin Richman is also part of the GovLoop Featured Contributor program, where we feature articles by government voices from all across the country (and world!). To see more Featured Contributor posts, click here.