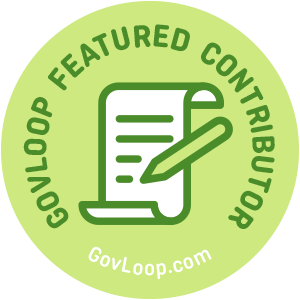 Oftentimes in life, we sit at our desk or in our offices staring out into space and thinking to ourselves, "There is more for me in this world then what's within these four walls." Now, that doesn't always mean it's time to quit, but it does mean that it may be time for more responsibilities, a promotion, a relocation or even a possible detail opportunity.
Far too often, we daydream of what life would be like if we had [insert the blank here], but remain comfortable within what we know and the team we have.
Knowing when to elevate and level up in your career will require you to "get out of your own way" and explore, just like we do to move our agency's mission forward. We are so programmed to focus and worry about others, including our job, family, spouse, finances and life stresses instead of applying self-desire to ourselves. Then we wonder why we burn out or are unhappy by year five.
As a federal employee and entrepreneur, I run into a lot of people who are "stuck" in their comfort zone. They know what they want and are eager for change, but they won't move to create a new narrative.  So how can you get out of your own way? In this article, I will offer you nine solutions. Far too often, we walk around blaming our delay, disadvantage and detours on everyone else when, in fact, we simply need to look in the mirror. If you want better, need more and deserve greatness, then you need to:
Write the vision and make a plan
Enjoy the milestones and breakthroughs
Take a day to update your resume
Travel to a different city
Enjoy a new adventure for the day
Embrace the failures and lessons
Hire a personal/career coach to teach you what you don't know
Believe that what you want is indeed yours to have
Execute, execute, execute
As you see, every step requires action and movement on your part, so if you are afraid to do the work for yourself, then in your way you will stay. But if you are ready to do the work, then buckle up and enjoy the process.
Charron Hopson-Swift is part of the GovLoop Featured Contributor program, where we feature articles by government voices from all across the country (and world!). To see more Featured Contributor posts, click here.