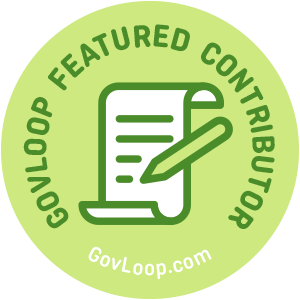 Innovation is everywhere in government these days — pitch days, 'shark tank' style events, innovation offices, and alternate contracting opportunities. Seeing government organizations trying to harness the innovation that comes from non-traditional contractors is great and the sheer act of trying these efforts has the potential to provide a much-needed boost of creativity.
Ideally, the new behaviors will prompt agencies and organizations to be more comfortable with risk, uncertainty, and change, which will lead to a more flexible and agile way of doing government business.
But what if it doesn't?
What if the flurry of innovation activity doesn't lead to sustained change? What if the same slow, bureaucratic processes that have traditionally plagued government attempts at agility don't actually change? What if they can't overcome the complicated requirements to engage with the government and other similar compliance or procedural barriers facing small companies?
We will have watched a fantastic episode of innovation theater.
Before we consider ways to prevent innovation theater, let's clarify the context. Noted Silicon Valley entrepreneur and Stanford professor Steve Blank coined the term innovation theater to describe innovation processes that are designed more for excitement and show than for real outcomes.
How to Avoid Practicing Innovation Theater
Simply hosting a pitch day, establishing an innovation office, or appointing an innovation leader won't suffice to keep an agency in a state of growth. The organization must be committed and structured to see ideas through. It's in those specifics where most innovation programs fall short. By structuring the environment and running decisions through a set of four lenses, agencies can protect themselves against innovation exercises that provide value limited to the exercise itself.
Plan for real change
If you want to really drive new behaviors, you must plan for the long term. Think beyond the pitch day or innovation workshop. How will the team create the organizational climate needed to make the new products or concepts stick? What policies or regulations will present barriers and how can they be removed? What aspects of leadership control can and should be decentralized to enable leaders at all levels to make key decisions and drive change?
Answering these questions will clarify whether your organization is ready for real change. If you're not sure or don't think so, you should probably pause here, build your roadmap and operational guidelines, and then start again.
Involve the organization
Establishing an Innovation Office and having them run events or generate ideas and create fanfare won't change your organization. Be agile. Involve the organization early and often. If you are thinking about hosting a 'Pitch Day' or some sort of innovation day, filling up the audience and panel with senior leaders is probably your first thought. You need senior leadership buy-in, right? An innovation champion?
While senior leadership support is important, it is more likely than not that the junior staff will be the users of whatever new technology or concept you get out of the pitch day, not the senior leaders. They should be part of the design, selection, judging, and collaboration process.
Is your organization comfortable with having junior members of the team playing critical roles in the innovation process? If not, consider why. Activating innovation has to happen to the edges of the organization. If that's not possible, perhaps the organization itself represents a hurdle.
Get comfortable with failure
Things are not going to work all the time, or even most of the time. Murphy's Law is real, and even the greatest ideas and efforts sometimes fail. That is okay because critical learning can come from failure. Those companies that take the time to grow and adapt from failing efforts almost always end up distinguishing themselves from those that stagnate. They do that by activating a method to spot indicators of failure before the actual failure and a mechanism to capture lessons and share learning from the effort across the organization (and beyond if applicable).
How does your organization define success for innovation efforts? Do you have processes in place to identify when efforts are off track or at risk? How do you extract and share learning from these efforts?
Have a plan for transition
Presuming the organization has a roadmap, structure, and comfort with risk, you're well on your way. Add a successful pitch day, an engaged cross-functional team, and proof of concept. Once you've celebrated those early wins, then what? You position the new product or concept to stick in the organization for the long term. That next phase takes figuring out how to institutionalize the innovation quickly. Identify the processes required to transition innovations across the organization as swiftly as possible, and with the fewest possible steps between something that works and those who need it.
If your organization doesn't have a plan for how to scale and transition the innovations, you need one. Letting transformative products or concepts wither while they work through bureaucratic processes will kill organizational energy.
The short of it is this. If you want to get on the innovation train, you have to have a plan for how to get stuff off of it. You should have that plan before you get on. ?
Tyler Sweatt is a GovLoop Featured Contributor. He is the founder and Managing Partner at Future Tense. Tyler works to identify and address risks and opportunities in changing environments. He advises startups across the cybersecurity, artificial intelligence, and physical security domains, and regularly supports R&D, S&T, M&A and strategy initiatives across DHS, DoD, the IC and Fortune 500 organizations. Previously, Tyler worked at futurist consulting firm Toffler Associates, leading emerging technology and security efforts, and worked at Deloitte where he focused on rapid technology acquisition for DoD. A West Point graduate, Tyler served as a Combat Engineer and Counterintelligence Officer with the Army, serving multiple combat deployments. You can find him on Twitter @Tyler_Sweatt.