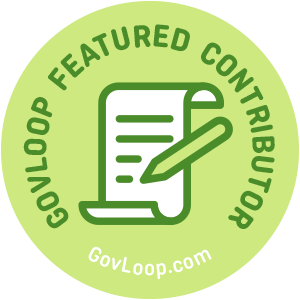 It has been a while since I've written for GovLoop – I was a Featured Contributor years ago. I was the guy who wrote about fantasy football and zombie escape rooms as ways to improve job performance and emotional intelligence. I tried to find the balance between being an unoriginal self-help post and a Buzzfeed quiz.
Between my journey to becoming a public sector innovator, a young manager and leader, and being a vice-president for Young Government Leaders (You should join now, it's free! I'll wait….great, you registered? Took 30 seconds right? Welcome back), I thought I brought a unique perspective that would be valuable to the GovLoop audience. Now, I have a completely new perspective.
Almost a year ago, my wife, my dog and I packed up our bags and moved to Paris. I left the U.S. government and joined the Observatory of Public Sector Innovation (OPSI) within the Organisation of Economic Co-operation and Development (OECD). If those words mean nothing to you, don't worry, we have a website, but if you don't want to read the website just yet (bookmark it for later!), we work with OECD and non-OECD countries around the world to help them with public sector innovation, spot innovation trends, spread best practices, and further the theoretical thinking of public sector innovation. Technically, I'm still a public servant, but at the international level. I'm still trying to get used to thinking of myself as a public servant of the world.
We're a small international team full of Americans, Estonians, Canadians, Australians and Italians. We've all worked in the public sector and been involved with innovation at the national and local level. And we all believe that the status quo, the value public sector provides, across the world needs to be dramatically improved. Innovation, while not the only response (I don't drink the Kool-Aid too heavily), needs to be increasingly considered as an option.
Innovation is a complex and nuanced subject. I have A LOT to say on the subject, but this is my first blog, so rather than doing a deep-dive into a specific subject, I just wanted to share some interesting observations from the past year:
By the end of 2018, I will have had the opportunity to learn the contexts of over 40 countries (some more in-depth than others)
Before this job, the amount of countries I understood innovation context is one: The United States
This does not make an authority, but rather, this has expanded my contextual knowledge and understanding of the state of innovation in governments around the world
Public sector innovation is unique – taking innovation theory from the private sector does not work. The public sector has different drivers and adopting private sector models generally produces sub-optimal results.
Just like US government agencies, everyone sees themselves as unique, but in the end, almost everyone is, to some extent, dealing with the same issues. But they often develop radically different solutions.
Innovation is often less about inventing something completely new, but adapting good practices from around the world in your context where the practice does not exist.
In general, public sector innovation is still about an individual with an idea overcoming the bureaucracy to drive change. Sometimes it is institutionalized across an organization and rarely is it understood and driven through an entire system.
Yet there are innovators across the world doing incredibly inspiring things. Want to get inspired? We have an innovation case-study library which we're updating daily.
So how do we become better innovators? How can we, no matter our position, drive change and increase the public value of government? That is what I want to explore over the next seven weeks.
I'm open to ideas that the GovLoop community would like me to discuss. Just please don't ask me to do it in French.
Kevin Richman works as an Innovation Specialist for the OECD Observatory of Public Sector Innovation. Kevin's primary focus is assisting governments to create sustainable innovation through improved individual and organizational innovation capacity and capabilities. Kevin works directly with leaders on organizational capabilities and sustainable innovation and with civil servants on building innovation skills and is working on reports around building organizational innovation capacity and innovative leadership. Kevin served 10 years in the U.S. government working on innovation, customer experience, leading people, data analytics and communications. Kevin is also on the advisory board for Young Government Leaders – a non-profit helping young leaders in the United States government build a community, develop professionally and build resilience. When Kevin's not working, he's traveling, watching television or playing football poorly. You can reach Kevin on twitter @kirichman
Kevin Richman is also part of the GovLoop Featured Contributor program, where we feature articles by government voices from all across the country (and world!). To see more Featured Contributor posts, click here.