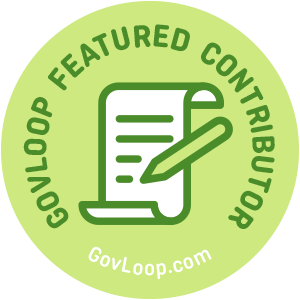 For the past eight years I have worked with possibly the best team in existence. And this team includes multiple interns. Our office has a limited budget for permanent staff. We also have a ton of incoming work requests from our customers. Simply put, we would not be able to deliver 75% of what we currently deliver without our vibrant, engaged and intrepid intern team.
By providing our interns opportunities to expand upon their knowledge, gain real-world experience and get a first hand look at why working within government is so important, they too are winners.
Finally, government wins as many of the interns have developed a passion to serve. Many of our past interns have become permanent employees within a variety of government agencies.
A Win for Interns
I have interviewed possibly thousands of potential candidates for our internship opportunities over the years. I always explain to them that the internship opportunity is what THEY make it. This is not a 'fetch me a coffee or make some copies' type of internship. The selected candidates have the ability to reach a high level of complexity in their work. We have had interns jump in with both feet and within a matter of a few weeks they are managing business projects or working on a team to stand up a program.
Our office works to support a little over 3000 employees. We provide products and services in the areas of process improvement, project and change management as well as strategy. Therefore, our interns have the opportunity to work across all functions. They interact with executives, managers, supervisors and front line people. Encouraging our interns to network and learn about the infinite number of topics and functions within the organization is common place. Continually mentoring and coaching, our office leadership team gets to watch the interns apply their knowledge to real world business issues. The successes I have witnessed will never cease to inspire me.
At the end of each internship, our interns are recognized for their dedication and contributions. They receive a fedora – yes, a fedora hat – as a symbol of accomplishment. Our office's leadership team picks the color of the fedora based on the intern's personality. Gary Vansuch, Director of the Office of Process Improvement, then respectfully reads the speech by Theodore Roosevelt, The Man in the Arena. The intern is then asked to talk about how they 'won' by spending time working with us. We in turn, tell them how we 'won' by spending time working with them. This right of passage is a wonderful way for everyone to recognize and appreciate each other and their contributions.
A Win for the Department
My supervisor told me that someone once told him, "If you ever get a chance to employ interns, you should." So, we started an internship program as an experiment by hiring two interns. Since that time we have employed, mentored and learned from 60 interns. At any given time we have between four and ten interns working on programs, projects, and tasks that benefit the multiple divisions and the department as a whole.
We hire strategically with the goal of having a very diverse team. By having team members who are focused in multiple disciplines we can deliver nearly any project or task. We hire people who want to gain experience in process improvement, change management, project management, program management, media, marketing, web development and all things numbers (data, statistics, etc.).
The success of our intern team has become somewhat of a legend. The model that we have continuously improved upon over the years is valued and prized. We are consistently asked for guidance as others work to create similar teams of their own. They, too, see the value that the interns provide to the department. As an example, our intern team is currently working with us on multiple restructures within the organization. As we approach these restructuring efforts with a strategic and holistic mindset, the interns work to track data, create thematic summaries and provide great insights into the continuous improvement of our processes.
Our office and the department is certainly getting a win. The interns on our team exceed our expectations at almost at every turn. Without our intern team, our office would struggle to accomplish in 2019 even 25% of what we accomplished in 2018. A summary of those accomplishments are available to read here.  Yes, this summary was also written by an intern! (Thanks, Niles Koenigsberg!)
A Win for Government
The interns we have employed are the future leaders of tomorrow. Whatever paths they decide to venture on or turns they may take, they will one day be leading others. Choosing to work in the government sector is a calling. I have worked my entire life in the service of others. I desire to make a difference. Many of the interns that have passed through our office have made that same choice.
Out of the 60 interns we have employed, five now work within our department. Another fifteen work for other state or local agencies. If my math is correct, that is a 1/3 retention rate.  These qualified and passionate people have chosen to continue working in the government sector.
I am very proud of this outcome. Playing our small part to ensure that the workforce of the future is successful is an honor. And it all starts by mentoring the younger generations. Showing them how impactful their contributions can be for others. Role modeling leadership skills. Providing experiences, lessons and knowledge to place in their very own tool kits. Having interns is truly a way to pay it forward in government for future generations.
The Win-Win-Win is the Way to Go!
If you have excess workload and hiring permanent staff is not an option, I strongly encourage you to create your own win-win-win solution. I feel that I am probably the biggest winner of all. My life has been enriched with the relationships that have been developed with each of these wonderful people. I have learned so much from these 60 individuals. They have kept me young. They inspire me to work hard and to think outside of the box. I am truly blessed that I get to work with such a wonderful team full of future leaders.
To find out more about how this internship program is a win-win-win, check out our internship website. And, yes, this too was developed and created by interns!
If you want to learn more about internship programs, you may also be interested in the post Designing an Internship that Works by Mary Roche Cronin. This is a great read and good food for thought. Thank you, Mary, for taking the time to post it!
Michelle Malloy is a GovLoop Featured Contributor. She has been a devoted Colorado state employee for nearly 13 years. In that time, she had dedicated herself to being the best steward leader possible, ensuring that everyone and everything left in her care are nurtured and developed in order to provide the best value and service to the citizens of the state of Colorado today and into the future. Michelle's expertise lies in strategy, program management, project management, change management, process improvement, facilitation and working with people. Michelle believes that people are the government's #1 asset and the products and services we aim to provide and improve upon would not happen without them. You can read her posts here.