In Washington, D.C., no one accomplishes much of anything on their own. To take significant action requires leadership and the coordination of many actors from across governmental departments, often involving the support and oversight of Congress. Over the years, the term "interagency" has shifted from an adjective to a noun.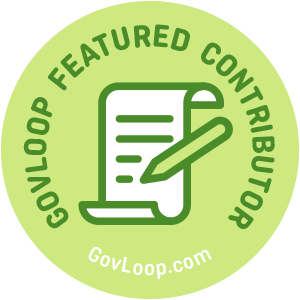 The "interagency" process is now called "the interagency."
Learning how to navigate this dynamic and complex landscape has become a required competency for senior government leaders, as well as mid-level staff, if government is to work effectively. In the federal workforce, knowing how your department or agency fits into the interagency policymaking arena and having the skills required to initiate, coordinate and execute government action are now part of the job.
Here are some tips for understanding the interagency process and how to navigate it.
1. The first step is knowing the context and where your department or agency fits in. This means having a deep understanding of the mandate, authorities, institutional history of cooperation and specialized skills that your organization brings to the table.
2. Second, flowing from this institutional mandate, having clarity of the government's overall objective and how your department or agency fits will help inform your vision of what successful interagency engagement looks like.
3. Finally, using these interagency engagements to develop and strengthen institutional and personal relationships on an ongoing basis strengthens the overall capacity of the government. This enables the workforce to execute complex missions affecting millions of people and involving billions of dollars in resources.
Understanding the different players and the role of power in the interagency is also essential.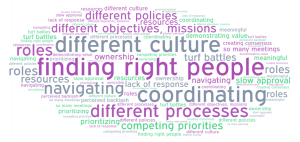 In this context, bureaucratic power can come from a variety of sources.
Convening power comes from a mandate in law or custom that grants responsibility for coordination to a single entity. Traditionally, the president uses the National Security Council or the Economic Policy Council to convene relevant agencies for policy recommendations on a particular issue.
Convening power can also reside within an agency or department. For example, in foreign affairs, the State Department convenes the U.S. Agency for International Development (USAID) and the Defense Department (DoD) along with other agencies on matters regarding the stabilization of conflict-affected states.
Relationship power can come from a grant of authority to a single individual or czar named to oversee an interagency initiative or subject area, or from years of institutional knowledge working on a specific set of issues. Other individuals become especially adept at navigating the interagency. These so-called "bureaucratic ninjas" gain power by having the seasoning, political savvy and far-reaching networks that combine to produce impact.
This impact comes largely from knowing how the system works — positioning the agency to maximize influence — and from putting networks to use in the exchange of useful information across government actors.
Subject matter expertise is another form of power that provides one or more departments or agencies with interagency influence due to the high level of specific knowledge and expertise they bring to the table. In the area of health, the Health and Human Services Department, the Centers for Disease Control and Prevention and related components of DoD all have specialized expertise that can be tapped.
Closely related to subject matter expertise is implementation or operational expertise.  Organizations called upon to execute policies have an important role in advising policymakers about feasibility, appropriateness, risk, cost and implications of a particular course of action. Without the input and consideration of those responsible for making it happen, a policy that sounds great in a meeting might be a disaster when it goes live.
Meetings and the memos and actions that follow are the way interagency business gets done.  To help your agency navigate these waters successfully, here's what bureaucratic ninjas do before, during and after interagency engagements.
Before
A seasoned federal operator will assess the environment using their institutional knowledge of their organization, its history, the legal and policy responsibilities and authorities it holds, and how it relates to other agencies. Overlapping mandates, bureaucratic rivalry and, at times, personal agendas can thwart the goal of interagency cooperation. Reaching out to other players to gain perspective, trade information and find hidden "landmines" or other agendas is key.
During
It is critical to know what type of meeting is occurring. Is it for information? Planning? Presentational or decisional? Many deflating moments can occur when one plans for one kind of meeting and arrives at another. Being clear about your principal's or agency's agenda and bottom line will help define a path. Reading the room and knowing which actors are likely to support or align with your goals and those who might oppose your recommendations will determine your strategy. This is where your pre-meeting reconnaissance pays off.
After
Most meetings are memorialized in a Statement of Conclusions. Knowing "who has the pen" and conveying messages after the meeting can help ensure that key points are accurately captured, taskings are clear and your agencies' equities are respected (or at least understood).
And finally, take time to debrief and learn. Too often, principals move on to the next item on their agenda without the benefit of reflecting on what happened and why, and what should happen next. Either in the cab ride after the meeting or in a more formal debrief, this process builds staff capacity by sharing insight, best practices, winning maneuvers, and areas to improve at engaging successfully in the interagency.
From global pandemic response to economic recovery to post-conflict reconstruction overseas, inter-governmental response to complex crises are happening every day. These skills matter.
Neil Levine retired from federal service in 2017 after 30 years. He taught Strategic Leadership at the National Defense University's Eisenhower School for National Security and Resource Policy. Neil is a certified professional coach with over 20 years of experience in advising individuals and groups on setting the conditions for success. Neil has a M.S. in National Security Strategy from the National War College (2008), a Masters in International Affairs from Columbia University (1986) and a B.A. from Earlham College (1983). In 2017, he received his Executive Coaching certification from the College of Executive Coaching.