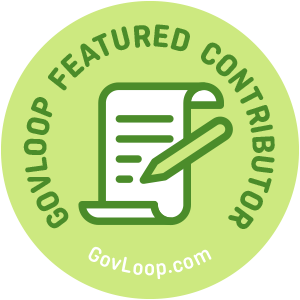 In "Preparing Government to Lead Change: Creativity and Innovation Developmental Strategies," I illustrated the difference between change management and leading change. I also shared developmental strategies to educate, expose and provide career experiences to demonstrate leading change through the executive competency of creativity and innovation, using the definition of the Office of Personnel Management (OPM)'s Executive Core Qualification, "Leading Change."
Additionally, during a worldwide pandemic, preparing government to lead change through external awareness is important.
External Awareness as a Leading Change Competency
The second leading change executive competency is external awareness. According to OPM, the executive competency of external awareness is this: "Understands and keeps up to date on local, national and international policies and trends that affect the organization and shape stakeholders' views; is aware of the organization's impact on the external environment."
External awareness is also known as situational awareness and functionally abbreviated as FYSA (For Your Situational Awareness). It is not only policies and trends that affect stakeholders' views; it is also how external factors affect daily work. The Human Capital Office of the Health and Human Services Department (HHS) and Management Concepts defines external awareness as "the ability to identify and integrate key external factors into daily work activities." In systems theory, the world is made up of interconnecting systems that influence one another. If governments are considered a type of system, how do other interconnecting systems in the world influence them? The analysis of interconnections and influences during a worldwide health crisis is the first step to prepare government to lead change.
How do you learn to conduct analysis that supports external awareness at home during a pandemic? It is critical to map a variety of developmental strategies to the leading change executive competency of external awareness to prepare government to lead change through education, exploration and career experiences.
Educate to Lead Change through External Awareness
Educate to lead change through external awareness by learning how government entities work together. Take Harvard University's edX series "U.S. Government" and Georgetown University's "How the U.S. Government Works & How to Get Involved." Use USAFacts.org and Encyclopedia Britannica to discuss the functions of the local, state and federal government. In addition, take courses in government budget formulation and execution. One of the best ways to understand external awareness is to identify how external factors influence government priorities and spending.
Expose Yourself to Lead Change Through External Awareness
Engage in exposure opportunities to lead change through external awareness by observing local, state and federal government. Take an online tour, and connect with and shadow government officials. Attend virtual or in-person government legislative proceedings. During the proceedings, identify how government is preparing to lead change through external awareness initiatives. In addition, don't forget to follow up and ask officials and their staff how they address external influences on constituent concerns. Use email and social media accounts to engage with government to discuss these external awareness situations.
Experience Leading Change through External Awareness
Experience leading change through external awareness by volunteering with local government on sister city initiatives. Governments can also partner with local colleges and universities for a day of learning. Listen to students to expand the external awareness perspectives of government. In addition, facilitate an executive loan program with a local college. And, plan opportunities for government-to-government, government-to-industry and government-to-academia partnerships.
Plan to use these external awareness tips to prepare government to lead change.
You may also be interested in A Roadmap for Leadership Development and Proficiency Levels for Leadership Competencies.
Adelle J. Dantzler, M.S. Ed., has advanced from a GS-3 student worker to a GS-15 Human Resources Specialist in the federal government. She has used her master's experience in instructional design to create innovative, customized virtual and instructor-led courses and curriculums at the high potential, team leader, GS-15, and senior executive levels at four federal agencies. As a Federal Job Search Trainer/Career Coach, she has successfully coached hundreds on the job search and facilitated career management, leadership, and team-building with her certifications as a MBTI® & FIRO-B® Practitioner, Crucial Conversations and InsideOut Coaching Presenter, and EQ-i2.0 and CCL 360 coach.