Shortly before the 2016 State of the Union, the White House joined Snapchat with quite a bit of fanfare. It kicked off with a "behind-the-scenes glimpse" of the speech preparations. In its Snapchat announcement, the White House explained that the social app fits into its decentralized strategy of "meeting people where they are" on a variety of digital platforms.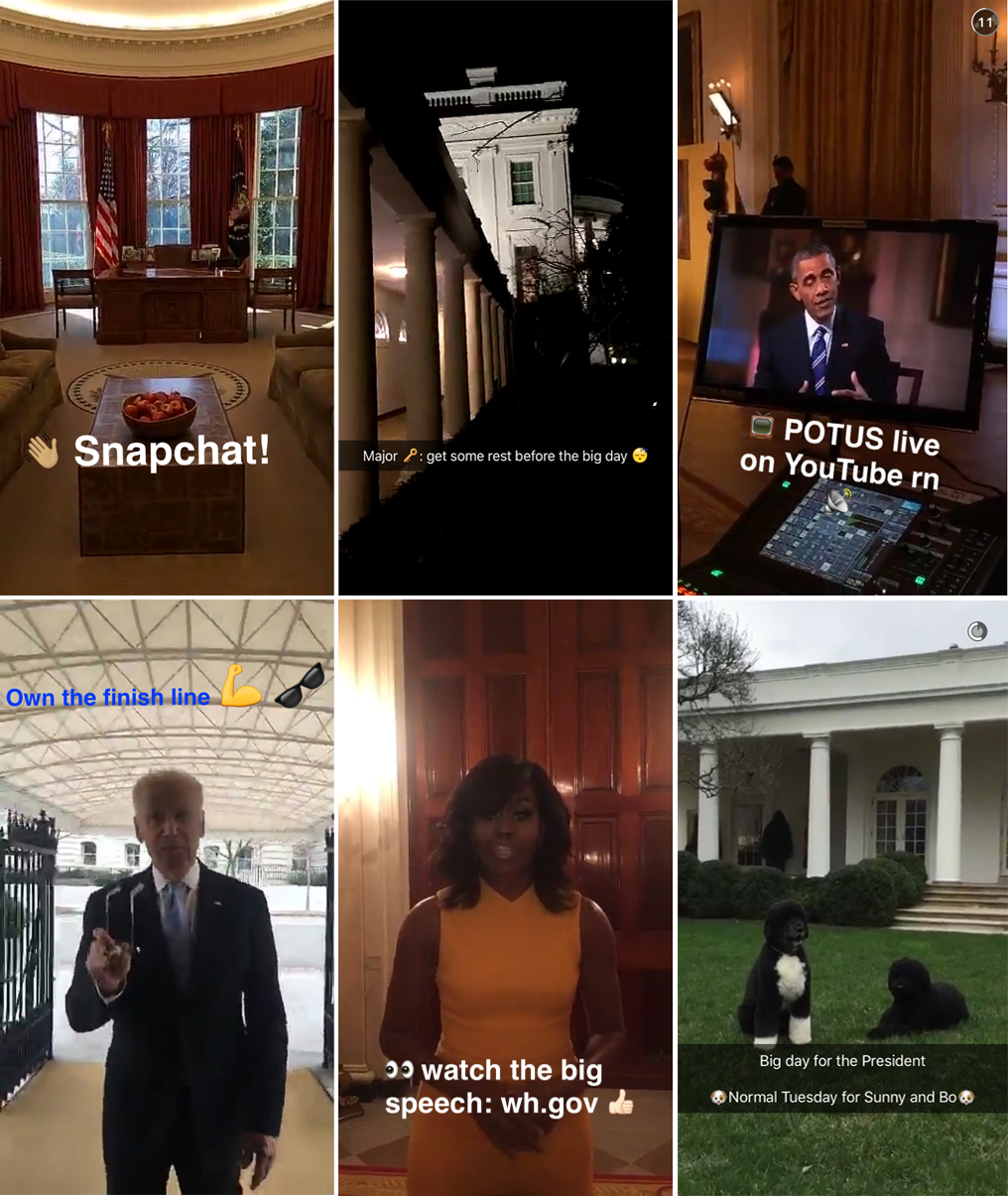 The White House wasn't the first and certainly won't be the last government agency to join Snapchat. What do agencies need to know about snapping about public service?
What is Snapchat?
Snapchat is a photo and video sharing social app. "Snaps" are photo/video messages you send to people that disappear once they view them. This vanishing act creates a sense of immediacy and FOMO (Fear Of Missing Out) that encourages people to check the app every day.
Videos are extremely short, no longer than 10 seconds. You can combine multiple photos and videos into longer "Stories," where they play in order and can be watched for up to 24 hours. Dive into Snapchat's guide on the basics of using the app.
Snapchat has what people in the business call "bonkers market penetration," attracting over 100 million daily active users in just a few years. Over 60 percent of American smartphone users between the ages of 13 and 34 use the platform. While it currently skews to the younger set, like many social media channels before it, Snapcat seems to be going mainstream.
Don't dismiss Snapchat as a teen sensation. 40 million of its U.S. users are old enough to vote. According to a November 2015 survey by Global Strategy Group/Public Opinion Strategies, two-thirds of Snapchat's millennial users are likely to vote in the 2016 election. And, millennials who use Snapchat are more likely to vote than millennials as a whole.
Record keeping with ephemeral social media
Government agencies are required to keep records of print and electronic documents—including social media messages designed to disappear.
The Federal Records Act specifically includes Snapchat in its list of electronic messaging, but doesn't offer specific guidance about how to store messages that vanish. Since Snapchat's images are ephemeral by design, agencies have to make sure to record and preserve snaps to comply with the Federal Records Act.
The White House faces similar requirements. An unnamed government official told BuzzFeed, "With Snapchat as with other social accounts, we'll be fully compliant with [Presidential Records Act] requirements, saving and preserving snaps for archives. Occasionally that content may find its way onto other platforms, but you shouldn't expect all of the Snapchat content to live somewhere on our website."
Contrary to rumors that the White House had recording and storage features no one else had, Peter Hamby, Head of News at Snapchat, clarified:
no special deal – @WhiteHouse can download and save snaps to their phone's camera roll like anyone else https://t.co/dFv9draT75

— Peter Hamby (@PeterHamby) January 11, 2016
Have fun snapping
The style on Snapchat is fun, spontaneous, and unpolished. While a lot of people would find such informality exciting, that kind of liberation from perfection can strike panic in the hearts of some government stalwarts.
The U.S. Department of the Interior's Snapchat caught the eye of public historian and blogger Robin Hendricks. When she saw the Interior's snaps from the Rosie the Riveter/WWII Home Front National Historical Park, Hendricks called it "one of the most surprising presentations of an exhibition I'd ever encountered."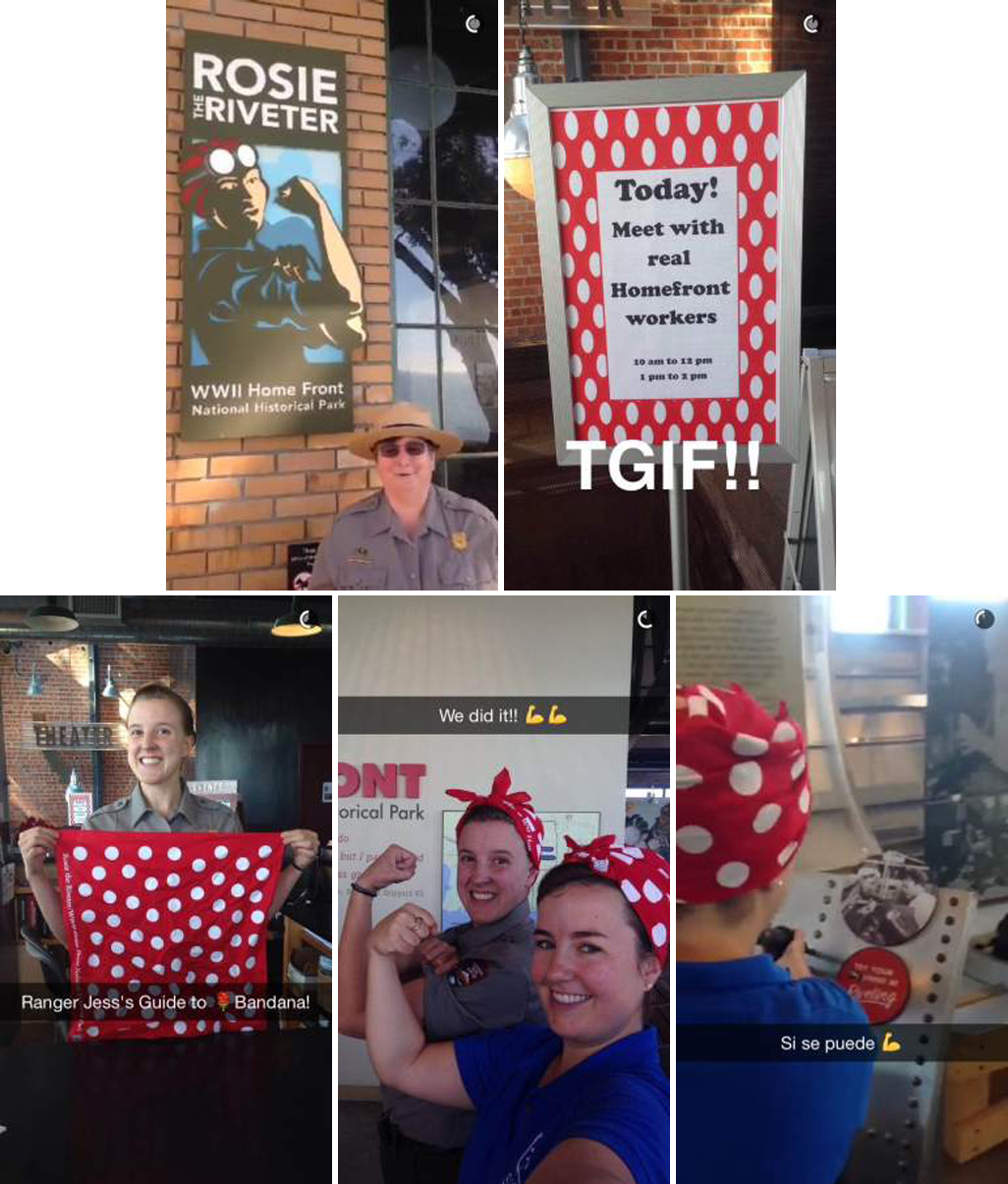 The Interior runs one of the most successful federal government Instagram accounts, so it's no surprise that it's innovating on another visual storytelling channel. It often gives rangers and parks employees a chance to do a "Snapchat takeover" of the Interior's account to provide virtual tours of public lands, parks, and historic sites.
Tread carefully
Like with any new communications channel, you need to be thoughtful and intentional. First, think about about why you want to snap, what content you can snap, and who you hope to be snapping with. Before you send a single snap, follow other users, then listen and learn to get used to the Snapchat's unique style and culture.
The House Republicans learned this lesson the hard way when they tried to promote their #SnapOfTheUnion coverage of the State of the Union. Before they sent a single snap, their efforts got negative reactions from the public and the media. As The Huffington Post reported:
"The [House Republicans] incorporated a gif of HitFix writer Louis Virtel snapping his fingers during an appearance on 'Jeopardy!' in May 2015.

The problem? Virtel, who is openly gay, is not a Republican and has no interest in his image being used to support the GOP."
Approach Snapchat with the same cultural and political awareness you bring to your other citizen engagement and outreach efforts.
Government agencies to follow on Snapchat
Here are a few government agencies are already on Snapchat, with some foreign agencies to add a little variety. Most are actively sharing, though some are slacking on their snapping. Take a look at their snaps for inspiration and ideas. To follow them, just install Snapchat and enter each username.
America's Navy (americas_navy)
Be Ready Utah (bereadyutah)
City of Evanston, IL (cityofevanston)
City of Las Vegas, NV (cityoflasvegas)
Civil Service Fast Track Apprenticeship, UK (csfasttrack)
Corporation for National and Community Service (nationalservice)
Coventry, CT Recreation (covparksrec)
Department of State (statedept)
Florida Fish & Wildlife Conservation Commission (myfwc)
French Government (gouvernementfr)
Hamilton County Public Health, Ohio (hamcohealth)
Hawthorne, CA Police (hawthornepolice)
House Republicans (housegop)
Provo City, UT (provocity)
Texas State Parks (TxParksWildlife)
UK Foreign & Commonwealth Office (ukforeignoffice)
U.S. Department of the Interior (usinterior)
The White House (whitehouse)
If your agency is on Snapchat, share its username in the comments below so others can follow your snaps!