By Jillian Pugatch, MPH
The ubiquity of social media compels us to devise unique ways to use it. We are challenged to go beyond the simple post-and-reply format that is commonly used in social media platforms in order to achieve specific outcomes. To rise to this challenge, ICF's Smokefree.gov social media team piloted a new approach to using social media to help people quit smoking.
The National Cancer Institute's Smokefree.gov Initiative has had a social media presence since 2009. Since then, Smokefree's social media efforts generally took two forms:
Broadcasting Messages: Broadcasting consists of original posts from the social media account that complement and/or disseminate the Smokefree websites' content.
Engaging with Followers: This includes all replies or conversations with users who post or comment on Smokefree's social media accounts.
These tactics allow the followers of Smokefree social media to access and share content and participate in conversations. However, this strategy generally only reaches people who actively follow these accounts, and relies on users being on social media at the time of a broadcast in order to see it. Clearly, this approach leaves a void. We are unable to reach people who use social media to express that they want to quit smoking, but are not followers of a Smokefree account.
To address this issue, the Smokefree social media team added a third tactic—Outreach Messages—that involves seeking out people who are talking about quitting smoking on social media, and reaching out to them with encouragement, tips, and resources for smoking cessation.
The Smokefree social media team chose World Kindness Day to experiment with this new outreach approach.
World Kindness Day, which occurs every year on November 13, has been widely recognized by many countries around the world since being introduced by the World Kindness Movement in 1998. The philosophy behind this day is to encourage individuals to look beyond themselves by performing intentional acts of kindness. The day promotes acts of kindness both big and small, from a compliment to a co-worker to planting a garden or volunteering your time.
The Smokefree social media team decided that the goals of World Kindness Day encompassed our own goal of actively engaging with social media users talking about quitting smoking. In a way, we would be performing our own act of kindness by seeking out Twitter users who expressed a desire to quit smoking and offering advice and tips.
How the Outreach Messaging Pilot Worked:
The team used the social media management platform Spredfast, which allowed us to filter specific conversations taking place on Twitter that discuss quitting smoking. The team responded directly to individuals talking about quitting with an outreach tweet from @SmokefreeGov that included an encouraging message and a link to Smokefree.gov's World Kindness Day webpage. The webpage described our World Kindness Day mission and directed individuals to sign up for SmokefreeTXT, a free text messaging program that provides encouragement, advice, and tips to help smokers quit smoking. Hashtags were omitted from the outreach tweets to ensure that recipients of these messages felt like each tweet was truly directed at them, rather than being exploited as a means to promote Smokefree.gov to all of Twitter.
The Smokefree team sent 110 tweets over the course of World Kindness Day. Of those, 107 were outreach tweets sent between 11:00am and 2:00pm. Before World Kindness Day, the average tweet count for this account was 8 per day.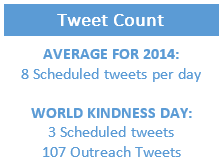 Total impressions, or the number of times a tweet was displayed, of Smokefree.gov tweets surged from an average of 7.9K for the previous 90 days to 20.8K on World Kindness Day. The engagement rate—the percentage of the audience that interacted with social media posts, which includes replies, favorites, and retweets—was 1.04% for Smokefree.gov in 2014 and it increased to 1.11% for scheduled broadcast tweets and was 5.28% for outreach tweets for World Kindness Day. We also saw increased engagements per post for the 3 scheduled broadcast tweets (35.43 per post, compared to an average of 8.99 in 2014).

The increase in impressions and engagements with posts indicates that the World Kindness Day outreach experiment was a successful way to use a social media platform in a new way. There are many social media users who are vocal about wanting to quit smoking, and reaching out to them with a one-on-one approach may give them reassurance that someone is looking out for them and introduce them to resources that they may not see otherwise. With the success of World Kindness Day, Smokefree will continue its outreach efforts and consider other innovative ways to reach aspiring quitters.