Agency leaders are feeling the pressure of budget cuts combined with the increased demand on citizen services. It's never been more critical to ensure your team is staffed and skilled to ensure minimal disruption to your agency objectives.
The months ahead of us will likely be turbulent, especially with fears of a second coronavirus wave. The novel coronavirus has challenged the pace of change needed for technology advancement and it has exposed our technological deficiencies. We've been challenged to innovate, pivot and scale at an unprecedented speed as we reimagine new ways of working.
The need for innovation has always driven us, but now during these volatile and uncertain times, it is more important than ever to keep up with the pace of change. Ignoring your organization's digital skill gaps will affect your agency's future success and employee satisfaction.
Even without COVID-19 as a variable, government agencies are being propelled into IT modernization and workforce upskilling. According to the World Economic Forum, 54% of employees will require significant upskilling by 2022. In the past, agencies simply hired talent to fill in-demand positions. Now, however, agencies are not able to keep up with the pace of hiring new talent for every technology change, and potential candidates could have outdated technology skills from the time they are certified to the time that they enter a position. As of 2017, average time-to-hire in the government was 106 days compared to 22.9 days for businesses across the United States. Combine that with an aging workforce, where nearly two-thirds of the federal IT workforce is over 40 years of age, and the urgency for effective upskilling is unequivocal.
The Move from Instructor-Led Training to Online Training
We know that for agencies to remain compliant, secure and at the forefront of technology, upskilling and reskilling should be the number one priority. However, 75% of employees believe their organization doesn't have an effective learning culture, according to a 2020 Gartner study. Many agencies rely heavily on traditional instructor-led training courses to train their workforce, but recent social distancing concerns and competing project priorities often result in skipping those trainings or canceling them altogether.
So how does an agency keep their skills fresh? Leveraging online and cloud-based training allows for dynamic learning at the employee's own pace. Based on a recent Boston Consulting Group (BCG) study, self-directed learning methods are preferred by employees over instructor-led methods.
According to BCG, when people need to learn new job skills, they choose self-directed methods such as self-study (63%), on-the-job training (61%) and online training platforms (a combined 54%). All of these are preferred over traditional learning methods.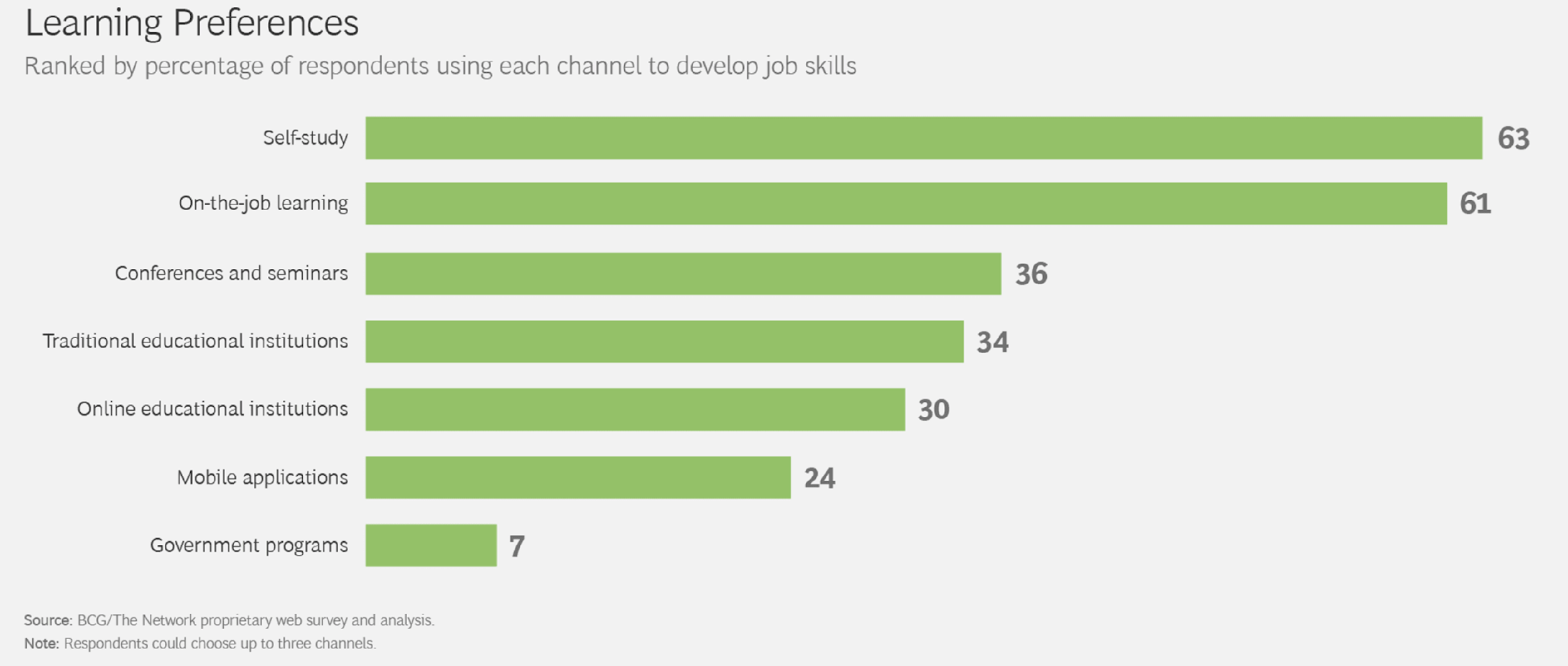 Not only are employees self-driven to learn, but the ability to learn and grow is an essential factor in keeping employees engaged. It reduces attrition and turnover in your organization. Engaged employees are happier, less stressed and more productive.
On the other hand, the inability to learn and grow is the number one reason why a professional would look for a new job, according to LinkedIn research (see below).
In a time of uncertainty where employees have both personal and work-related concerns pulling them in different directions, it is important to build a culture of learning to keep employees engaged and motivated. Attitudes toward upskilling and reskilling and people's preferences for how they like to learn all have implications for organizational strategies. Agencies must be aware of these trends so that they can future-proof their workforce and support job training initiatives. Employees who want to remain in demand in a dynamic job market must continue to upskill and reskill as technology and the pace of change continues to grow.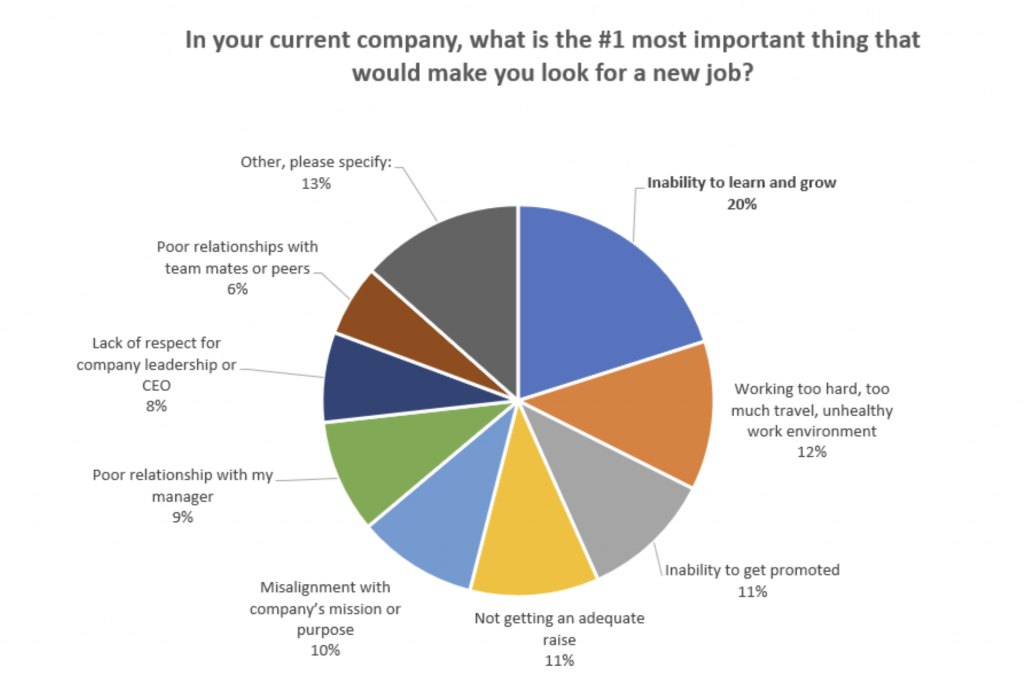 https://www.linkedin.com/pulse/want-happy-work-spend-time-learning-josh-bersin/
Choosing an Online Learning Platform
How do you choose the right learning platform to partner with to help your technologists and agency succeed? First, seek out a learning platform that focuses on depth of coverage. Chances are that you already hire your technologists for proficiency, so most additional training and upskilling must be comprehensive and focused at advanced level users. Certifications can be leveraged for baseline knowledge, but they lack the ability to keep up with the pace of change.
Considering that certifications don't encompass all the information that a technologist needs on a day-to-day basis, look for learning partners that can construct a customized learning path based on your agency's job roles and individual skill gap analyses. As technology and responsibilities change, this would allow those already in alignment with the job role to "pivot" according to the new skill adjacencies and have the correct role in place for those newly assigned to that role. The concept of a role or training path needs to be as flexible as the industry that it exists within.
Lastly, consider learning platforms that can create benchmarks, measure outcomes and quantify the success of training. We can all agree that investment in training is important, but what is your return on investment? We don't invest in the stock market without knowing the rate of return. Likewise, you shouldn't invest in training where the effectiveness can't be measured.
The Federal Data Strategy working group released the "Assessing Data Skills Playbook" in May 2020. The guide supports the 2020 Action Plan's action 4, which promotes the assessment of staff data literacy and skills. Invest in a learning partner that can provide objective analytics, giving insight into successes and challenges, allowing government business leaders to drive more realistic goals and better empower employees.
Three Key Takeaways for Choosing a Learning Partner:
Choose a learning platform that focuses on depth of coverage for advanced technologists
Leverage a partner that can reduce speed to skills by providing customized learning paths based on job roles and skill gap analysis
Invest in a learning partner that can measure outcomes to provide objective analytics, giving insight into successes and challenges, allowing government business leaders to drive more realistic goals and better empower employees
Bianca Cordeiro, Solutions Architect at Pluralsight, has served as a consultant and trainer for Federal Agencies and Government Contractors since 2013. Her breadth of experience includes creating successful training programs, implementing cloud platforms, and leveraging commercial best practices to enhance government initiatives. Her current focus is to help government employees grow their careers through data-driven decisions.