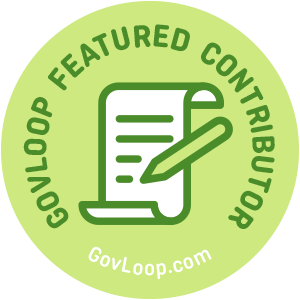 GovLoop readers were challenged at the start of this month to ask, "what if?" in setting goals for the year – and decade – ahead. If you're still thinking through ways to lighten your workload, overcome challenges, and better serve your constituents, examining other government wins can kick start your imagination. Check out the following successful data uses for renewed inspiration this week:
Memphis' Open Data Hub
If you measure performance, forecast infrastructure needs, or route 311 requests, data is at the forefront of your operations. What Works Cities recognized Memphis in 2019 as a leader for its data work with a silver designation in the Bloomberg Philanthropies government program.
"We know using data and holding each other accountable is the best way to achieve our goals," said Memphis Mayor Jim Strickland in this statement. "It improves the public's faith in government not only by improving service but by showing them the data." The inspiration from Memphis comes in its approach: the city simply opens its information to all users absent a statutory reason for not doing so.
In the last quarter of 2019, Memphis unveiled a new open data hub, with stories in GovTech and several local Memphis news outlets. The comprehensive site gives the public access to review performance dashboards, including data from code enforcement, the police department, and the capital improvement program. The public and media can drill into interactive maps, identify trends, and see real-time crime information.
What's more, the city provides clear context through data storytelling and narratives. This feature means anyone, regardless of technical abilities, can understand the meaning behind the data. Users can even submit suggestions for data sets they'd like to see added to the hub.
"The new site is intended to increase usability and resident engagement, and it builds on the mayor's commitment to hold city government accountable for its performance," Craig Hodge of the Office of Performance Management said in a press release quoted in the GovTech article. "Internally, the Data Hub is the foundation for how we continually use data to inform our decisions; having a platform to load and share data across divisions allows city leaders to break down silos and better work together to be 'brilliant at the basics.'"
New York City Crunches Taxi Data
There's not much more iconic than the New York City yellow taxi. In recent years, however, different, for-hire cars have taken over the streets: lime-green taxis, black livery cars, and vehicles in every color from app-based companies like Uber and Lyft. (The green taxis, like the yellow ones, can be hailed on the street, but only in Upper Manhattan or the outer boroughs — Brooklyn, Queens, Staten Island, and the Bronx — which are underserved by yellow ones.)
New York's Taxi and Limousine Commission (TLC) regulates both yellow and green taxis, along with for-hire vehicles including the app-based ones. This translates to overseeing some 200,000 licensees, who take passengers on upwards of 1 million trips each day.
To manage this, the TLC collects trip-level data on passengers' rides in taxis and some for-hire vehicles. This includes information on the vehicle, the trip's start point and destination, the fare, and the duration of the trip. This data is used to further the TLC's mission: to protect both drivers and passengers and preserve public safety. Take fatigue, for instance. When drivers have long shifts and are short on sleep, crashes become more likely. Trip-level data showed that some drivers were behind the wheel too long, information that led to a new policy to regulate shift length. While the app-based companies can track driver's hours behind the wheel for their company, the TLC sees a more global view, showing the driver's hours across all companies. The data also reveals that the percent of drivers working for two or three platforms is on the rise.
The TLC's data is shared publicly on the city's portal. You can see, for instance, a list of all TLC-licensed for-hire vehicle drivers and the application status of new drivers. Also available: trip-level information, by year, for green taxis, yellow taxis, and for-hire vehicles. All of this allows city leaders to navigate a changing transportation market while serving and keeping the public safe.
Meredith Trimble is a GovLoop Featured Contributor. She is a former municipal official and Town Council Acting Chair, who focused on strategic planning, annual budgeting, and bonded infrastructure projects. Her government experience also includes posts in both federal and state-level executive branch agencies: Associate Editor of the U.S. Federal Election Commission's FEC Record; and Director of Education for the CT Office of State Ethics. In her current role as a Senior Content Specialist with Tyler Technologies, Inc., she writes content to help empower those who serve the public. Her current focus is to help facilitate data-enabled organizations as well as to create connections between governments and those they serve. You can read her posts here.