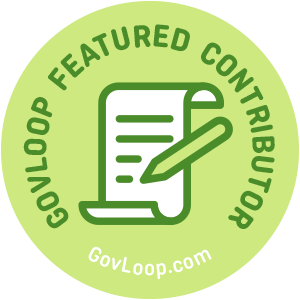 If you're a recent grad or are considering a career switch, a lack of experience to land that first job or move into a new role can be intimidating.
Don't give up. You may be able to get the skills you need by donating your time to organizations who are looking for eager volunteers. For example, if you're looking to break into social media, consider offering your services to a charitable organization in your area.
Volunteering benefits you, too
Here's why this is a win-win:
You're giving back to your community.
You're gaining the skills and experience you need to become a more qualified job applicant.
You have the opportunity to try a variety of tasks, which you may not have the flexibility to do at a paid job.
You'll meet people who can serve in a mentorship role or serve as a great reference in your employment pursuits.
My story
Volunteering helped me become who I am today. When I moved to the D.C. area not too long ago, I had a dream of becoming a writer and editor in the federal government.
The problem was that I had no professional writing or editing experience. My college papers, I learned, weren't as impressive as I thought.
As a fairly recent grad, I was in a frustrating position: No writing and editing experience. No job offers that would allow me to get said experience.
I then realized that I was in an area not only surrounded by federal agencies but also nonprofit organizations which needed eager volunteer writers and editors.
I reached out to Street Sense newspaper to ask if I could help edit their news articles. Street Sense is a news publication written for and by homeless contributors in the D.C. area.
Before long, I had a nice portfolio of professional editing samples to present during interviews. The experience was very rewarding. I was helping writers tell their story of coping with homelessness.
After the experience helped me to land a job as an editorial coordinator at a membership organization, I continued to volunteer my services, not only to Street Sense but other organizations as well. I wrote book reviews for the Society of Technical Communication and news stories for the Best Friends Network, an animal welfare organization. I also began writing my own news articles for Street Sense.
And guess what? I still volunteer.
If you're wondering how to get started, here's what worked for me:
Check out an organization's website to see if their volunteer opportunities fit your interests and skillset.
Call or email the volunteer coordinator even if you don't see opportunities listed. Why? Perhaps their site hasn't been updated (this might be something you can help with) and they need your help.
Be prepared to explain why you want to help them and what you can offer.
Make sure you have time in your schedule to volunteer. They need your help, don't sign up if you're not ready to commit.
OK, I want to volunteer. How?
Giving your time to help others is deeply rewarding. While you won't receive a paycheck, the benefits include professional networking, mentoring, getting to "work" in your field and a greater appreciation for the hard work it takes to change lives.
Here's a list of resources to help find opportunities in your area:
Jennifer Singleton is part of the GovLoop Featured Contributor program, where we feature articles by government voices from all across the country (and world!). To see more Featured Contributor posts, click here.