I didn't choose the "Gov Life," the Gov Life chose me. My whole life has been dedicated to helping improve the quality of life for the children and families here in rural North Louisiana. Because of this, my friends have often referred to me as the real Leslie Knope. While I do have numerous color-coded, massive binders, a love for public service and fondness for roller-skating, I take pride in my work as a public servant who only wants to share the story of the office where I work and the resources we provide. My passion is in strategic communication and using my skills to make government work for people and allow easier access to public resources. One way to promote these resources and services is through the use of social media and having a sensational online and social media presence.
Government offices and agencies can embrace their online followers and create open two-way dialogue and collaboration to help build an online and social media presence that will produce a mega platform for disseminating and sharing your agency/office's story. However, social media must be planned and strategically thought out in order for it to have effective engagement and reach. Here are some tips to help you achieve optimal engagement – using my inner Leslie Knope words of advice.
 Step One: Reaching Your Audience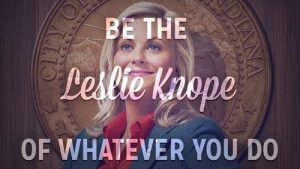 Leslie Knope is never afraid to speak her mind and use her voice. She knows her audience and she has a powerful voice and presence in her community. If needed, she will do what it takes in order for her audience to receive her message.
The first step is creating your own posts rather than having automated posts. In an article by NiemanLab, seven news organizations point out that they have staff who actually write social media posts rather than using headlines from articles shared. The personal touch of writing allows readers to view the content and share it more than posts that are auto-generated. The news organizations also discuss how the wording and content of posts should reflect the platform being used.
For example, one news story may affect the demographic of Instagram users more than it would Facebook users, therefore a news organization may not share it on Facebook or it would choose its wording differently. You can do the same with your agency's posts by using analytics to determine the demographic that a particular social media platform reaches. For instance, if most of the users on Instagram or Vine are teens and Facebook users are more in the 30-40's age range, then any programs or resources your offer to teens and students would be better promoted on Instagram or Vine as opposed to Facebook.
 Step Two: Being Consistent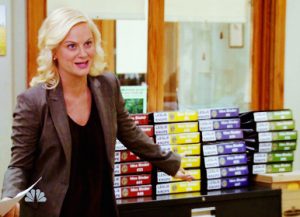 Leslie is consistently working hard on various projects to better Pawnee. She is as an incredibly driven individual. Whether it is her initiative to decrease soda cup sizes at local eating establishments – or her ultimate goal – to build a park, she never stops working until the project is finished.
Being consistent goes along with building credibility. Don't create a social media account to update the status twice and forget about it. In fact, having an inactive account is just about as bad as not having one at all. Not putting effort into your social media account can come off as not caring for your followers or the public in general. You probably already know this, but you want them to know you care about them. When you set your mind to building a presence on social media, you have to be all in.
An easy way to build consistency is by establishing your voice for each platform and developing a social media content calendar that can be color coded and put into a Leslie Knope-sized binder. Or it can simply be created in excel and placed on your office intranet.
STEP THREE: Listening to Feedback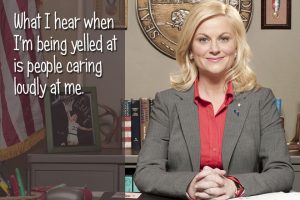 One of Leslie Knope's infamous lines is, "What I hear when I'm being yelled at is people caring loudly at me." She never seems to please everyone with any decision. But instead of looking at the feedback negatively, she puts a positive twist on it. When people care enough to give their input, whether negative or positive, it means they still care.
Building a social media presence for your government/agency brand can feel a little like opening up to a new friend for the first time. Your brand is vulnerable; the more that people know about you, the more opinions they will form about you. When the public forms a favorable opinion of your brand, it will increase their loyalty. Increased brand loyalty is where social media can indirectly help to increase your overall image and reputation in your community. However, if they form poor opinions, don't be discouraged. Instead, use the negative feedback as a learning tool to better interact with your public. Often times, some negative feedback can create a stimulus for positive changes and outcomes.
These simple strategies can help you achieve success in social media and promote your positive brand and image to your community. Remember even the smallest, tiniest steps can create positive change each and every day. Isn't that what public service is all about? I believe Teddy Roosevelt said it best, "Far and away the best prize that life has to offer is a chance to work hard and work worth doing." It has become my official motto, but like I said earlier, I didn't choose the Gov Life, the Gov Life chose me!  ~Knope Out.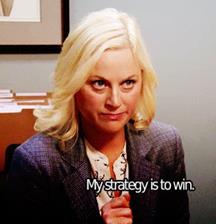 Emily Arnold is part of the GovLoop Featured Blogger program, where we feature blog posts by government voices from all across the country (and world!). To see more Featured Blogger posts, click here.