As summer comes to an end, many of us bid the warm weather farewell by heading to our local state or county fairs to take in what's left of outdoor entertainment (and fill up on fried food of course!). Fairs across the US draw large crowds throughout the summer, making it a perfect forum for public outreach from state and local government agencies.
The Kitsap County fair in Bremerton, Washington brought in about 35,000 people during its annual 5 day run in late August. This year, the communications department at Kitsap County decided to capitalize on this opportunity to promote the Kitsap County Electronic Communication System (KENS).
Powered by GovDelivery, KENS is a comprehensive electronic solution that takes a single message and delivers it effortlessly to several different platforms. KENS allows residents to sign up for email and text notifications on a host of topics including county news, meetings and agendas, project bidding, employment opportunities, department calendars, sheriff's office data, election results, inclement weather information, emergency alerts and more. Subscribers can choose how frequently they want to be notified, and they can unsubscribe or add new notifications at any time.
Kitsap County launched the program in June 2011 and has already acquired over 1,300 subscribers. During this year's fair, the county hosted a special booth allowing residents to sign up for the KENS service. They also handed out magnets and flyers to spread the word. By utilizing this on-site in-person acquisition technique, they were able to make contact with over 500 hundred residents. In addition to collecting new subscribers, Kitsap County was also able to grow their social media audience by getting citizens to "like" their Facebook page. As a result of these awareness efforts, they noticed the number of impressions per posting on Facebook had increased substantially.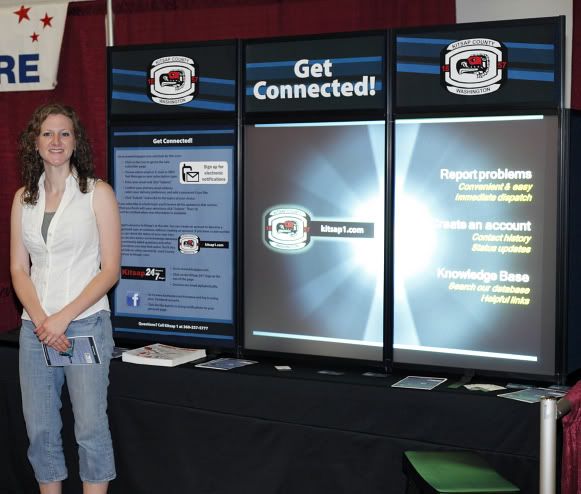 "As people find the need for information, we believe the personal interaction, including the delivery of magnets and handouts, will direct them to subscribe and allow them to take advantage of the services offered through our partnership with GovDelivery" says Doug Bear, Public Communications Manager at Kitsap County. "This is just the tip of the iceberg as it relates to this effort" added Bear.
Local government agencies, take note! Fairs and community events can be the optimal situation to reach citizens and engage them with your communication efforts. Kudos to Kitsap County for leveraging this perfect opportunity to promote their new service. Hopefully they treated themselves to a deep friend Snickers bar…