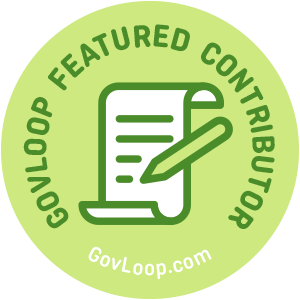 I recently ran into a former govie colleague that worked in my office. I knew he had left the government for private sector but did not know more than that. When I spoke with him recently, I inquired, "So, how is work?" I knew he had a wife now and was making plans for a family.
He began to share that he recently returned to the federal government. His work/life balance was tipping the scale and he now required a more flexible work schedule. Apparently, the private sector could not meet the amenities afforded to government employees by way of flexible work hours.
From what I witness working in downtown DC, in today's workforce, there does exist, and I personally know of one, a private-sector employer that requires employees in the office daily during core business hours. This private firm affords its employees healthy breakfasts, lunches and snacks. Their outlook is "if we provide healthy meals for employees every day their time spent away from the office is limited and thereby production is at its best."
This practical accommodation is the employees' incentive to come to work well-rested with focused thoughts and problem-solving skills. If this is the case, employees should eliminate the idea "my body, my rules!" at least, Monday through Friday, 9-5pm.
However, what if you happen to land a different perfect work scenario that offers a great location, accessible public transportation, transportation subsidy, but again, no telework – same schedule as the private firm example, only without the healthy meals and snacks. Which is the better journey?
At that point when you realize that your preference is not in management's offering of options, here are three ways to help propel you toward your preference:
Lateral reassignment – oftentimes a change of environment (leadership, colleagues, office space, etc.) promotes a new outlook for a great new beginning.
Temporary detail (if it's a promotion the stay is 120 days) – make an application for a temporary assignment in a new location. Close out the new location with positive end results. The new location could extend you or bring you on permanently post the promotion term. One temp promotion per fiscal year.
Alternative work schedule (AWS) – This is a flexible daily work schedule, compressed work schedule (8/ 9-hour days + 1/ 8-hour day + 1 day off in a two week pay period; 4 days/10 hours a week schedule, floating work schedule (delayed arrival time equaling an 8 hour day).
Alice Boone is a GovLoop Featured Contributor. She has 40+ years of distinguished service in the federal government. Ms. "M" began her career in 1979, with the Department of Transportation, D.C. In 1984, Ms. "M" accepted a position with the Department of Defense. In 1993, she accepted a position with the National Science Foundation (NSF). Ms. "M" joined Veterans Affairs in 2008. In 2009, Ms. "M" volunteered at the White House under President Obama for three years. As of February 2020. Ms. "M" continues to display treasured skillsets as a Program Analyst.