Chief Reinvention Officer Julie Cabinaw and Citizen Experience Program Manager Cliff Heyne co-authored this week's submission.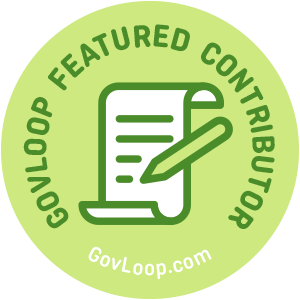 Government is complicated, with a breadth of services, myriad regulations and functions split among agencies and branches. Yet, we need to provide experiences that are seamless, spanning these boundaries. Citizens shouldn't be forced to understand the structure and rules of government to interact with government. We only need to glance at the private sector to see that businesses that don't work as one – and force customers to jump through arbitrary and confusing processes – don't survive.
Think of Apple: you know their products, not their divisions.
This is why we are pursuing four pillars of reinvention for a citizen-centric government: culture, working as one, the citizen experience and digital transformation.
Culture
It starts with culture. A people-first culture that encourages working across boundaries is foundational to any modernization, innovation or change management initiative. As shared in our last blog, culture is a living, breathing part of your organization. It takes time, consistent communication and, perhaps most importantly, sustained and visible actions to 'bake in.'
One way to affect culture is by giving team members new tools to allow them to make change. One such toolset is continuous improvement. We are beginning an effort to use the best-of-breed insights from process improvement methodologies like Lean Six Sigma and Theory of Constraints to free team members to think differently and improve processes at every level. Doing so begins to change culture at the front-line levels, which is critical for lasting cultural impact.
It also involves expectation setting – you're not only an employee of "x agency," you are part of a larger effort. Which is where working as one comes into play.
Working as One
Leaders who encourage and reward staff for thinking beyond their specific areas of responsibility and promote a whole-of-government approach can help inspire innovation and improve service delivery across divisional or political boundaries.
How we approach cross-agency collaboration determines how our team members value it. As an IT organization, we've taken an intentional approach to learning our customers' business. Stepping outside ourselves and bringing in opportunities to see how work gets done on the front lines of other agencies helps our team members grow in perspective and empathy for the work being done. This collaborative approach helps leverage expertise and ideas that can spark innovative solutions. It can also enable us to make sound short- and long-term business decisions.
Setting the expectation that working across agency or division boundaries is expected and encouraged also helps promote a citizen-centric approach.
Anticipating citizen needs
Let's be clear; most citizens don't wake up every day thinking about visiting a government website, app or office. The functions of government are expected, periodic and are hoped to be as painless as possible.
When Noriaki Kano developed the Kano model in the 1980s, he was focused on product development, not government. However, understanding and anticipating the needs of citizens ensures services are continually looked at through the lens of satisfaction and sentiment, the connection of which tells us a lot about where we need to move next.
Imagine a summer weekend is approaching. You decide to take your kids to a state park to go fishing and camping. The trip involves a campsite reservation, boat license renewal, a fishing license and a park pass. By the time you've secured these by navigating through four separate systems, half of the day has worn away and so has your enthusiasm.
By taking a holistic perspective, we approach problems through a new lens. Changing the question to "How might we help a family have the best last-minute weekend camping trip?" is much different than an approach focused solely on compliance with government regulations.
This scenario requires agencies to think beyond their own edges and offers a significant enhancement for citizens. Team North Dakota is using personas and use cases like this to evaluate how citizens use multiple services. These kinds of strategies help provide a roadmap for when, where and how services are used – and how to improve them. This is where digital transformation comes into play.
Digital Transformation
As the IT arm for state government, we work to ensure the robust technical platforms necessary for transformation of services are in place. This includes data-driven approaches to make changes that have a measurable impact on citizen experience, process effectiveness and/or quality of service delivery.
In government, we have the data at our fingertips to help anticipate citizen needs and even delight them in the process, and that is the North Star for Team ND.
We'll cover data in a Q&A with industry expert and our Chief Data Officer, Dorman Bazzell, next week.
Reinventing Government
Gov. Doug Burgum, a former technology executive, says, "Anything being done simply because 'that's the way we have always done it' should be and must be rigorously and respectfully questioned. And no matter what, we must have the courage to admit that we can always do better."
For Team ND, that succinctly frames the challenge and opportunity we have to reinvent government.
Learn more about the Kano Model here and about transforming the citizen experience at this blog or this GovLoop resource. Check out innovative federal government efforts here.
Shawn Riley is part of the GovLoop Featured Contributor program, where we feature articles by government voices from all across the country (and world!). To see more Featured Contributor posts, click here.