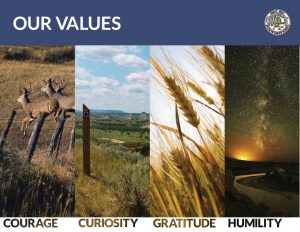 As a nation, we are accustomed to reflecting this time of year. Taking time to appreciate our health, our freedom, our security, our families and our many blessings. For Team North Dakota, gratitude is part of our culture and one of the shared values that drives our work all year.
Most organizations have a shared mission, vision and values – often emblazoned in taglines, ads and posters in conference rooms and break areas. Why are these especially important to us as public servants? Because individual teams and agencies working as one enable us to make a more positive impact. By emphasizing values that lend to our shared mission of empowering people, improving lives and inspiring success, we are also working toward common goals that are greater than the sum of our parts.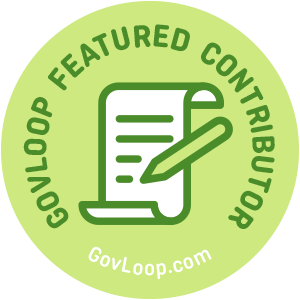 Organizational Culture
Organizational culture is defined as the underlying beliefs, assumptions, values and ways of interacting that contribute to the unique social and psychological environment of an organization. It's also based on shared attitudes, beliefs, customs and written and unwritten rules that have developed over time (The Business Dictionary).
This Society for Human Resource Management article says, "A strong culture is a common denominator among the most successful companies. All have consensus at the top regarding cultural priorities, and those values focus not on individuals but on the organization and its goals. Leaders in successful companies live their cultures every day and go out of their way to communicate their cultural identities to employees as well as prospective new hires. They are clear about their values and how those values define their organizations and determine how the organizations run."
Culture is also reflected in myriad ways: in transparency, celebrations, communication, accountability, resilience, diversity and overall employee engagement.
Employee Engagement and Culture
According to this Gallup blog, "Engaged employees bring their full selves to their jobs every day. They are excited to be at work and actively look to improve the organization. High engagement has been correlated with nearly every important measure of organizational health – productivity, retention, safety, customer satisfaction and profit. A highly engaged organization can see 18 percent higher revenue per employee compared with the average."
Even though government's 'bottom line' isn't typically revenue driven, doing the most with finite resources is certainly impacted by employee engagement. A culture with high employee engagement impacts everything from innovation efforts to recruitment, retention and hiring top talent – especially when salaries alone can't compete.
Employee engagement includes emotional and social needs, like doing work that you are good at and connecting your work with a higher purpose. Enter: shared values.
Many Agencies, a Common Set of Values
Team North Dakota's shared values reflect our strengths as a state and the strong foundation of hard work and innovation that has helped grow our economy and make us a great place to live, work and do business. Our shared values of courage, curiosity, gratitude and humility reflect not only appreciation of where we come from, but where we are going.
North Dakota has been ranked one of the happiest states in America and the #1 state for millennials for both quality of life and starting a business. Every organization and individual state prides itself on unique attributes, and North Dakota is no exception. What is exceptional is our single-minded focus on serving our citizens – which is also one of our five culture aspirations: Citizen focused, make a difference, growth mindset, leadership everywhere and work as one.
These are reflected in everything from Gov. Doug Burgum's annual State of the State address to employee recognition events. Regardless of service area or specific agency, there is an understanding of our shared priorities as a state and the shared values that help advance our mission.
Courageous Curiosity
With the courage to challenge how we do things to constantly improve our processes and approaches, as well as the curiosity to ask "how might we…?" on a daily basis, we believe in empowering every member of Team N.D. to help shape the future of our great state. By working as one across dozens of agencies and embracing a growth mindset, we bring a singular focus to our mission that is based on empowering leadership everywhere.
Our shared values and our incredible team help us focus on our mission during Thanksgiving – and all year.
Read more about creating a positive culture in this Gallup Blog or this SHRM piece, and the difference between the employee experience and employee engagement in this post.
Shawn Riley is part of the GovLoop Featured Contributor program, where we feature articles by government voices from all across the country (and world!). To see more Featured Contributor posts, click here.