Paper processes can be a time-consuming and inefficient constraint on agencies. But investing in digital solutions such as electronic signatures can offer a way out for agencies looking to save time and resources.
During GovLoop's recent online training, "Shred the Paper: How Electronic Signatures are Transforming the Way Governments Work," experts shared best practices and lessons learned from organizations that have embraced electronic signatures and paperless processes.
In Hawaii, for example, the state's Office of Enterprise Technology Services (ETS) rolled out Adobe Sign for ease of use. The solution allows users to quickly — and digitally — sign forms with a click, tap or swipe. "It was simple enough for a person who just started to learn immediately," said Darryl Lajola, IT Service Delivery Specialist ETS. "A really good feature of the Adobe Sign platform is that it has a single dashboard that organizes everything in an accessible way."
Lajola and his team did experience some challenges, one of which was addressing the scale at which they wanted to implement the new technology. The other was that if the intended user doesn't know about the technology and its capabilities, then they won't use it.
"The biggest obstacle with adopting a new technology is not knowing how to use it or who to contact," Lajola stated. "When help is just a phone call or email away, that reassures the user base."
Just like with any other technology introduced in the workforce, it took a while to get the momentum going. However, once the team was able to get in front of their users, the payoff of digitizing made itself apparent immediately.
"You might not anticipate the time and effort it took to take users to sign documents manually," Lajola said. "You'd be surprised how much easier it is with eSign. Eventually the service just sold itself."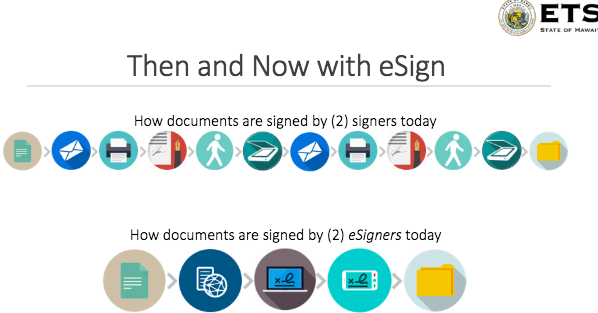 The state of Hawaii has saved $5 million through the Sign technology, and state employees are reaping the benefits of streamlined procedures.
"We got positive feedback about the convenience," Lajola stated. "I have used Adobe eSign to sign an office card as well."
Lisa Croft, Group Product Marketing Manager at Adobe, explained that the challenge is about more than just paper.
"Not only do we need to get rid of manual processes, but private sector customer experiences are leading to increased expectations of the government from their citizens," she said. "Manual, paper-based processes hinder efficiency, and getting rid of those processes can solve other problems as well."
For example, older technology is costly to maintain and presents security threats, Croft said. The aging federal workforce also presents a problem, as government loses out on new voices that could spearhead digitization initiatives.
"Only 17 percent of federal workers are under 35 years old, compared to 40 percent in the private sector," Croft explained. "These trends are worrisome because the percentage of new hires that are coming in are low."
The government is responding to these trends by pushing for policies that focus on citizen-centered experiences. In December 2018, the president signed the 21st Century Integrated Digital Experience Act (IDEA) into law, which will widen digitization of all citizen-facing and internal services. It also includes a provision promoting electronic signatures. "Within 180 days, every executive agency head must submit a plan concerning their use of electronic signatures," Croft said. "Ultimately this is going to help citizens receive services faster and reduce costs."
Croft encouraged agencies to look for tools that they can produce a return on investment and to first create an implementation plan. "It's tempting to go out and automate the most complicated process that you have because that shows the most ROI," Croft sais.
Going digital is the first step. "Get documents digitized and extract information from them," Croft recommended. The next step is to stay digital. "Don't move backwards by making citizens print out digital documents and send in a paper copy. Stay digital by executing true digital business processes."
The last step is to think digital, which means "transforming the experience of government" Croft said. "It takes time to get there. We saw that with the state of Hawaii because they spent many years to get to where they are. They're on a journey and we love watching the process."
There are some hard statistics, Croft stated, speaking about ROI. "We've collected data across organizations, and we've seen 21 times faster signatures, 50 hours saved per user per year, 30 percent cost reduction, and 23 percent compliance and risk reduction."
Photo by RawPixel on Unsplash