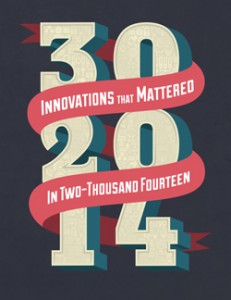 As January 1 draws near, rankings and recaps of this year's accomplishments will be published with fervor. You have probably already read innumerable lists that tout government achievements—things like building smarter cities, implementing novel technology, and finding new ways to engage citizens—in 2014.
Understandably, big innovations receive big attention. Yet other accomplishments, particularly those where a traditional process is improved or streamlined, garner less attention. That's why we highlighted 5 "Efficiency Implementers" in our 30 Innovations that Mattered in 2014 guide.
Federal and local agencies cannot solely focus on creating new services. Both the government and public require that traditional services like emergency response, parole management, and community education continue to be provided. But that doesn't mean there isn't room for innovation. In fact, innovation is required.
The number of citizens who require access to public resources is naturally increasing each year and, as a result, many government services are being overstretched. At the same time, consumers are accessing these services in rapidly changing ways. These new methods often require new technologies and increased online resources to maintain engagement. Finally, the public's service expectations are increasing to match what consumers experience in the private sector. That means government can no longer rely on its former service models.
To meet these mounting demands, agencies at all levels of government must become more efficient, accessible, and consumer-conscious. This requires re-examining their traditional processes and identifying ways to improve through innovation.
Many agencies are already doing this. For instance, the state of Oklahoma reformed its Pardon and Parole Board in 2014 to make docket search and reporting an instant, easy-to-use, and transparent process. Also in 2014, the National Institute of Occupational Safety and Health created new standards to better safeguard their emergency medical responders and their patients.
These government entities are leading the charge–dedicating themselves to keeping pace with a changing citizenry and setting examples for other agencies to follow. So while flashy new technologies and initiatives continue to capture the spotlight, let's not forget to celebrate those behind-the-scenes innovations that allow government to keep meeting it most basic mandate of public service.
To learn about our top 5 Efficiency Implementors, as well as our other top picks for government innovations in 2014, check out our guide: 30 Innovations that Mattered in 2014.