Federal workers are facing extraordinary times, and the need for professional development is more crucial now than ever. Marketability is a top priority for everyone in the workforce, and Federally Employed Women (FEW) is working to help government employees meet rising standards.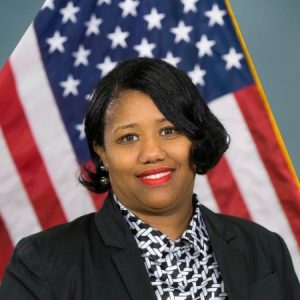 "We're living in a time now where nothing is guaranteed," Kaya Lewis-Baltimore, Vice President of Training at FEW and a Training Specialist for the U.S. Patent and Trademark Office, said in an interview with GovLoop. "We just had a reality check with the government shutdown. It is necessary now more than ever for people to be marketable."
Now in its 50th year, the organization continues to advocate for the rights of women through trainings and events. FEW is hosting its national training program at the Downtown Marriott in Philadelphia from July 22-26. The conference is aligned with its mission of promoting women's equality in the federal workforce.
GovLoop spoke with Lewis-Baltimore about how FEW is meeting the professional development needs of the federal workforce and what attendees can expect at this year's national training program.
For those who may not be familiar with FEW, what do you want them to know about the type of training that the organization provides?
Lewis-Baltimore explained that the outpouring of results from FEW is not limited to just women; the organization is open for all civilian or military employees, active or retired. The training program layout that FEW uses has been vetted to meet all core competencies set by the Office of Personnel Management (OPM). The training focus is also governed by FEW's bylaws, which require that FEW develops, provides and educates federal workers through training programs on all tiers. Those tiers include the national, regional and chapter levels.
"This year's training program has the best value," Lewis-Baltimore said. "We're offering over 140 courses within one week of training. Our national program enables anyone to increase their skills [and] unlock or enhance their potential for career enhancement and for their professional and personal development."
How are the needs of today's workforce shaping the training that FEW provides?
FEW is focused on considering the needs of women and even offers training courses related to management of sex discrimination and sexual harassment. This year's conference will continue to encourage, empower, and elevate and will focus on diversity in the workplace. The trainings are created to help federal employees develop personal and professional skills. There are leadership panels and manager's trainings, among others. FEW aims to build managers to govern what happens in their respective business units.
What do you want our readers to know about the focus of this year's national training program? How is it different from previous years?
The training courses offered this year cover a multitude of topics that range from "skill building and career development to leadership training and supervisory and management techniques," according to the site.
This year's national training program also incorporates feedback from last year's event and aims to fill in any gaps. "We're looking at the master training plan carefully," Lewis-Baltimore said. "Last year we increased by 30 courses and this year we've tried to make the same quota."
How does FEW work with federal agencies to make training available to employees, and how can the GovLoop community take advantage of it?
FEW sends all training courses to agency senior executives, and FEW's federal Board meets and discusses courses with directors. FEW offers platforms such as meeting spaces and forums for agencies to connect with their staff at the national training program, which is in Philadelphia this year. FEW is a grassroots organization, so it relies on word-of-mouth and social media to get the word out.
There's also a national training toolkit that FEW offers on its website. It's a template of what employees can take to their managers to gather support. For example, you should have a 'Justification Letter' ready to back why you want to attend the conference. According to FEW's website, the justification letter is "a more detailed plan of how each session you will attend will help you grow professionally and personally to be a better colleague and employee." The letter can be used to demonstrate "how essential the courses offered are towards your duties and how they would positively impact your job performance." Here's an example of an effective letter.
However, sometimes employees may have to self-fund their professional development, which Lewis-Baltimore stated might be a necessary investment to meet increasing demands for marketability within their agencies, across government and beyond.
Can you share any anecdotal information or testimonials of the impact FEW trainings have had on the federal workforce?
Over the years, women have come to the organization in lower grades and they've moved up the ranks. They've shown growth through their personal and professional lives. Lewis-Baltimore has been a member of FEW since 2015. She currently serves as Vice President of Training and has served in many other capacities. "Each role has allowed me the opportunity to network and acquire professional skills," Lewis-Baltimore said. "The incline of my confidence has given me the opportunity to move up. You feel the confidence and it rubs off on you. When you go back to your workplace, people see the change in you."
Photo Credit: FEW