This article is an excerpt from GovLoop's recent guide, "Making IT Work: A Practical Guide to Modernization in Government. Download the full guide here. 
At some point in our professional careers, we've likely all complained about outdated systems and processes that make our jobs harder — you know, the processes that we have used and will continue to use because we've always done things that way.
But allowing this type of mindset to fester at an agency comes at a high cost. Depending on the agency's mission, it could mean declining citizen services, communication barriers among workers, and wasted time, money and efforts.
These are among the challenges that agencies must confront as they embrace IT modernization to ensure that employees at all levels are invested in the efforts. Will that mean 100 percent cooperation? No. But once you can understand and articulate the current and future state of modernization and what it means for the user experience, you invite employees beyond the walls of the IT department into the fold.
Let's explore how you go about engaging others and sustaining the project.
Capturing the Voice of the People
One of the biggest challenges that agencies face with IT modernization is "getting the voices of the people," said National Science Foundation (NSF) CIO Dorothy Aronson. The reason? "The same people who complain about the system need to help us understand what they need."
Potential partners for your modernization project are situated at various levels across your agency. Some will be hands-on, and others will support your project by sharing their feedback — constructive and critical — and evangelizing the benefits of the project to employees.
To help you better understand your potential partners, Aronson recommends grouping people into categories:
People who are forward-thinking and want change
People who are indifferent and will accept change
Laggards who do not want to accept change
"We attack each of those segments," Aronson said. She uses their feedback and thoughts to help inform requirements for any new solution that will be implemented. NSF often asks for volunteers who are also potential users of the technology. This is a starting point to get them engaged and involved in driving change.
Managing Human Capital and Creating a New Culture
For Chris Tonjes, CIO at the Office of the Attorney General for the District of Columbia, the most critical component of his modernization journey has been managing the workforce and creating a new culture. But what exactly does that mean? As CIO, Tonjes had a very narrow mandate to modernize the city's method for managing cases and documents. His team literally had to strip everything down and start over. "We had to decide what to do for file service [and] management," Tonjes said. "There was a data center in [the] building that flooded several times and didn't have redundant power or cooling."
His team had to get the lawyers on board who would be using the new system because the old one was 15 years old and used obsolete technology. From an IT perspective, staff were encouraged to recommit to customer service or to learn it. Tonjes also encouraged people to set aside inefficient processes.
"It's better for me to plant ideas in other people's head[s] and for them to come to the same conclusion," he said. "I planted seeds about modernizing the way [the] operation runs, finance, HR, etc."
Tonjes took a select group of users, surveyed their needs and developed a minimum viable product. "It is super important not to work alone," he said. Helping employees rethink how they view transformational change, such as IT modernization, is key to the long-term success and sustainment of your IT modernization project.
Marketing and Branding Change
Before launching the Transportation Department's IT modernization plan, Destinations Digital, then-CIO Vicki Hildebrand received significant input from her leadership team on branding the initiative. Hildebrand left her post Jan. 4.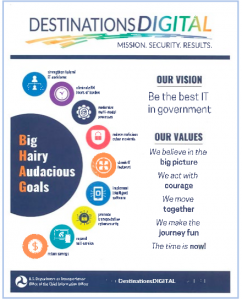 Her team decided to use a transportation focus to frame the vision for modernization. Hildebrand broke that vision down into nine big, hairy, audacious goals that are measured, documented and shared with employees as efforts progress. "When people say, 'Well, what is the end of your plan?' or 'What are you after?' I'm after a culture," Hildebrand said. "And so, what I'm calling it is our modern IT destination. And I asked every one of my employees to put this on their wall."
When branding modernization, consider the following:
Brand your IT modernization project/plan and ensure it aligns with the mission of the agency and resonates with employees.
Establish a concise and clear vision.
Determine what is most important to leadership and therefore to the agency. Set values that can unify employees and help them focus on what matters most.
Consider using icons or symbols that represent larger goals and can be easily referenced.
Document and share goals, challenges, and outcomes internally to build momentum and show progress.

Photo Credit: rawpixel on Unsplash