Whoever said size doesn't matter may have been onto something. States with a larger population size do not necessarily have all the success stories. At times, smaller states have a greater advantage. A smaller workforce can lead t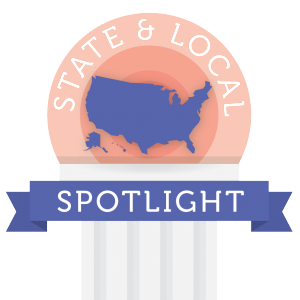 o less red tape and easier modes of communication. One of the state leaders in information technology (IT) innovation is Wyoming – the state with the smallest population.
Flint Waters, Chief Information Officer for the State of Wyoming, sat down with Emily Jarvis on GovLoop's State and Local Spotlight to discuss how the state of Wyoming has been successful in fostering technological success and growth.
State Chief Information Officers (CIOs) are tasked with managing and monitoring the state's technological programs and future initiatives. At times, CIOs can feel overwhelmed with the amount of work the job entails and the lack of collaboration at all levels of state government can make it more difficult for them to properly manage the state's IT effectively. So, how did Wyoming become so successful? Wyoming has been able to foster an atmosphere that allows for success in the state's current IT programs and initiatives through the backing of state leadership and the creation of technologically durable infrastructure.
First, Wyoming has created the physical infrastructure that allows employees to create technological innovations that can withstand normal connectivity issues. With extremely low energy costs, Wyoming is able to "generate more electricity than they are able to carry out of the state by capacity and they only require a low number of cooling days" which grants Wyoming the ability to expand its broadband connectivity statewide- with relative ease. Waters shared that they consolidated IT about three years ago and "now IT has a voice. We have a startup type culture in our state agency."
Wyoming is home to 300 IT employees who have open access to policymakers whenever a problem arises. There is a direct line of communication between the state's IT world and the legislators in Wyoming. "If we have obstruction of statues that are problematic for innovation, we can talk directly to our legislators. It's why Wyoming is one of the best places for innovation, for startups, and for corporate structures-it's because of that agility," Waters explained. Additionally, Waters shared that they empower their employees through investing in their personal growth and by creating an environment that encourages out-of-the box thinking.
Learning, investing, and empowering are not just three power terms, they are what helped Wyoming become the engine that could. "We invest back in our people so as to champion that environment of learning that helps us continue to evolve a base ecosystem," Waters said. Another necessary component of fostering innovation and creativity was to reassure government workers that having an idea that didn't work out the first time would not go punished. Alternatively, Waters gets them "to learn to own their wins, because it's empowering. It builds their confidence and it builds their ability to take that challenge and see it succeed," Waters stated.
"At the end of the day, it's very simple. The governor has empowered us to build a very innovative and dynamic culture. He has given us the overall mission to succeed and he gives me the latitude to do that," Water shared. Wyoming is proving that even small states can see major innovation.