Fully modernizing an agency's entire network of systems can be overwhelming, especially when you consider all the data mandates, compliance requirements and legislation governments need to adhere to. However, state and local organizations don't want to miss out on the transformative powers of the cloud.
According to IDC, 74% of cloud users across the globe have deployed a hybrid cloud strategy — but government's hybrid adoption has been a bit slower.
In a recent session at GovLoop's State and Local Virtual Summit,  Ricky Nelson, Senior Solution Architect, North America Public Sector, Red Hat explained how hybrid cloud services and a hybrid cloud strategy can help agencies address rising IT costs, security regulations, and increasing constituent demands while integrating with their existing systems.
Nelson said, starting right off, most agencies aren't totally sure if hybrid cloud is the right strategy for them.
"As ever-increasing demands increase your cycles, new applications coming out, forced upgrades, you need to figure out how to innovate, how to maintain the legacy environment, how you can maintain the admin," said Nelson.
This is where a hybrid cloud strategy comes into play because it's all about efficiency and effectiveness, said Nelson. The statistics reflect the efficiency and effectiveness a hybrid cloud approach can give teams:
Benefits of hybrid cloud infrastructure
661% ROI over 5 years
54% lower 5-year cost of operations
>2x more new applications per year
24% higher application developer productivity
80% less unplanned downtime
49% more efficient IT infrastructure teams
But taking a hybrid cloud approach isn't just all about the effectiveness and efficiency of the technology, Nelson said. You need to create a standardized operating environment. But where do you start?
There are several steps, Nelson said. The first one is all about taking a workload-driven approach to cloud strategy. This means identifying where your IT environment starts and stops, what it includes, and what workloads can—or can't—be ported over across clouds.
Then, determine if migrating workloads under a single cloud infrastructure is preferred to identifying, aggregating, and connecting clouds under a single management solution.
Below, Nelson offered up one map he's used for agencies in the past who are looking to move to hybrid.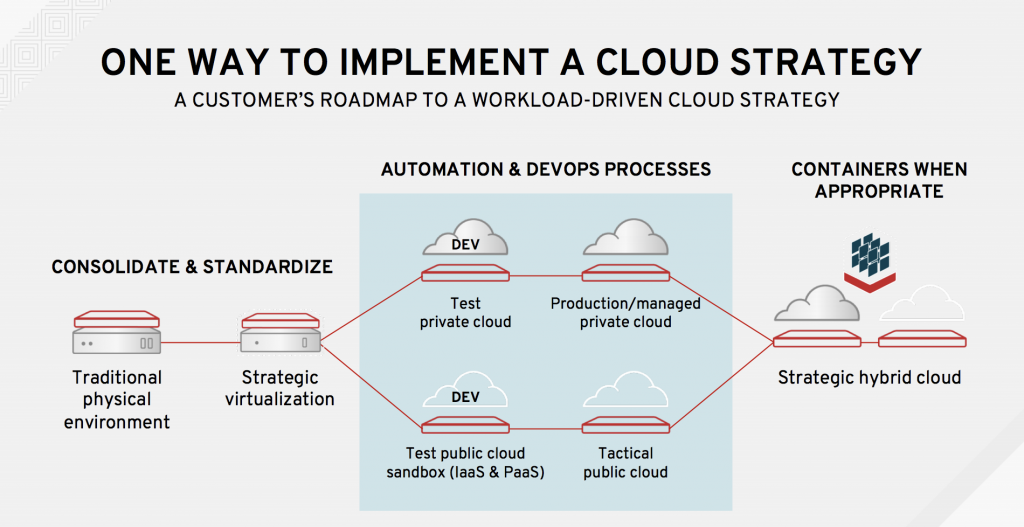 Nelson said the next most important thing to focus on is the foundation for your hybrid cloud. "You have to have a foundation to start from because that creates your entrance for standard operating procedures around that environment," he explained. "Having that is how you become more effective and efficient."
This can be complicated, however. Abstracting the varied benefits of hybrid deployments is difficult when proprietary code inhibits them from interacting with one another. And, multiple clouds require a higher degree of control.
One solution, Nelson said, is standardizing on Red Hat Enterprise Linux as the guest operating system for cloud workloads and as the underlying cloud infrastructure platform.
Open source code and software provide the foundation for cloud platforms that deliver all types of business applications in various environments. Linux® is often at the heart of a cloud infrastructure, and for good reason—adopting an open, extensible architecture helps companies avoid vendor lockin and proprietary implementations, giving them the flexibility to adapt as their business needs and priorities change. Additionally, application developers increasingly package application components in Linux containers that run as microservices across a variety of cloud environments to increase agility.
In short, Nelson said, hybrid cloud computing is gaining popularity as governments seek efficient, cost-effective technology and compute solutions that address their needs in real-time. For IT teams, the array of connections, integrations, portability issues, resource options, orchestration, and storage options have increased exponentially—as has the complexity of installing and maintaining cloud environments. But technology alone isn't enough. A thoughtful, strategic, and detailed approach to cloud deployment is essential for success.
Stay ahead of the game and pre-register for GovLoop's free government virtual summits!