This article is an excerpt from GovLoop's recent guide, "Solving the Cloud Conundrum: Security, Procurement, Workforce." Download the full guide here.
Every new technology costs budget money that agencies don't necessarily have. When every dollar counts for agencies, upgrading their legacy systems often depends on what's affordable at the time. Cloud isn't a new technology, but its elasticity makes it ideal for pairing fresh software and tools. For example, cloud's flexibility and scalability make the technology ideal for enabling automation. Working together, automation and cloud can deliver agencies big savings fast.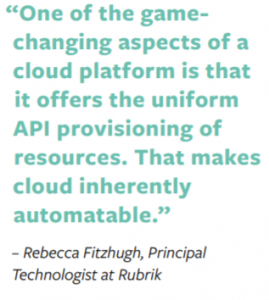 To understand how cloud enables automation, GovLoop spoke with Rebecca Fitzhugh, Principal Technologist at Rubrik. Rubrik is a cloud data management and enterprise backup software provider. Fitzhugh said that Rubrik's data backup and recovery solutions are an example of the simple victories cloud-based automation enables.
"Rubrik is a modern solution that is purpose-built to help bring your data back online fast," she said. "Leveraging such a solution will also lower your recovery time objective, which ultimately drives business impact."
Many agencies may be struggling with cloud because of their dependence on legacy IT. Hybrid clouds bridge this gap by mixing on-premises and cloud architectures.
"I recommend beginning with the services that can be easily offloaded to cloud," she said. "You get a few small wins while you're identifying the more difficult applications and services and figuring out what the strategy's going to be."
Agencies can ease their cloud migrations by including automation in their journeys. Automation ultimately reduces the amount of manual labor, letting humans focus on more complex, mission-critical work. Take APIs, the building blocks of software. Cloud providers expose API endpoints, allowing agencies to automate provisioning tasks, or to even build applications on top. This results in faster release and upgrade cycles.
"Cloud provides agencies with the opportunity to seek and choose a more optimized business model," Fitzhugh said. "Cloud allows agencies to become more agile and responsive to different, changing conditions."
Why is cloud-based automation valuable? Fitzhugh argued that automating computing, networking, storage and infrastructure makes agencies quicker and more adaptable. "Your IT staff can go through and completely automate workflows that were once done manually, increasing your agency's efficiency even more," she said.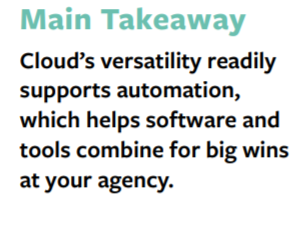 Despite this, cloud's model of sharing responsibilities between buyers and vendors has slowed adoption of the technology. For instance, many agencies are concerned with the data protections their potential cloud providers offer. A declarative, policy-driven framework could additionally help agencies adopt cloud faster. This framework reduces the steps agencies take during cloud migration by focusing on their desired outcome for the technology.