Feeling the ground trembling beneath your feet can be an incredibly unnerving and freighting experience. One of the raging natural disasters the world has come to know over the years are earthquakes. Although our research on earthquakes has increased tremendously over the last few decades, we still deal with a lot of destruction and damage in the aftermath.
In April 2015, Nepal saw one of the most devastating earthquakes in recent history. Aside from the loss of lives, CNN quoted U.S. Geological Survey's (USGS') estimate that the total economic cost of reconstruction could range from $1 to 10 billion .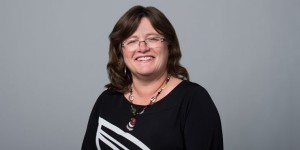 Lucile Jones is the Science Advisor for Risk Reduction at the U.S. Geological Survey, a part of the Interior Department, in California. She is also a finalist in the Citizen Services category for the Service to America Medals (Sammies) sponsored by the Partnership for Public Service – the Oscars for govies.
She sat down with Chris Dorobek on the DorobekINSIDER program to discuss her study of earthquakes (seismology) and the work she has been leading in the public service sphere. Jones provides crisis prevention advice by creating preventative measures that can protect people and critical infrastructures.
Growing up in Los Angeles, California, Jones experienced her fair share of earthquakes. Additionally, her father was one of the engineers who worked on the Apollo 13 project. The combination proved to be a fertile ground to inspire a career in public service for Jones. She expressed her "belief that human ingenuity can make life better for a lot of people." She continued to explain that she "could have been an academic and trained graduate students to do the same type of work, but the desire to get her [findings] used by society is what you get to do when you are in public service." And on this notion, she began her service to the American community-and the world.
And Jones knows not everyone could handle her job, because earthquakes often inspire real fear.
Jones personifies our fear of earthquakes by explaining that "they trigger all of our fear buttons…you can't see them, you don't know when they're going to happen to you, and it feels like the fundamentals of the earth are coming apart." Out of this fear, Jones explains, that much of our previous work has only "dealt with the safety problem and not with the economic disruption problem."
In other words, we have not focused on the economic burden that can come with the aftermath. Most of the financial burden comes from the buildings that collapse because they cannot sustain the shock of these earthquakes.
Since Jones' original work focused on studying an earthquake's foreshock-the small earthquake(s) that takes place before the big one(s) do, she understands that there is always a chance for an earthquake to trigger others. Through her research she found her calling to convert scientific data into policy. Jones explains that what "scientists know about earthquakes could be used for making better decisions that weren't being used [before] because people didn't understand it." As a result, she has worked on both sides of the field by not only doing the research but by also providing it "into forms that policymakers can understand and grapple with and make use of." Most notably, she reminds us that "earthquakes are inevitable, but the disaster does not have to be." And through this line of thinking she continues to push policymakers to help build more resilient infrastructure. Jones shares that they are saving about 1-2% on the cost of a building by focusing on resiliency.
In an effort to combat both the potential loss of life and infrastructure, Jones led a multi-hazards project 10 years ago: the ShakeOut Scenario. She asked emergency managers and city officials what information they needed from scientists about earthquakes overall and the answer she received was clear: scenarios. Jones ensured that they received comprehensive scenarios by bringing in hundreds of scientists from across dozens of disciplines. Jones admitted "this has turned out to be much more widely used than [she] expected when [they] started it, because it's a scientifically defensible story. It is soundly based on science, but it is in a framework as a scenario, a story, that people can connect with and figure out how to use."
In other words, remember, we cannot control Mother Nature. Jones reminded us that you don't want scientists like her to "predict every earthquake. You want [her] to predict which of the 50 that will happen today…predict the magnitude of a future event." However, she has also taught the world that there are measures one must consider investing in now, before disaster strikes, and it is too late.
*Image courtesy of the Partnership for Public Service