The trailblazer efforts to champion CX in government are beginning to bear fruit.
In 2021 the federal government achieved its highest CX score yet, gaining an average 1.5 points
from 2020 according to Forrester's U.S. Federal CX Index 2021 report. This wouldn't be possible without the public servants dedicated to the cause.
But yet: Finding qualified professionals continues to be one of the greatest challenges.
Several HISPs, or agencies providing public services with significant scope and scale, reported that the lack of staff with CX expertise is a barrier to effective implementation, particularly in the fields of design and product development.
On top of that, government hiring processes don't often have the best reputation for being convenient and efficient.
That's why improvements in the hiring process and clarity of roles can help agencies fill their CX talent gaps through recruitment.
Hiring Improvements and Impact
In 2020, OPM and USDS conducted a pilot project for hiring CX talent governmentwide. Twenty CX experts across nine federal agencies collaborated to create a shared job announcement. Applicants could apply once and be considered for multiple roles. The participating agencies used subject-matter experts to assess candidates' qualifications rather than relying on self-assessments. "The goal was to qualify and effectively assess all applicants so that we could try to place every single qualified applicant somewhere in the government," according to a recap of the process on Performance.gov.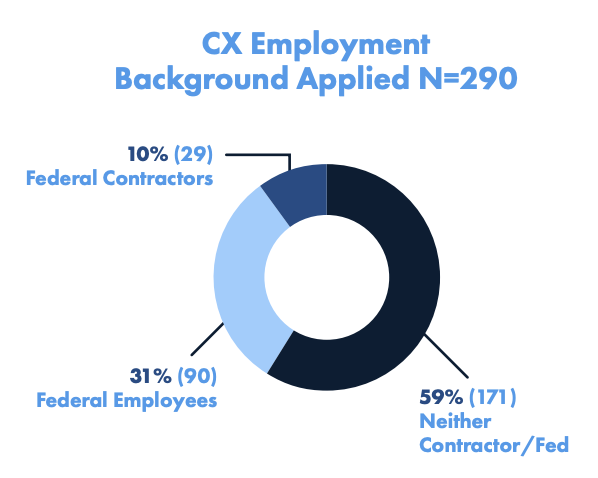 It was so successful they received rounds of applause from hiring managers and HR staff, the team told GovLoop in 2020. Since then, similar CX hiring efforts have taken off.
We caught up with an applicant, Alexis Schilf, who now works as a Customer Experience Strategist at the Consumer Financial Protection Bureau.
"As someone who came from outside government, government resumes and application systems can be
incredibly opaque and intimidating. This process was much more streamlined compared to previous efforts," Schilf told GovLoop. She was considered for roles on 13 teams after applying once through USAJOBS.gov. The process included a few rounds of interviews to be deemed qualified, and then she interviewed with specific agencies for fit.
She has a built-in network of fellow problem-solvers thanks to OMB's continued efforts to connect the 20 employees from her CX hiring cohort monthly.
Schilf shared this advice for anyone considering a CX role in government:
"More and more support and momentum is being given to invest in how we serve the public. For those looking for CX roles, I suggest getting connected with your local civic tech group or reach out to those [doing] the work. I've found there are opportunities to do this work at the federal, state and local levels under many different names, so think about the scale of work you want to be doing and apply! We need more talented CX folks across government."
What's Required of Candidates
You may be wondering: What does a CX role entail? Take a look at a sampling of CX professionals in government, and you'll find an array of backgrounds, disciplines and experiences. But there are some core responsibilities and qualifications you should know.
Sample qualifications
Using adaptive leadership and resiliency
Developing CX strategy
Managing CX implementation
Applying human-centered design
Sample responsibilities
Build understanding within services or programs of who customers are, their needs, the value the public seeks from government services and the moments that matter most.
Gather and package customer feedback, research and data to develop insights for supporting leaders'
decision-making.
Create and support a culture for improving CX and achieving measurable outcomes.
Drive opportunities and projects through completion while maintaining respect for colleagues and tactfully building coalitions of support.
Collaborate with colleagues to embed human-centered design practices.