Simple question: Are you happy with your career? If not, what are you going to do about it? We have a suggestion: IDP.
At GovLoop's Thursday online training, Creating a Great Individual Development Plan to Grow Your Career, we spoke with Kathleen Flora, Certified Career Counselor & Leadership Development, Instructor, Defense Intelligence Agency, and Steve Ressler, President and Founder of GovLoop, we learned more about Individual Development Plans (IDPs), how to create one, how to get your boss on-board, and all of their potential benefits.
What is an Individual Development Plan (IDP)?
If you don't know or don't have one, don't worry, you're not alone – almost 2/3 of training attendees reported they don't have IDPs, but want to build one. That initial desire to begin is key since an IDP is an employee-driven document. "It is used to help guide the discussion and plan action towards the achievement of short- and long-term professional goals," said Flora.
What's the goal?
It's impossible to fully understand an IDP without understanding its objective. An IDP acts as a tool for you to better manage your professional development and your career:
What are the gaps between where you are now and where you would like to be?
What do you need to gain in terms of competency, skills, and experience to advance your career or perhaps even switch careers?
"You can think of it as an annual review for yourself," Flora suggested. And as your priorities change over time, so can your IDP. "The IDP is a living document," said Flora.
How do I get started?
Planning is tough, but essential, in developing your IDP. You have to be honest with yourself as you go through your Strength, Weakness, Opportunity, Threat/Target (SWOT) analysis. Here are some questions to guide you through the process:
Strengths
What issue areas do you know best?
What do co-workers seek you out for?
What do you love to do?
What would you do even without getting paid?
Weaknesses (Flora is more a fan of building up strengths rather than stressing over weaknesses, but reflecting can be beneficial, nonetheless):
In the office, what do you have to do that you'd rather not have to?
What have you wished you could do better?
Have managers mentioned any areas where you may need to grow?
What gives you the biggest case of nerves?
Examining professional opportunities and threats/targets helps you to begin your career development planning:
What about your job are you still perfecting?
Are you still growing into your role?
What do you want to build upon?
What new skill/technical areas do you want to get into?
Your role & getting your boss to sign off
The lion's share of responsibility for developing IDPs lies with you, said Flora. You need to assess your own level of competence and understand what improvements (training, classes, experience, etc.) you need to undertake to meet your desired goals. You need to be your own advocate, said Flora.
A significant component of developing IDPs is making sure your goals are aligned with the goals of your job and organization. You're going to have a very difficult time getting your supervisor to sign off on medical training if you're in a communications position, for example. Even if your boss somehow saw a connection there, laws exist that requiring scarce training dollars be spent only on needs of the agency. You don't have to get caught up thinking about money and resources, however. Part of your IDP could be as simple as shadowing your manager or participating in a cross-functional team to get exposure to different stakeholders, offered Flora. This is costless but can be greatly beneficial, allowing you to make a significant impact in your organization.
Implementing the plan & evaluate the outcomes
Again, an IDP is a living document that changes as you do and is cyclical in nature. Therefore, continuous assessment and evaluation of outcomes is crucial to charting your progress. Such documentation also allows you to illustrate ROI to your supervisor.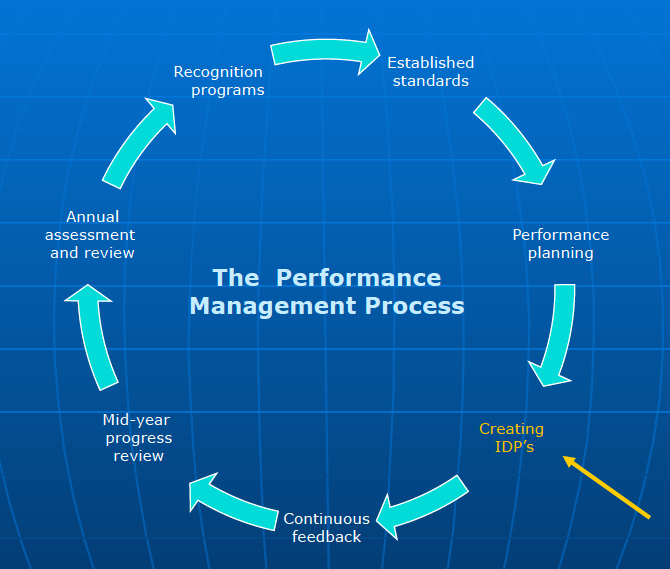 Our very own Steve Ressler wrapped up the training with six useful tips in developing your IDP:
Make it about your office. Speak in a lens that your boss cares about & helps the organization
Leverage online trainings. Not just paid, expensive trainings – could be simpler.
Ask your peers. What courses have they taken? Any advice to ensure your training is worthwhile?
Invest in the best. Simple can be effective, but are there any really amazing trainings/conferences that you and your agency stand to benefit from?
Look at leadership development programs. What opportunities are out there? ACT-IAC Fellows or TSA's MLDP.
Utilize existing resources where your agency already has access. Defense Acquisition University (DAU) or OPM's HR university, for example.
Don't sit around and wait. Create and implement an IDP to help you move your career forward and ultimately, as we love to say here at GovLoop, help you do your job better.
Check out these resources for additional IDP information. For even more, be sure to explore the full archived presentation here!
Earn your MPA online from UNC-Chapel Hill
Delivered in a flexible, online format MPA@UNC is a graduate degree that prepares students to be effective leaders in public service. Students benefit from the same top-ranked UNC School of Government curriculum, courses, and renowned faculty as full-time, on-campus students.  
MPA@UNC is designed to build upon students' passion, skills, and expertise in managing and leading local, state, federal government, or nonprofit organizations.