The amount of knowledge out on the Interweb can be a bit overwhelming. Alright-very overwhelming. Therefore, we decided to narrow the list down for you. In this week's State and Local Spotlight, we will give you some of our most recent state and local resources, as well as other resources outside of our GovLoop community.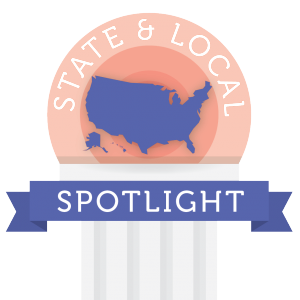 State and Local's Innovation Challenges Each state has its own agenda, priorities, initiatives, and challenges, but what all states can agree on is the need for innovation. But it's not easy. Even thinking about innovation can be an uphill battle for state and local governments. Read about how various state and local experts came together to discuss the issues they face when innovating and what can be done to improve the current system.
Want to go more in depth? Read one of our recent guides, Top Challenges & Solutions from State and Local Government! Although state and local governments are smaller and more agile, every state still faces its own set of challenges when wanting to improve their services to citizen. Read 16 stories about the challenges officials at the state and local level faced and how they came overcame them.
Be on the lookout for GovLoop's new guide, Your Guide to Understanding State and Local Government, where we will shed some light on topics covering the budget, the structure of state and local governments, regulations, and more!
We don't always have all the answers here at GovLoop, so please take a look at the following resources for some more insight into state and local governments:
Governing is a great resource for you to stay up-to-date with the inner happenings of state and local governments, industries, and academic endeavors. In fact, Governing just recently began a newsletter, Governing Daily, which will cover the most current developments in state and local politics-in more depth. To sign up for a free subscription to their newsletter, please click here.
The National Association of Counties' (NASCO) website is another great resource if you want to learn more about what counties are and what they do or if you are in need of a simple resource bank of information about all things counties. As a resource bank, the website provides you with information on how to find grants, various reports, publications, blogs, and more.
Want to know what an agency like the U.S. Department of Housing and Urban Development (HUD) does AND want to learn more about the city you live in? Check out HUD's State of the Cities Data Systems. You can find detailed demographics and economic characteristics of your city's population, as well as where your city and suburban government's finances lie.
Whether you were already a state and local government buff or we were able to convince you to get involved with your state and/or local government(s), check out this website for state, city, and county specific job openings!
We hope you find this post helpful and we look forward to hearing about your experiences with these resources. Feel free to comment about it below. Also, don't forget to continue following our State and Local Spotlight!
This post was originally published on February 12, 2016.