This article is an excerpt from GovLoop's guide, "Government's Customer Experience Playbook." Download the full guide here.
Transforming the way governments serve the public is about more than choosing the right technologies. This level of change requires agencies to rethink how they engage their customers — from citizens and external partners to the frontline employees assisting the public.
They first have to understand their customers — what they need and how they'd like to interact with government services. These insights are what drive modernization and help agencies find the right tools to effectively cater to the unique needs of their customers.
In a recent interview with GovLoop, John D. Conley, Regional Vice President for Public Sector, State and Local at Salesforce, explained that establishing the right modernization pathways to improving digital services — whether it's a mobile app or 311 phone system, for example —leads to the greatest mission impact. Many agencies today are benefiting from the customer relationship management solution that Salesforce provides, but they're also using this powerful platform to break down silos and unite teams to deliver personalized engagement.
"Having better customer engagement means that you're assisting people on their timeframe in a location that is convenient to them, including mobile," Conley said. "So, whether that's a self-service channel or social media assistance, having that engagement directly corresponds to an agency's program or mission impact."
Better engagement can also increase compliance in certain instances. For example, a growing number of governments are using chatbots to provide round-the-clock assistance to customers. These automated bots can help them initiate any necessary paperwork for the services they need or answer questions about a process and what they're required to do.
But one of the biggest hurdles that prevents agencies from fully embracing better CX through improved technology delivery is a legacy mindset.
"For the last 20 years, it was expected that customers went to a brick and mortar facility because they had to get their picture taken, or an agency needed a wet ink signature," Conley said. "But technology has now evolved to the point where all of those requirements can be handled via the computer, but that legacy mindset of in-person transactions still exists."
As technology evolves, government should be an incubator for innovation. For example, through partnerships with Salesforce, government entities have built out their 311, or call center, capabilities to empower citizens to connect with the government about various issues. Salesforce is also joining forces with cities to modernize their social safety net programs in a way that puts the citizens' needs first. That means considering the customer journey and their pain points, as well as the fact that mobile options are no longer a nice-to-have but an expectation.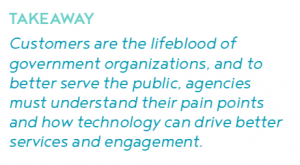 When it comes to CX, agencies must pick the right platform that gives them the flexibility to unify teams across the organization and collectively improve customer experience, Conley said, and that's what's driving government collaboration with Salesforce.
"All agencies have customers, and the goal should be to provide the best possible service and engage them early and often throughout the process," Conley said.