The nation has officially passed the six-month mark – that's right, six months – since the pandemic shuttered offices and forced leaders to implement widespread safety measures, including mass telework. And by the count of a recent GovLoop survey, public service has held up pretty well considering the unscripted, tumultuous changes COVID-19 hurled its way.
Most notably, the transition to widespread telework was well-reviewed. The first round of survey results returned that 87% of public servants across state, local and federal levels rated their organization's ability to adapt to a remote environment as "good" or better. Additionally, 91% said their organization's ability to maintain quality customer service was good or better.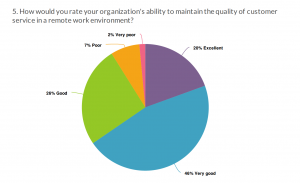 Preliminary results of the survey, which nearly 300 government employees and contractors answered, reflected positively on how many workers have adjusted to telework.
The survey is still open, and final results will be reported in GovLoop's "Community Pulse."
"Personally, it's been amazing working from home," one respondent wrote. "I can focus like never before."
Many didn't view it that way at first.
The unforgettable night of Wednesday, March 11, witnessed professional basketball usher players off the court minutes before tipoff, as PA announcers urged packed stands not to panic. By the next day, the nation's largest employer – the federal government – had issued a memo out of the Office of Personnel Management (OPM) expanding telework options for millions of workers. Going into the weekend, employees from governments and organizations of all sizes had evacuated their offices, scavenging the bare essentials, to hunker down for the indefinite future.
One respondent wrote that they had nine minutes to clear out their office for a required shift to telework – a memory that another respondent echoed down to the minute. That story might sound familiar to other public servants, many who received emails notifying them to collect what they needed as offices closed down.
"I basically grabbed my laptop and prayed," the respondent said, noting that the first two weeks were "a nightmare."
Months later, that person says they've gotten into a groove.
Though many have come to embrace telework, a significant minority hasn't. Communication and collaboration barriers were among the most common complaints.
"For me there are more drawbacks," one respondent wrote. "The organization is floating along, but there are serious gaps in [employees'] ability to access needed IT equipment and services at the field agency level, and services are not keeping up with demand."
In April, OPM issued a memo outlining a phased approach for federal agencies to call employees back to the office, depending on local health conditions. State and local governments' policies vary greatly.
Now, 60% of respondents say their agency has shared a plan for returning to the office. Only 12% of the 287 survey participants say they are currently working in the office.
The Centers for Disease Control and Prevention has released updated employer guidance for improving the safety and cleanliness of office buildings.
GovLoop has reported extensively on COVID-19 work realities and will continue to do so. To take the survey and have your opinions counted in the upcoming "Community Pulse," click here.