When our community speaks, we listen. And we've gleaned a lot from what each of you has shared — everything from what matters most to you in your career right now, to what skills you want to develop, and how you're having critical conversations at work.
We know that your needs evolve, and we always want to ensure that our resources reflect what you've told us. Whether you're reading an article on GovLoop.com, attending an online training, watching a course, or downloading a resource, we want the topics and themes that you care about to drive that content.
So we're trying something a little different, and we're calling it GovLoop Spotlight. Let me walk you through what it is, why we're doing it and what you can expect.
What is GovLoop Spotlight?
GovLoop Spotlight is a yearlong effort to elevate key topics that matter most to our community across all of our content products, including GovLoop.com articles, worksheets, guides, online trainings, courses, social media and more.
Based on survey data, internal analytics and direct feedback from our community, we've identified some key focus areas for the year:
Diversity
Equity
Inclusion
Leadership
As the administration firms up its tech-related initiatives, expect to see additional categories added to this list.
Why are we doing this?
These focus areas aren't new to GovLoop, but what we want to do is create a more clear learning path so that community members can easily identify, access and use our resources, regardless of where they are in their journey.
Going forward, GovLoop Spotlight resources will be tagged "GovLoop Spotlight" and branded with these badges: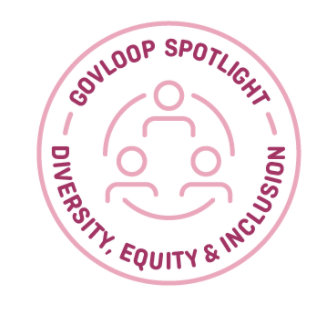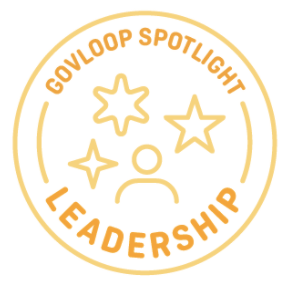 What will be the focus of those topic areas?
Here's more about what you can expect to see:
Diversity, equity and inclusion: We will explore how agencies are defining diversity, equity and inclusion and what that means for employees, the people they serve and the culture at agencies. We'll look at DE&I from both an internal lens within agencies (from the perspectives of frontline employees up to senior leaders) and use an external lens that focuses on the impact to constituents.
Leadership: Nearly everything rises and falls on leadership, whether or not those involved have titles. Leadership is an expansive topic that will include everything from leading teams, to peer management, to failing forward and being agile and adaptable to change.
Technology and management in government are also key focus areas at GovLoop. As the administration firms up its tech agenda, you can expect to see elevated coverage about how agencies are using technology to support their mission and deliver quality services to the public.
What, if anything, will change?
For our community, you'll be able to more easily identify content tied to GovLoop Spotlight themes. We're also making it easier for you to access related articles in one place and to see how our content expands on previous knowledge that we've shared.
How can community members stay current with all things GovLoop Spotlight?
You can use these links to stay current with our growing library of articles and resources
Stay tuned. We will be populating these links with additional content over the coming weeks and months. You can also expect to see these topics featured in our Daily Awesome newsletter.
If there are issues you'd like to see us cover or questions you'd like answered about GovLoop Spotlight, please send a note to [email protected], or leave us a comment below.